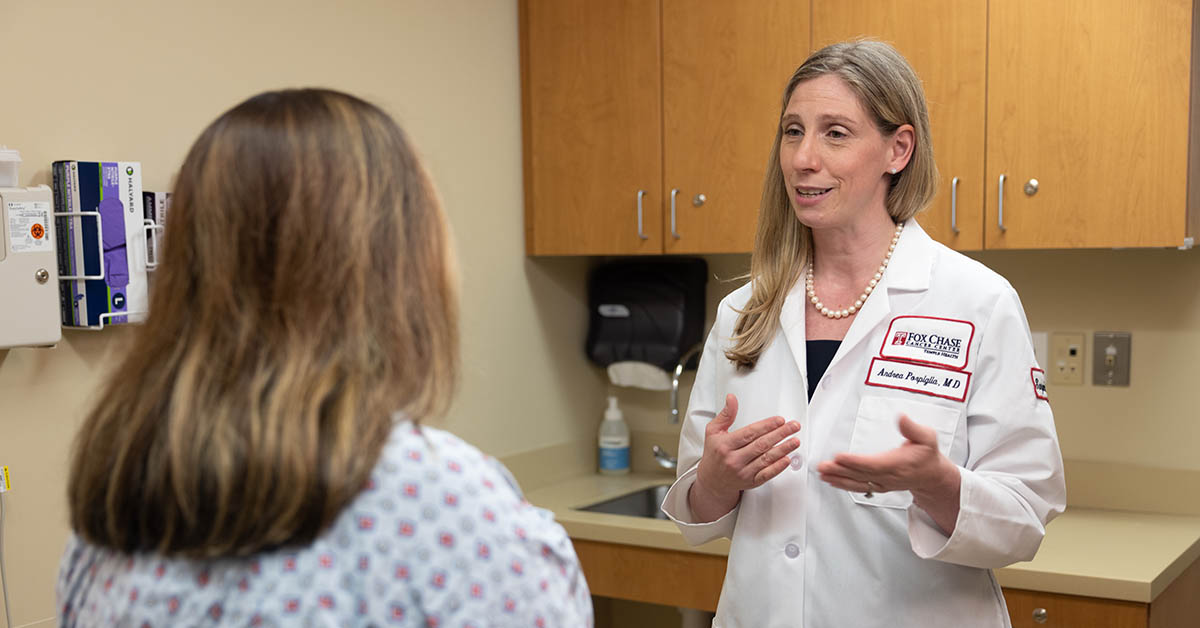 For most patients, survivorship care begins in earnest when they complete their cancer treatment.
Our relationship with our patients does not end when their treatment does. Through the survivorship clinics of our comprehensive Survivorship Program, our Advanced Practice Clinicians (APCs) continue to offer specialized care, support and resources under the guidance of the oncologists and other providers who treated your cancer.
Learn more about our survivorship clinics as a key part of Fox Chase's ongoing commitment to the health of those who have completed cancer treatment and are transitioning to a new chapter in their survivorship experience:
What is a survivorship clinic?
At a certain time, most often about three years after diagnosis, cancer patients will move to a survivorship clinic for the next steps of their cancer journey. Through the Fox Chase survivorship clinics, our APCs continue to foster relationships with our survivors beyond cancer treatment to ensure their best possible health and quality of life.
Survivorship clinics:
Work with the special healthcare needs of cancer survivors to help them live longer and better lives
Offer the best quality of life as it relates to the effects of cancer and its treatment
Keep a watchful eye for long-term psychosocial effects
Provide guidance and education about health and wellness
Check for recurrent (cancer that comes back) or second cancers
Give survivors a plan to help manage their care along with their other healthcare providers
What is a survivorship care plan?
A survivorship care plan lists the treatment you had for your cancer. It also is a plan for your health and the follow-up care you will have after your treatment. You can keep and refer to your care plan, or share it with your other non-cancer doctors. This will help them be aware of what is suggested for your survivorship care.
Your care plan may include:
a list of the doctors who treated you
a list of any surgeries, radiation and/or chemotherapy treatment you had
your cancer follow-up plan with any suggested testing
an outline of any side effects that you still have that needs follow-up from your care team
suggestions for your health and wellness, like good nutrition and exercise
cancer screening you may need based on your gender
possible long-term effects of your treatment
Who provides survivorship care at Fox Chase?
High-quality survivorship care and treatment may be offered by a number of healthcare providers on your treatment team. Physician Assistants or Nurse Practitioners (APCs) with special knowledge, training and skill in certain cancer types collaborate closely with your doctors and nurses in the survivorship clinics. Under the guidance of doctors who oversee their work, they become the face of your post-treatment care team.
When you first join the survivorship clinic, APCs will conduct a survivorship consult. Then they will:
Make sure you follow your doctor's plan to monitor your cancer
Follow up on any long-term or late side effects from treatments you had
Refer you to support services or programs like financial counseling or emotional support
Guide you to practice healthy behaviors like good nutrition or exercise
Make a plan for screening tests for other cancers (like a colonoscopy, Pap tests, etc.)
Share your plan with your primary care physician (PCP) or refer you to our Fox Chase Cancer Center Care Connect program if you do not have a PCP
What providers participate in Fox Chase survivorship clinics?
Our patient-centered, comprehensive Survivorship Program is directed by Andrea Porpiglia, MD and includes a group of APCs. APCs are a specially trained group of health professionals — both certified registered nurse practitioners and physician assistants — who provide quality medical care and treatment to patients, under the guidance of their supervising physicians. APCs may already be part of your care team or they may be new to you. Be assured that all of our APCs have the knowledge and training to care for your needs during survivorship.
What survivorship research is being conducted by Fox Chase?
We are trying to improve cancer care by finding better ways to understand and handle the needs and concerns of survivors. You may be able to help yourself and future cancer survivors by taking part in one of our survivorship research studies. Ask your doctor or APC how you may take part in survivorship research at Fox Chase.

If you have additional questions about our survivorship clinics, ask your doctor or APC, or call 888-369-2427.