Lymphedema is a persistent swelling, usually affecting an arm or leg, which sometimes occurs as a side effect of cancer treatment.
Fox Chase Cancer Center's Lymphedema Treatment Program uses complete decongestive physiotherapy (CDP), a European program that has been used successfully to treat lymphedema patients for more than 30 years.
Causes of Lymphedema
This condition results from the abnormal accumulation of lymph fluid and tissue proteins. In rare circumstances, lymphedema may affect the head, torso or genitals. The underlying cause in all cases is damage to the lymphatic system, an important part of the immune system that circulates infection-fighting proteins throughout the body.
Lymphedema can result from an infection that interrupts normal lymphatic pathway function or a traumatic injury to the lymph nodes It is characterized by an abnormal accumulation of tissue proteins, fluid, and inflammation within the involved extremity.
Factors that can lead to lymphedema include:
removal of lymph nodes as part of surgery for cancer
radiation therapy to the underarm, groin or other area where lymph nodes were removed
a growing tumor that has destroyed lymphatic vessels and blocked lymph drainage
Preventive care to avoid lymphedema and early treatment if swelling does start to occur are extremely important. Left untreated, lymphedema may lead to infections, numbness in the affected limb, inability to move joints, hardening of connective tissue and discomfort or pain. As a result, patients may:
have difficulty with daily activities;
be vulnerable to injury;
develop open wounds;
need multiple hospitalizations.
Lymphedema Complications
Complications include persistent swelling in an extremity; bacterial infection due to stagnant lymph fluid; pain; weakness; and numbness that can lead to loss of range of motion of the joints in an extremity.
Lymphedema Treatment and Therapy
Traditionally, lymphedema is treated using compression garments and physical therapy. Fox Chase Cancer Center's Lymphedema Treatment Program is available to our patients through the Department of Physical Medicine and Rehabilitation. Our therapists offer complete decongestive physiotherapy (CDP), a European program that has been used successfully to treat lymphedema patients since the 1980s. The CDP technique is the treatment of choice for lymphedema and is recognized by the National Lymphedema Network and various other international organizations.
The National Lymphedema Network has recognized Fox Chase Cancer Center as a clinical treatment center for lymphedema. Safe and effective, Lymphedema Association of North America (LANA) certified therapists at Fox Chase provide:
Skin care and hygiene
Manual lymph drainage
Compression bandaging
Therapeutic exercises
Compression-garment fitting
Home maintenance program
Preventive Care for Lymphedema
Through Fox Chase Cancer Center's department of physical medicine and rehabilitation, a board-certified physiatrist and a licensed physical therapist will provide each patient with a full evaluation. The program includes diagnosing and treating lymphedema and its associated conditions during the acute, subacute and/or chronic phases.
Each patient receives an individualized rehabilitation program to prevent further progression of lymphedema, including skin care; a gentle distal-to-proximal lymphatic massage focusing on connective tissue; compression bandaging; and antibiotic drug therapy if applicable. The patient's primary care physician will receive continuous progress reports regarding the patient's condition.
Surgical Options for Lymphedema
The plastic and reconstructive surgeons at Fox Chase Cancer Center offer two surgical options to patients for whom conventional lymphedema treatment has not relieved pain and swelling.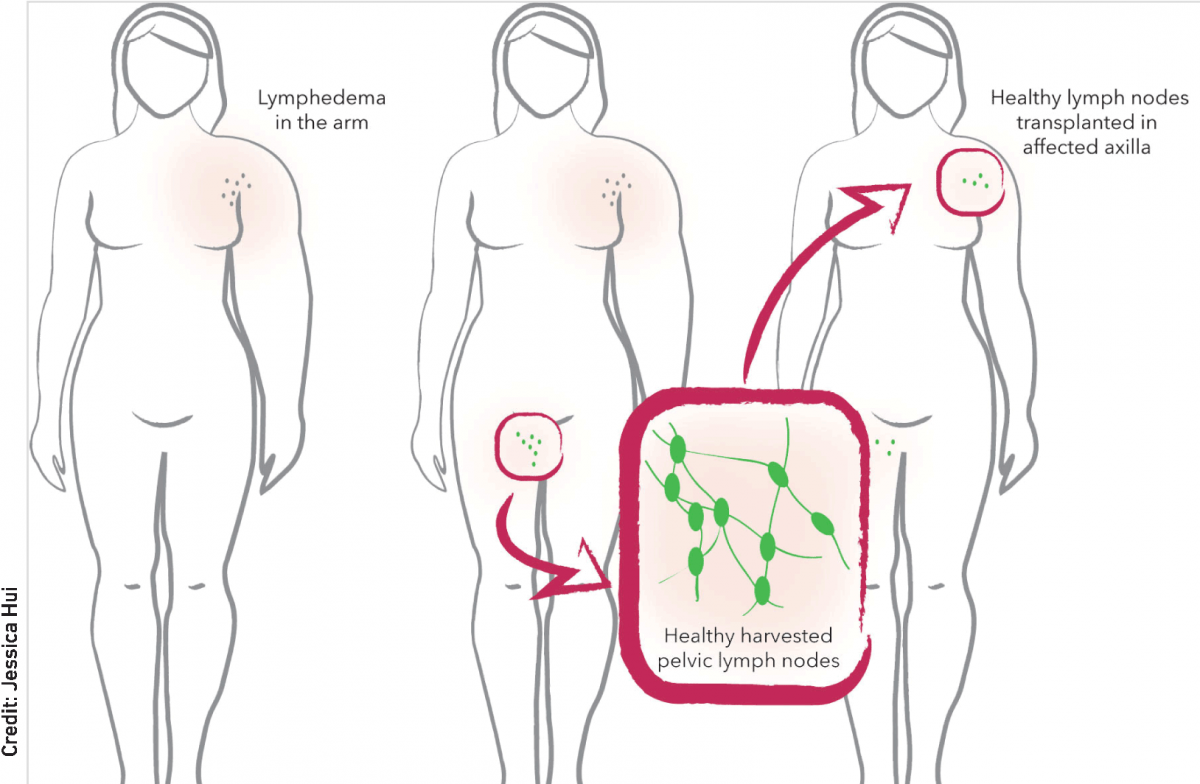 Vascularized lymph node transfer (VLNT): microsurgically transplanting healthy lymph nodes from other parts of the body to replace damaged or missing lymph nodes, creating new pathways for lymph drainage. Treatment after the procedure includes follow-up with a lymphedema therapist.
Lymphovenous Bypass (LVBP): connecting obstructed lymphatic vessels to nearby veins, thereby redirecting the flow of lymph fluid. No other cancer center in the region offers this procedure.
Possible benefits of these procedures include:
Slowed progression of the disease
Reduced likelihood of infections in the extremity affected by lymphedema
Decreased limb size and swelling
Perceived feelings by patients of less heaviness, tightness, achiness, and early fatigue
Reduced daily need for compression garments
VLNT and LVBP are performed by fellowship-trained Fox Chase Cancer Center plastic and reconstructive surgeons. They are among the few surgeons on the East Coast who have a focus in reconstructive microsurgery and supermicrosurgery, and are at the forefront of treating lymphedema surgically.
Support for Lymphedema Patients
Fox Chase Cancer Center's Lymphedema Support Group meets quarterly and has a varied and informative topic each time. These meetings feature expert speakers and educational hands-on self-care programs. Support Groups have proven to empower, inspire and ultimately assist in healing. They also are an important part of living well with lymphedema.