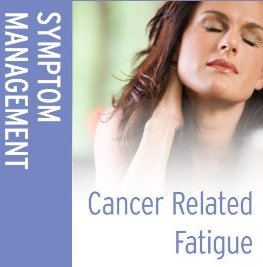 VIEW ALL POSTS
How You Can Manage Cancer-Related Fatigue
Cancer-related fatigue is a feeling of tiredness or exhaustion that is persistent and often not related to any activity.

It is often not relieved by rest. People who feel fatigue often say that even a small effort, such as walking across a room, can seem like too much. Other terms used to describe cancer related fatigue include "weary," "worn out," "pooped," "low blood," "no pep," "no energy," and "a strong desire to stop and rest, lie down or sleep."

Fatigue can affect the way you think as well as how you feel. Fatigue can seriously affect your daily activities, including the ability to work, be involved with your family, or socialize. You may have trouble paying attention when reading, watching television, or even talking with family members. You may find that you are not able to do all the activities you did before cancer treatment.

The cause of cancer treatment related fatigue is not fully known. Problems like low blood count, stress and not eating enough, may cause fatigue. Sometimes, other conditions may contribute to fatigue, including uncontrolled pain, depression, or difficulty sleeping.

Here are some tips to help you manage the fatigue:

Exercise several times a week including walking or a combination of aerobic and resistance exerc\ise can be helpful in decreasing fatigue during and after cancer treatment.

Plan your day so that you have time to rest can help to use energy more efficiently.
Do one activity at a time. Save your energy for the most important things.
Take short naps or breaks rather than one long rest period. Sometimes staying in bed can slow your body down and cause you to feel even more tired.
Proper nutrition is very important. Eat as well as you can, and drink plenty of fluids.
Seek treatment for depression, pain, sleep disorders, or other conditions that may be adding to your fatigue.

At Fox Chase, we offer a Cancer Fatigue Program for patients. For more information, please visit our website or call 215-728-2592.