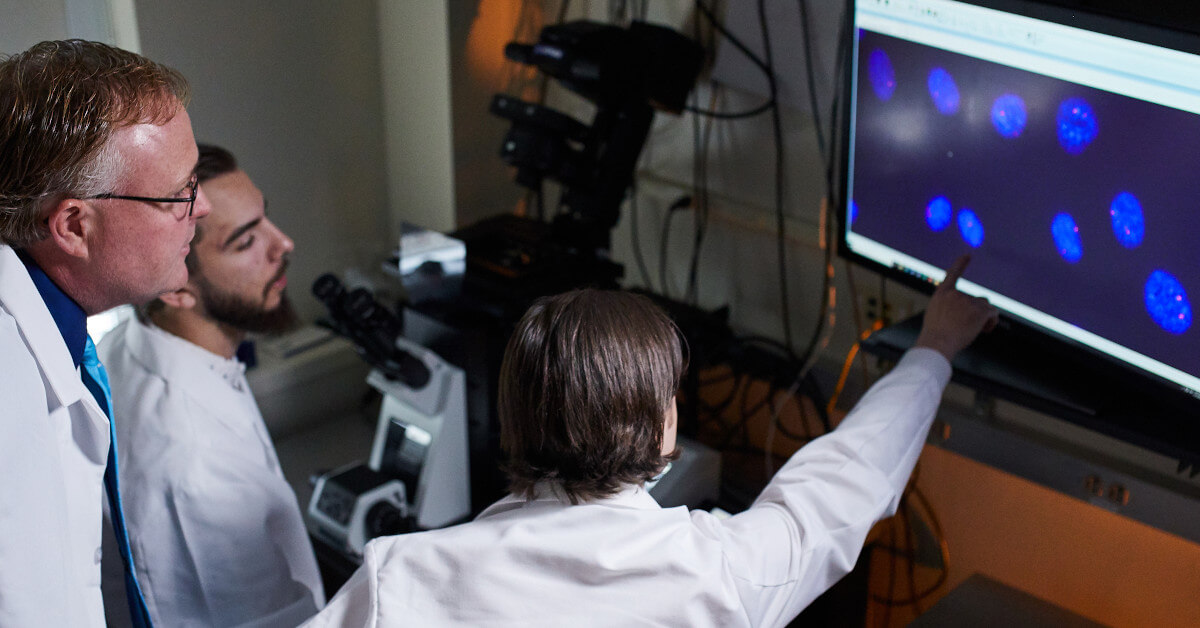 Postdoc Opportunities
For information about postdoctoral research opportunities within the Cancer Epigenetics Institute, contact us at [email protected].
Learn more about our training environment
Open Postdoc Positions
[email protected]
Lab Website: www.canadas-lab.com
Lab Summary: The Canadas Lab studies tumor immunity and mechanisms of tumor resistance to immunotherapy, with the goal of leveraging innate immune signaling pathways to break therapy resistance and restore immunogenicity in "cold" tumors, such as Small Cell Lung Cancer.
Key Words: cancer immunology, immunotherapy, epigenetics, small cell lung cancer, viral mimicry, nucleic acid-sensing pathways
[email protected]
Lab Website: www.luchenlab.org
Lab Summary: RNA therapeutics are changing the landscape of medicine. This lab (luchenlab.org) studies the basic knowledge about where/why RNAs are organized intracellularly, how they are chemically modified, and what are their shapes and structures in cells. We use CRISPR engineering, next-gen high-throughput RNA structural probing, and single-molecule RNA imaging to study RNA dynamics during carcinogenesis, stem cell self-renewal, and neuronal differentiation.
Key Words: RNA trafficking, RNA modifications, membrane-less organelle, genome maintenance in stem cell and aging
Lab Summary: The overarching goal of the Duy lab is to understand genetic and epigenetic mechanisms that drive disease and therapy resistance in leukemia using multi-omics sequencing approaches, single-cell omics, systems biology, and CRISPR tools coupled with organoid models.
Key Words: Leukemia relapse, senescence, AML, systems biology, epigenetic plasticity, epigenome regulation, systems biology
Lab Summary: The Engel lab studies how transcriptional and epigenetic sex differences impact sex biases in melanoma.
Key Words: Engel, sex differences in cancer, melanoma, epigenetics, transcriptional regulation
[email protected]
Lab Website: sites.temple.edu/estaraslab/
Lab Summary: Estaras lab focuses on investigating the crosstalk between signaling pathways and chromatin factors regulating cell fate decisions during hESC differentiation and development.
Key Words: chromatin, transcription, hESCs, development, signaling pathways
[email protected]
Lab Website: comp-epi-lee-lab.org/home/
Lab Summary: Lee lab focuses on computational epigenetics in cancer and aging, exploiting multi-omics big data and designing machine learning models to identify predictive epigenetic signatures for early diagnostics, prognostics, and therapeutics.
Key Words: Computational biology, bioinformatics, machine learning, deep learning, statistical analysis, visualization, DNA methylation, cell-free DNA (cfDNA), circulating tumor DNA (ctDNA), single-cell data analysis, Long read sequencing data analysis
[email protected]
Lab Website: www.whetstinelab.com/
Lab Summary: The Whetstine Laboratory aims to define the epigenetic mechanisms regulating DNA replication and selective DNA amplification and the associated genomic rearrangements. These studies provide insights into genomic and transcriptional heterogeneity in cancer. The goals is to understand these events so they can be therapeutically controlled in disease. The laboratory leverages state-of-the-art genomic, epigenomic, biochemical and cytologic approaches to address these relationships.
Key Words: DNA replication, DNA amplification, Structural Variants, Epigenetic Therapies, Histone Methylation, Lysine Demethylases, Methyltransferases, ecDNA, Epigenomics, 3D higher order structure
[email protected]
Lab Website: www.dnamywhitakerlab.com/
Lab Summary: The Whitaker group focuses on investigating pressing questions at the intersection of DNA damage, DNA repair, and transcriptional regulation.
Key Words: DNA damage, DNA repair, transcriptional regulation, G-quadruplexes, structural biology, X-ray crystallography
Lab Summary: Yang lab investigate how epigenetic mechanisms promote terminal differentiation of medulloblastoma tumor cells, thereby inhibiting tumor progression.
Key Words: Brain Tumor, Terminal Differentiation, Epigenetic Regulation, Medulloblastoma