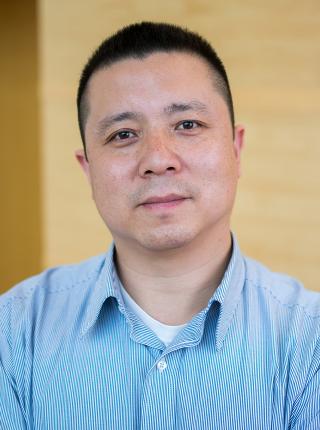 Research Program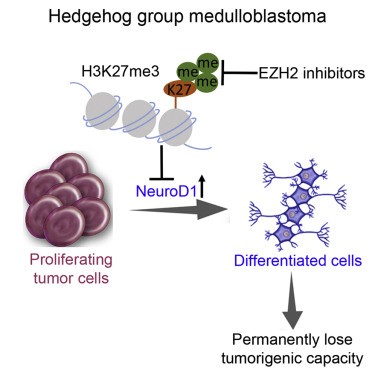 Educational Background
Post Doc, Cancer Biology, Duke University Medical Center, 2005-2010
PhD, Neurogenetics, University of Nottingham, 2005
MS, Genetics, Fudan University Medical Center, 2000
People
Yijun (Boris) Yang, PhD

Postdoctoral Associate

W345

Silvia Valdes Rives, PhD

Postdoctoral Associate

W345

Timothy Hanlon

Graduate Student

W345

Allie Heller

Graduate Student

W345

Tamara Kirukhina

Graduate Student

W345

Amanda Okwara

Work-Study Student

W345

Anya Yang

Work-Study Student

W345
Research Interests
Molecular mechanisms regulating the proliferation and differentiation of neuronal progenitors during cerebellar development
Epigenetic/genetic events facilitating the progression of medulloblastoma and neuroblastoma
Interactions between tumor cells and stromal cells in brain tumor growth
Lab Overview
Medulloblastoma and neuroblastoma are the two most common pediatric tumors arising in the nervous system. Despite significant progress in development of treatments for these tumors, the mortality rate is still high. Moreover, patients often suffer from severe long-term side effects from the aggressive treatment. Our research seeks to elucidate cellular and molecular mechanisms underlying the initiation and progression of medulloblastoma and neuroblastoma, with the aim of translating the findings into improved strategies for the treatment of these devastating diseases.
Lab Description
Advances in tumor genetics have increasingly linked pediatric neoplasms with disrupted mechanisms of normal development. Medulloblastoma, the most common malignant brain tumor in children, is predominately originated from granule neuron precursors (GNPs) in developing cerebella. Proliferation of cerebellar GNPs is driven by the hedgehog signaling, and uncontrolled proliferation of cerebellar GNPs often results in medulloblastoma formation. Our research seeks to elucidate the cellular and molecular basis for the proliferation and differentiation of cerebellar GNPs during normal development, and investigate how the hedgehog signaling goes awry in cerebellar GNPs, leading to medulloblastoma initiation. 
Tumor development is a multistep process in which tumor cells accumulate genetic and epigenetic mutations/alterations to facilitate tumor progression. These epigenetic/genetic events influence the growth, metastasis and drug responses of tumor cells. We are currently investigating the epigenetic/genetic alterations during the progression of brain tumors including medulloblastoma and neuroblastoma, by NGS and bioinformatic analyses. We hope to define the epigenetic/genetic events critical for brain tumor growth, which may represent novel therapeutic targets for tumor treatment.
Tumor microenvironment including the surrounding blood vessels, immune cells, signaling molecules and the extracellular matrix, plays important role in tumor initiation, progression and metastasis. By using mouse models (genetically engineered mouse models and patient-derived xenograft mouse models), we are examining the cellular composition of tumor microenvironment in medulloblastoma and glioma, and studying the interaction between tumor cells and those supporting cells during brain tumor progression. We hope to find a more effective way to control brain tumor growth, through interfering the communication between tumor cells and their supporting stroma.
Selected Publications
Zhang J, Yang YJ, Li XH, Li G, Mizukami T, Liu Y, Wang Y, Xu GQ, Roder H, Zhang L, Yang ZJ. PDLIM3 supports hedgehog signaling in medulloblastoma by facilitating ciliary formation. Cell Death & Differentiation 30, 1198–1210 (2023). PubMed
Wang QL, Wu H, Hu J, Fu H, Qu YH, Yang YJ, Cai K, Efimov A, Wu MH, Yen T, Wang Y, Yang ZJ. Nestin is required for spindle assembly and cell cycle progression in glioblastoma cells. Molecular Cancer Research 19(10):1651-1665 (2021). PubMed
Guo DC, Wang Y, Cheng Y, Liao S, Hu J, Du F, Xu G, Liu Y, Cai K, Cheung M, Wainwright BJ, Lu Q, Zhao Y, Yang ZJ. Tumor cells generate astrocyte-like cells that contribute to SHH-driven medulloblastoma relapse. Journal of Experimental Medicine 218(9): e20202350 (2021). PubMed
Cheng Y, Liao S, Xu G, Hu J, Guo D, Du F, Contreras A, Cai KQ, Peri S, Wang Y, Corney DC, Noronha AM, Chau LQ, Zhou G, Wiest DL, Bellacosa A, Wechsler-Reya RJ, Yang ZJ. NeuroD1 dictates tumor cell differentiation in medulloblastoma. Cell Reports. 2020; 31(12), 107782. PubMed
Du F, Yuelling L, Lee EH, Wang Y, Zhang L, Zheng CN, Peri S, Cai KQ, Ng JMY, Curran T, Li P, Yang ZJ. Leukotriene synthesis is critical for medulloblastoma tumorigenesis. Clinical Cancer Research. 2019; 25 (21):6475-6486. PubMed
Gordon RE, Zhang L, Peri S, Kuo YM, Du F, Egleston BL, Ng JMY, Andrews AJ, Astsaturov I, Curran T, Yang ZJ. Statins Synergize with Hedgehog Pathway Inhibitors for Treatment of Medulloblastoma. Clinical Cancer Research. 2018; 24(6):1375-1388. PubMed
Liu Y, Yuelling LW, Wang Y, Du F, Gordon RE, O'Brien JA, Ng JMY, Robins S, Lee EH, Liu H, Curran T, Yang ZJ. Astrocytes Promote Medulloblastoma Progression through Hedgehog Secretion. Cancer Research. 2017; 77(23):6692-6703. PubMed
Li P, Lee EH, Du F, Gordon RE, Yuelling LW, Liu Y, Ng JM, Zhang H, Wu J, Korshunov A, Pfister SM, Curran T, Yang ZJ. Nestin Mediates Hedgehog Pathway Tumorigenesis. Cancer Research. 2016; 76 (18): 5573-83. PubMed
Li P, Du F, Yuelling LW, Lin T, Muradimova RE, Tricarica R, Wang J, Enikolopov G, Bellacosa A, Wechsler-Reya RJ, Yang ZJ. A population of Nestin-expressing progenitors in the cerebellum exhibits increased tumorigenicity. Nature Neuroscience. 2013 Dec, 16: 1737-1744. PubMed
Additional Publications
Open Positions
We are recruiting postdoctoral researchers, technicians and graduate students. If you are interested in brain tumor research, and have the passion to explore improved therapeutic strategies to help patients with brain tumors, you are very welcome to join us. Please send your C.V. and a cover letter to Zeng-jie Yang at [email protected].
The following ratings and reviews are based on verified feedback collected from independently administered patient experience surveys. The ratings and comments submitted by patients reflect their own views and opinions. Patient identities are withheld to ensure confidentiality and privacy. Learn more about our Patient Experience Ratings.
Ratings Breakdown
Loading ...
Patient comments
Loading ...