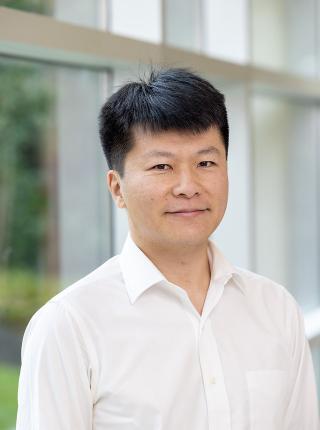 Educational Background
2020-2021 - Instructor, Stanford Cancer Institute, Stanford Cancer Institute, Stanford, California, USA
2013-2019 - Postdoctoral Fellow, Department of Biochemistry, Department of Medicine-Division of Hematology, Stanford University, Stanford, California
2007-2013 - PhD, Biochemistry and Molecular Biology (with honors), University of Kansas Medical Center, Stowers Institute for Medical Research, Kansas City, Missouri
2002-2006 - BS, Biological Sciences, College of Life Sciences, Wuhan University, Wuhan, China
Honors & Awards
2018 - Postdoctoral Fellowship Award, Stanford Cancer Institute, Stanford, CA
2013 - Honors in Ph.D. thesis and defense, Department of Biochemistry and Molecular Biology, University of Kansas Medical Center
2010 - Best Poster Award at the ASBMB (American Society for Biochemistry and Molecular Biology) Special Symposium, entitled "Transcriptional Regulation by Chromatin and RNA Polymerase II", Tahoe City, California
People
Victoria "Tori" Gillespie, BS

Sci Tech I/Lab Manager

W246

Musinu Zakari, PhD

Postdoctoral Associate

W246

Marie "Masha" Kobin

Jeanne E. and Robert F. Ozols Undergraduate Summer Research Fellowship 2022, Sophomore in Biochemistry, Cornell University

W246

Genxuan "Cameron" Lian

Undergraduate Research Scholar 2022, Sophomore in Biological Chemistry, Grinnell College

W246
Research Interests
LuChenLab – RNA biology to solve cancer and other aging-related diseases.
Epigenetic mechanisms hijacked by a recurrent somatic noncoding driver mutation.
Engineer senescence-resistant CAR-T and other adult stem cells.
Develop a DNA/RNA-sensing portable device for cancer detection, powered by CRISPR-Cas and nanotechnologies.
Investigate role of chromatin in the life cycle of a ribonucleoprotein.
Lab Overview
The Lu Chen laboratory (luchenlab.org) studies molecular secrets underlying all things RNA biology – how RNAs are chemically modified, how their exact molecular forms are precisely defined, and how they cooperate with proteins to carry out molecular functions at specific cellular locations. We are translating our basic science discoveries into novel therapeutic options to combat cancer immortality, stem cell exhaustion, and degenerative diseases. We use diverse approaches, including protein-RNA reconstitution, Next-gen RNA structural profiling (icSHAPE-seq, nascent RNA-seq), CRISPR-engineering of human primary stem cell and mouse models, and single-molecule RNA imaging.
Open Positions
ABOUT THE POSITION
The Chen Laboratory at the Fox Chase Cancer Center is hiring ambitious and self-motivated individuals for the position of Postdoctoral Fellow or Scientific Technician. Our long-term goal is to leverage basic RNA biology to solve cancer and other aging-related stem cell diseases. Current ongoing projects include 1) to elucidate the RNA basis of an acute and selective cancer genotoxicity; 2) to revert stem cell exhaustion (CAR-T and/or Alveolar Type2) using a cocktail of telomerase boosters; 3) to target noncoding somatic cancer mutations using a combined approach of CRISPR and PROTAC. We have published 17 high-impact papers, including Cell, Nature, Mol Cell, NAR, PNAS and Cell Rep. The lab receives generous supports from NIH/NIAID, Temple-FCCC drug discovery seed grant, and Jeanne E. and Robert Ozols Undergraduate Research Fellowship. Additional details regarding the lab can be found at www.luchenlab.org.
ABOUT THE TRAINING ENVIRONMENT
As one of the four original cancer centers to receive comprehensive designation from the National Cancer Institute, Fox Chase Cancer Center has been at the forefront of cancer research for almost 90 years. We are home to excellent research facilities, top clinicians and scientists, and outstanding patient care. Our singular focus on cancer, which couples discovery science with state of the art clinical care and population health, remains the foundation of our work.
The scientist training programs at Fox Chase Cancer Center provide professional development opportunities in four core areas identified as crucial for successful careers in science, research, and health care including communication, leadership, teaching, and mentorship. Upon joining the program, graduate students and postdocs develop individual development plans to help guide their growth. Training throughout the year is supplemented with free professional development opportunities, including a robust 'How To' series, writing courses, networking, mentorship, and teaching opportunities, a trainee-led seminar series, a trainee-led annual Research Conference, and more. Postdocs at Fox Chase Cancer Center are supported by the Temple University Postdoc Association and the Office of Academic Affairs at Fox Chase, and are compensated with competitive pay and benefits.
In addition to the robust training program, scientists at Fox Chase Cancer Center benefit from being part of the rich scientific and biotech environment in the Philadelphia region. Many of our former trainees are now employees (and contacts) at nearby institutions and companies, including The Wistar Institute, Merck, GSK, AACR, and numerous others.
TO APPLY
Email a CV, cover letter that states research interest(s) and goals, and the name of at least three references to [email protected]. Qualified candidates will then be invited to complete a job application.
The following ratings and reviews are based on verified feedback collected from independently administered patient experience surveys. The ratings and comments submitted by patients reflect their own views and opinions. Patient identities are withheld to ensure confidentiality and privacy. Learn more about our Patient Experience Ratings.
Ratings Breakdown
Loading ...
Patient comments
Loading ...