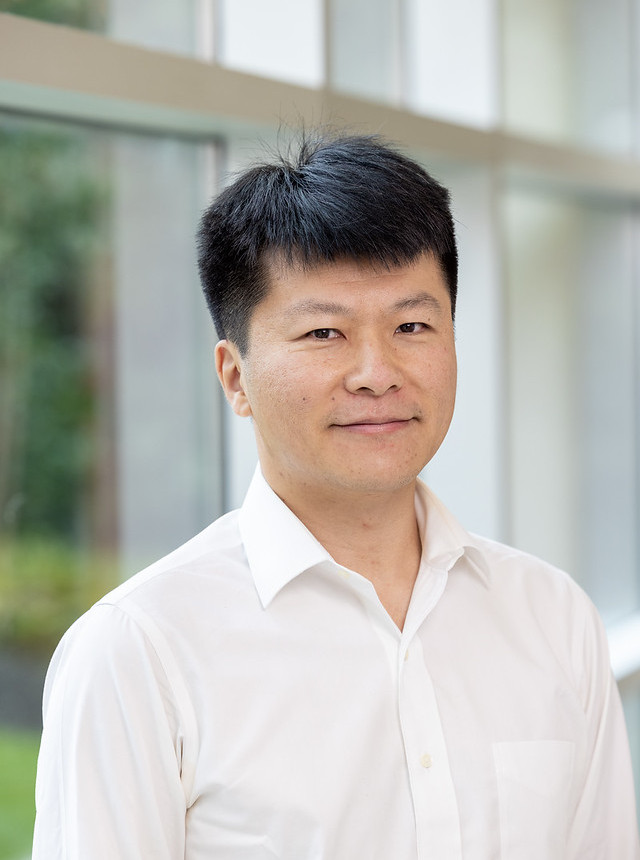 ​​
Educational Background
2020-2021 - Instructor, Stanford Cancer Institute, Stanford Cancer Institute, Stanford, California, USA
2013-2019 - Postdoctoral Fellow, Department of Biochemistry, Department of Medicine-Division of Hematology, Stanford University, Stanford, California
2007-2013 - PhD, Biochemistry and Molecular Biology (with honors), University of Kansas Medical Center, Stowers Institute for Medical Research, Kansas City, Missouri
2002-2006 - BS, Biological Sciences, College of Life Sciences, Wuhan University, Wuhan, China
Honors & Awards
2023 - NIGMS-MIRA (Maximizing Investigators' Research Award)"
2018 - Postdoctoral Fellowship Award, Stanford Cancer Institute, Stanford, CA
2013 - Honors in Ph.D. thesis and defense, Department of Biochemistry and Molecular Biology, University of Kansas Medical Center
2010 - Best Poster Award at the ASBMB (American Society for Biochemistry and Molecular Biology) Special Symposium, entitled "Transcriptional Regulation by Chromatin and RNA Polymerase II", Tahoe City, California
People
Aldana Vistarop

Postdoctoral Associate Ph.D. 2019 in Pharmacy and Biochemistry, B.S. 2012 in Biochemistry University of Buenos Aires, Argentina

W246

Musinu Zakari, PhD

Postdoctoral Fellow B.S. 2008, University of Ghana, Ghana MSc. 2010, Maastricht University, Netherlands MSc. and PhD 2015, Paris VI University, France 2023- Patterson Postdoctoral Fellowship in Structural Biology and Biochemistry

W246

Julia Hoopman

PhD student (Temple-BMSC 2022) B.S. 2022, Liberty University, Lynchburg, VA 2022- Presidential Fellowship, Temple University 2023- T32 Predoctoral Training Award (NIGMS)

W246

Alexander Morris

PhD student (Temple-BMSC 2022) 2019, REU, Oregon State University, OR 2020, BS, The College of Wooster, OH 2020-22, Lab Tech II, Harvard University/MGH, MA

W246

Grigory "Grisha" Matveev

Graduate Student 2022-2023, MSc, MIPT, integrated Structural Biology and Genetics Program 2022, BS, MIPT, Applied Mathematics & Physics

W246

Genxuan "Cameron" Lian

Summer Assistant II 2022-, Undergrad in Biological Chemistry, Grinnell College, IA 2023, IN VINO VITA Summer Scholar Clinical Shadow: with Dr. Efrat Dotan

W246

Marie "Masha" Kobin

Summer Assistant II 2022-, Undergrad in Biochemistry, Cornell University, Ithaca, NY 2022, Jeanne E. and Robert F. Ozols Undergraduate Summer Research Fellowship 2023, IN VINO VITA Summer Scholar Clinical Shadow: with Dr. Jeffrey Farma

W246

Ashley Park

Student Fellow 2022, Junior, Wissahickon High School 2023, IN VINO VITA Summer Scholar

W246
Additional Staff
Alumni
Soon-keat Ooi
Position/Role: Postdoctoral Fellow, 2022
B.S. 2009, National University of Malaysia (UKM)
PhD 2021, Stowers Institute for Medical Research
Clinical Shadow:
Next Position: Postdoctoral Fellow, University of Pennsylvania.
Victoria (Tori) Gillespie
Position/Role: Sci Tech I/Lab Manager
B.S. 2021, University of North Carolina at Chapel Hill
Next Position: MSTP/graduate school.
Kevin Ethridge
Position/Role: Undergrad Volunteer,2022
Wistar Institute - Biomedical Technician Training Program (BTT)
Elizabeth "Lizzie" Urbanowicz
Position/Role: Undergrad Volunteer, 2023
Undergrad in Biology, Temple Universityy
Clinical Shadow: with Dr. Efrat Dotan, 04/2023
Research Interests
LuChenLab – RNA biology to solve cancer and other aging-related diseases.
Epigenetic mechanisms hijacked by a recurrent somatic noncoding driver mutation.
Engineer senescence-resistant CAR-T and other adult stem cells.
Develop a DNA/RNA-sensing portable device for cancer detection, powered by CRISPR-Cas and nanotechnologies.
Investigate role of chromatin in the life cycle of a ribonucleoprotein.
Lab Overview
The Lu Chen laboratory (luchenlab.org) studies molecular secrets underlying all things RNA biology – how RNAs are chemically modified, how their exact molecular forms are precisely defined, and how they cooperate with proteins to carry out molecular functions at specific cellular locations. We are translating our basic science discoveries into novel therapeutic options to combat cancer immortality, stem cell exhaustion, and degenerative diseases. We use diverse approaches, including protein-RNA reconstitution, Next-gen RNA structural profiling (icSHAPE-seq, nascent RNA-seq), CRISPR-engineering of human primary stem cell and mouse models, and single-molecule RNA imaging.
Selected Publications
Huda A, Arakawa H, Mazzucco G, Galli M, Petrocelli V, Casola S, Chen L, Doksani Y. The telomerase reverse transcriptase elongates reversed replication forks at telomeric repeats. Science Advances. 2023 Mar 22;9(12):eadf2011. PMID 36947627 
Galati A, Scatolini L, Micheli E, Bavasso F, Cicconi A, Maccallini P, Chen L, Roake CM, Schoeftner S, Artandi SE, Gatti M, Cacchione S, Raffa GD. The S-adenosylmethionine analog sinefungin inhibits the trimethylguanosine synthase TGS1 to promote telomerase activity and telomere lengthening. FEBS Lett. 2022 Jan;596(1):42-52. doi: 10.1002/1873-3468.14240. Epub 2021 Dec 5. PMID: 34817067 
Hasegawa K, Zhao Y, Garbuzov A, Corces R , Chen L, Cheung P, Wei Y, Chang HY, Gillespie V, Belk J, Huang Y, and Artandi SE, Clonal inactivation of TERT impairs stem cell competition. In Revision  
Chen L*, Roake CM, Maccallini P, Bavasso F, Dehghannasiri R, Santonicola P, Mendoza-Ferreira N, ..., Kobin MA,... Artandi SE*, Raffa GD*. TGS1 controls snRNA 3'end processing, prevents neurodegeneration and ameliorates SMN-dependent neurological phenotypes in vivo. Nucleic Acids Research. 2022 Aug 10;gkac659. PMID 35947650 (*co-corresponding author, selected for NAR cover art_Vol 50, Issue 21, Nov 28, 2022) 
Chen L*, Chang HY, Artandi SE*. Analysis of RNA conformation in endogenously assembled RNPs by icSHAPE. STAR protocols. 2021 Jun 18;2(2):100477. PMID 33997809 (*co-corresponding author) 
Chen L*, Bellone RR, Wang Y, Singer-Berk M, Sugasawa K, Ford JM, Artandi SE. A novel DDB2 mutation causes defective recognition of UV-induced DNA damages and prevalent equine squamous cell carcinoma. DNA repair. 2021 Jan 1;97:103022. PMID 33276309 (*Corresponding author) 
Chen L, Roake CM, Galati A, Bavasso F, Micheli E, Saggio I, Schoeftner S, Cacchione S, Gatti M, Artandi SE, Raffa GD. Loss of human TGS1 hypermethylase promotes increased telomerase RNA and telomere elongation. Cell reports. 2020 Feb 4;30(5):1358-72.PMID 32023455 
Chen L, Roake CM, Freund A, Batista PJ, Tian S, Yin YA, Gajera CR, Lin S, Lee B, Pech MF, Venteicher AS. An activity switch in human telomerase based on RNA conformation and shaped by TCAB1. Cell. 2018 Jun 28;174(1):218-30. PMID 29804836 
Chen L, Ooi SK, Conaway JW, Conaway RC. Biochemical assays for analyzing activities of ATP-dependent chromatin remodeling enzymes. JoVE. 2014 Oct 25(92):e51721. PMID 25407555 
Chen L, Ooi SK, Conaway RC, Conaway JW. Generation and purification of human INO80 chromatin remodeling complexes and subcomplexes. JoVE. 2014(92):e51720. PMID 25407439 
Chen L, Conaway RC, Conaway JW. Multiple modes of regulation of the human Ino80 SNF2 ATPase by subunits of the INO80 chromatin-remodeling complex. Proceedings of the National Academy of Sciences. 2013 Dec 17;110(51):20497-502. PMID 24297934 
Chen L, Cai Y, Jin J, Florens L, Swanson SK, Washburn MP, Conaway JW, Conaway RC. Subunit organization of the human INO80 chromatin remodeling complex: an evolutionarily conserved core complex catalyzes ATP-dependent nucleosome remodeling. Journal of Biological Chemistry. 2011 Apr 1;286(13):11283-9. PMID 21303910 (Highlighted in "Milestones in transcription and chromatin published in the Journal of Biological Chemistry", 2019 Feb 1;294(5):1652-1660.)  
Additional Publications
The following ratings and reviews are based on verified feedback collected from independently administered patient experience surveys. The ratings and comments submitted by patients reflect their own views and opinions. Patient identities are withheld to ensure confidentiality and privacy. Learn more about our Patient Experience Ratings.
Ratings Breakdown
Loading ...
Patient comments
Loading ...
​​