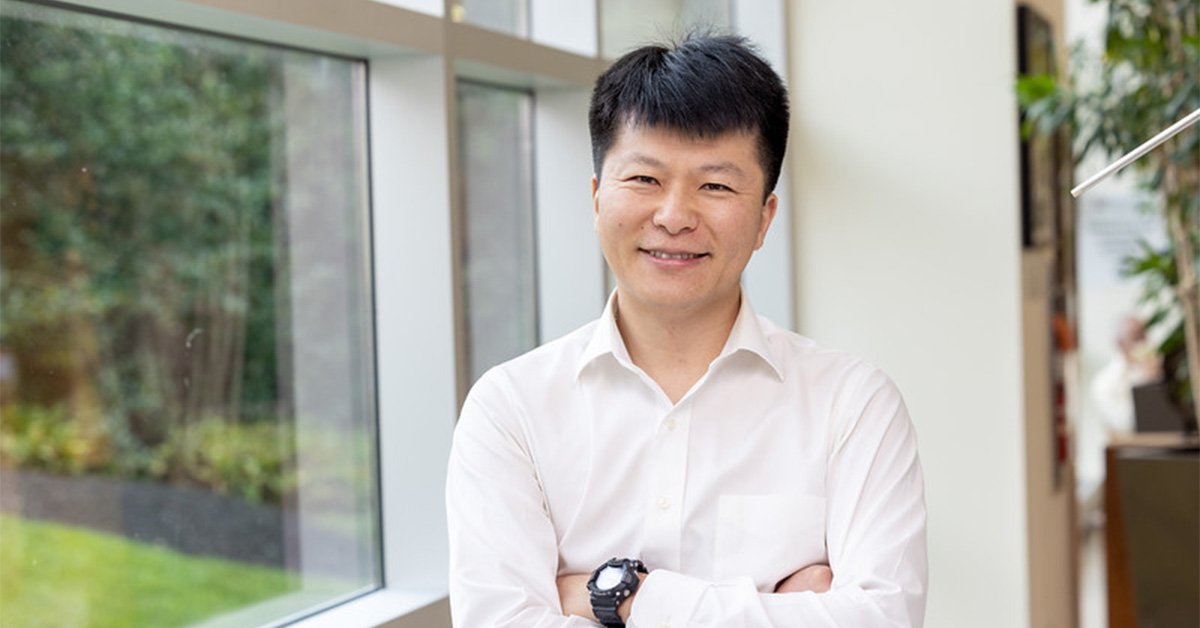 PHILADELPHIA (May 12, 2023)—As the enzyme telomerase is being formed within cells, it dwells within a specific cell compartment. Scientists have long thought that these compartments served as a kind of greenhouse, cradling the enzyme's maturation and function. Now a new study from researchers at Fox Chase Cancer Center has found that they can also act as prisons.
The surprising findings are significant because telomerase solves a critical glitch encountered at chromosome ends, or telomeres, during every cell division – a specialized function exploited by 90% of human cancers. Problems with telomerase production cause stem cell loss and premature aging diseases, said Lu Chen, PhD, an assistant professor in the Nuclear Dynamics and Cancer research program and a member of the Cancer Epigenetics Institute at Fox Chase, whose lab made the discovery.
Understanding the rate-limiting steps of telomerase production could be a game-changer for future cancer and stem cell therapies, he added. Chen presented his team's research recently at the 13th CSHL-Telomere and Telomerase meeting at the Cold Spring Harbor Laboratory, a top research forum attended by leading cell biologists, biochemists, and cancer and aging biologists.
"We call it the 'telomerase prison break' model," Chen said. "When cells don't have this so-called greenhouse, we actually see a very significant gain of function for the telomerase. Instead of less telomerase being made, it actually makes more."
Telomerase is known as the "immortality enzyme" because it helps 90% of cancer cells to replicate indefinitely. However, when healthy stem cells don't have enough telomerase due to normal aging or genetic mutations, they begin to shut down and enter into a terminal state called "replicative senescence." This contributes to degenerative diseases like dyskeratosis congenita, pulmonary fibrosis, liver cirrhosis, and Alzheimer's.
For the study, Chen's team looked at where telomerase forms within cells. It was already known that cellular RNA and protein molecules of similar properties organized themselves into membrane-less compartments under the principle of phase separation, a physical process that also drives separation or de-mixing when a drop of oil is added to water. Phase-separated cellular compartments have been known to speed up biological processes.
Researchers used CRISPR, a genetic editing tool, or a pharmaceutical compound to dismantle the compartment that hosts telomerase so they could observe the effect on telomerase production. Not only was more telomerase produced, these "prison-break" telomerases potently elongated human telomeres in cancer cells and in human stem cells harboring mutations linked to degenerative diseases.
"This was a very unexpected molecular observation," Chen said, adding that the work points to the value of basic science research that simply seeks to understand cellular processes without being biased toward a specific therapeutic goal.
He noted that coauthors on the work include trainees from different career stages. They are Musinu Zakari, PhD, senior postdoctoral fellow in Chen's lab, Temple University graduate students Alex Morris and Julia Hoopman, and Genxuan "Cameron" Lian, a Fox Chase undergraduate research scholar from Grinnell College. The final member of the research team was Ashley Park, a student at Wissahickon High School who assisted with research after school.
"I feel very fortunate that Fox Chase nucleates talent both near – from the local Philly area – and far – from all over the world. Seeing them walk in the lab door, phase separating and engaging in basic research early in their careers is very rewarding," Chen said.
He added that the findings could be a potential path to new approaches for degenerative diseases associated with short telomeres. A challenge that remains is to understand how telomerase could be enhanced to potentially treat degenerative conditions without also triggering cancer growth.
"There's still a long way to go to see what will be the best therapeutic window for such telomere lengthening therapy," he said. Chen added that his research program receives generous support from Fox Chase and its Cancer Epigenetics Institute, multiple grants from the National Institutes of Health, and a seed grant from the Moulder Center for Drug Discovery Research at the Temple University School of Pharmacy.