It's currently unknown why 30 to 40 percent of patients with stage II or III bladder cancer show no evidence of tumors after receiving the standard of care for their muscle-invasive bladder cancer (MIBC): chemotherapy followed by a cystectomy.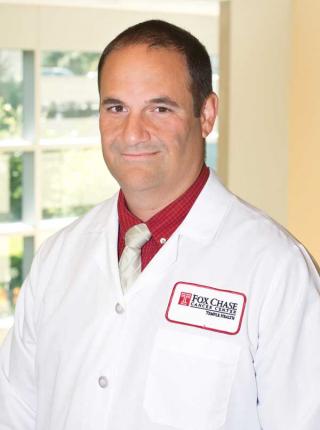 Several investigators at Fox Chase including urologist and researcher Phillip Abbosh, MD, PhD, are on the case, looking for one or more "smoking guns" that explain the tumor-free results. Two areas that Abbosh is investigating are the immune system impacting cancer's response to the chemotherapy and the effect of bacteria found in bladder tumors chemotherapy's effectiveness.
The study will work with blood, urine, lymph node (T-cells) and tumor tissue samples from Fox Chase patients who have had their bladders removed for MIBC and have agreed to let researchers use their samples.
Abbosh received funding from the Department of Defense because U.S. veterans are more likely than civilians to develop bladder cancer, probably because of tobacco use and exposure to cancer-causing chemicals such as diesel exhaust, Agent Orange and other substances. Not only is bladder cancer the most expensive cancer to treat, but a curative cystectomy is a complicated treatment that is life-altering for patients, some of whom will have their tumors respond to chemo.
"We know whether their tumors responded or didn't respond to the chemotherapy based on the surgical specimen when patients undergo cystectomy and will determine if particular bacteria present in their urine or their tumor that are associated with their response," said Abbosh, who heads up Fox Chase's Translational Urologic Oncology Research lab.
"Once we've identified what bacteria are present in each person's urine and tumor, we will be able to compare the bacterial profile of responders and non-responders to find out if the bacteria are markers of response or whether they actually cause response to chemotherapy. In other words, we are asking: Are the bacteria the smoke or are the bacteria the fire?" he said.
Animal models will help investigate whether all or some of the bacteria from the bladder's microbiome are associated with a response.
"If there is a correlation between the bacteria and a response to chemotherapy, a future clinical trial could test whether adding a response-associated bacteria to the bladder enhances the chemotherapy response," Abbosh said, who noted that a bacteria called Bacillus Calmette-Guerin (BCG) is already installed into the bladder as an immunotherapy for early stage bladder cancer.
"This work could help us understand several previously unrecognized mechanisms contributing to chemotherapy response in bladder cancer, namely activity of the immune system during response and bacteria that may promote or hamper response," he said. "The immune system is increasingly recognized as a tool which can be manipulated to generate a response to many types of tumors."
These could be the smoking guns that lead to new bladder cancer treatments to give future patients a better outcome.