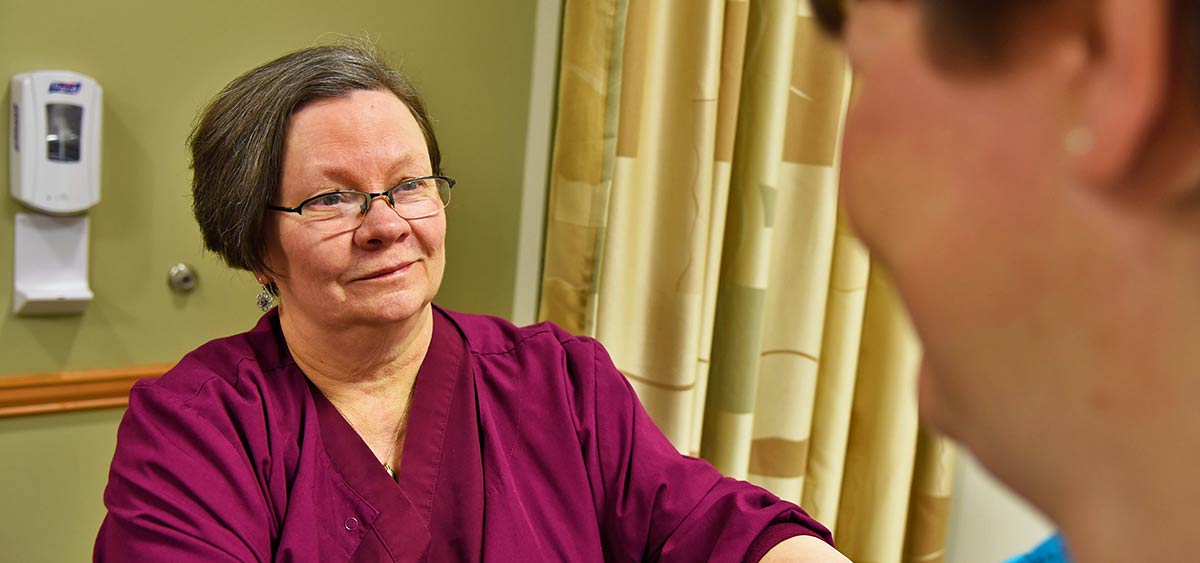 Throughout Susan Sippel's career at Fox Chase, three things have stood out: mentors, connecting with patients, and teamwork.
She joined Fox Chase 29 years ago as a ward secretary for the Three South unit after her sister-in-law, a Fox Chase nurse, told her about the opening. Three years later, she moved into patient care as a nursing assistant—a title she's held proudly for 26 years.
"My sister-in-law was the biggest mentor in my life," Sippel said. "I learned so much from her and the other staff at Three South when I first started. They were great to work with and were always explaining things. It was a well-run unit, and I learned something new every day."
Since starting at Fox Chase, she has worked in a variety of areas, including inpatient head and neck and thoracic oncology, outpatient breast medical and surgical oncology, GI medical oncology, surgical sarcoma, dermatology, and genitourinary (GU) oncology (where she has been stationed for the last six years).
Each day, Sippel interacts with about 30 to 40 patients. After bringing them to the clinic rooms, she takes their vitals, asks about their condition, documents their medications, and asks briefly about their concerns (such as fevers and other post-treatment issues). Patients run the gamut and may be coming in for an initial consultation or a pre- or post-surgery visit. They may be seen for recurrence, metastases, or even survivorship care. She also clinic-preps the rooms for the nurses and doctors who follow her initial visit.
"That's pretty much my day—it's busy here," she said.
Along with new and follow-up clinic visits, Sippel and other assistants help with BCG treatments and dozens of other procedures weekly, including cystoscopies, prostate biopsies (including UroNav and transperineal prostate biopsies), and most recently, SpaceOAR procedures.
Friendly with a great sense of humor, Sippel noted that interactions with returning patients naturally evolve over time and form the basis of a connection that makes them feel more comfortable and at ease.
"They remember you, and you remember them—like friends do. They ask how your family is doing, and you ask about their family," she said. "We end up learning different things about each other as they come up in conversation. For example, my daughter recently had a little girl, and a lot of the patients coming in will ask how the baby is. It's nice that they remember."
Sippel develops comfortable and trusted connections with patients, which is the key to her patient care philosophy.
"We can also provide reassurance," she added. "For example, bladder cancer patients who have a cystectomy often go through a period that seems like a setback. I always try to tell them they're going to take one step forward and three steps back occasionally, and then all of a sudden, they're going to come around the corner and will be doing great. When they do, they are ecstatic. This is so rewarding for our staff to experience."
Along with her strong patient relationships, Sippel's connection to her fellow GU team members also serves as a reminder that she has found the perfect place to provide patient care.
"Working closely with the attending physicians and our exceptional nursing team makes this a very rewarding and comforting workplace. My urology mentor, Sue Smolenski Burke, RN, BSN, OCN, was extremely instrumental in orienting me to this surgical group. Another mentor and exceptional nurse was Lisa Hicks, RN, BSN, OCN, from whom I learned so much. We experienced a huge loss to our team when she had to relocate to the Pittsburgh area, and we are currently rebuilding," said Sippel. "This team is great. We are like a close-knit family, and we've got each other's back 24/7. If something happens, staff jump in to help out."
The GU team's connection to Sippel was demonstrated on a personal level when her daughter's father-in-law was diagnosed with a large renal tumor and was airlifted from his hometown in Wyoming to Denver for surgery. Sippel said Alexander Kutikov, MD, FACS, a urologic oncologist at Fox Chase, knew his surgeon and contacted him personally.
"Dr. Kutikov said that if anybody had to do the surgery, the surgeon in Denver was the best one to do it," she noted, adding that another GU colleague, Marc Smaldone, MD, MSHP, FACS, was also in touch with the Denver medical team. "It was touching that my colleagues connected with the Denver team and reassured us that he was in great hands."
It's connections like these with both patients and colleagues that make working in the GU practice rewarding for Sippel.
"I found my niche," Sippel said. "I love it here."