Lori Giampaolo noticed a lump in her left breast in December 2017. After a mammogram and an ultrasound at a local hospital, she was immediately scheduled for a biopsy three days before Christmas. Lori was diagnosed with Stage 3 ductal carcinoma which had spread to a few lymph nodes. She was HER2-positive, estrogen positive, and progesterone negative.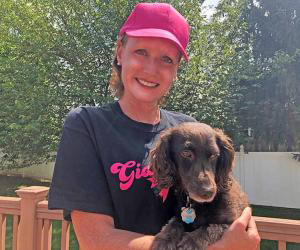 After a whirlwind of MRIs, CT scans, bone scans, blood work, and echocardiograms, she learned that her cancer was contained. It was then that Lori decided to pursue a second opinion at Fox Chase Cancer CenterLori met with Angela Jain, MD, medical oncologist, and Alison Aggon, DO, FACS, breast cancer surgical oncologist. "I knew immediately that I wanted to be treated at Fox Chase. Both Dr. Jain and Dr. Aggon were confident, compassionate, and firmly believed that I could beat this," said Lori.
"Prior to being at Fox Chase, all I heard were statistics. No one told me I could beat it. I wanted an oncology team that believed in my ability to win and who would fight as hard as I would."
Then came the time for Lori and her husband to break the news of her diagnosis to their two children, Julia and Daniel. "Though it was an incredibly difficult conversation to have, we had the pleasure of telling our children that I was being treated at one of the country's premier cancer treatment facilities," Lori said. "While they were terrified at the time, they soon began to see that I truly was receiving the best care and attention."
In January 2018, Lori began chemotherapy and targeted cell therapies at Fox Chase every three weeks for a year under the direction of Jain. In May 2018 Aggon performed a bilateral mastectomy and removed four lymph nodes.
Neal S. Topham, MD, FACS, chief of the Division of Plastic and Reconstructive Surgery, completed her reconstruction in September 2018. "I felt like my complete self again," said Lori.
Penny R. Anderson, MD, chief of the Division of Breast and Gynecologic Radiation Oncology, managed Lori's five-week course of radiation treatments. Her final infusion took place on December 21, a year to the day that she received her initial biopsy.
"It was a long journey, but I got through it with the help of my treatment team and incredible support system of family and friends," said Lori. "I am thrilled to participate in Paws for the Cause, a worthwhile cause to help relieve the burden for other patients."   
Join us along with Lori at the 20th Annual Paws for the Cause!