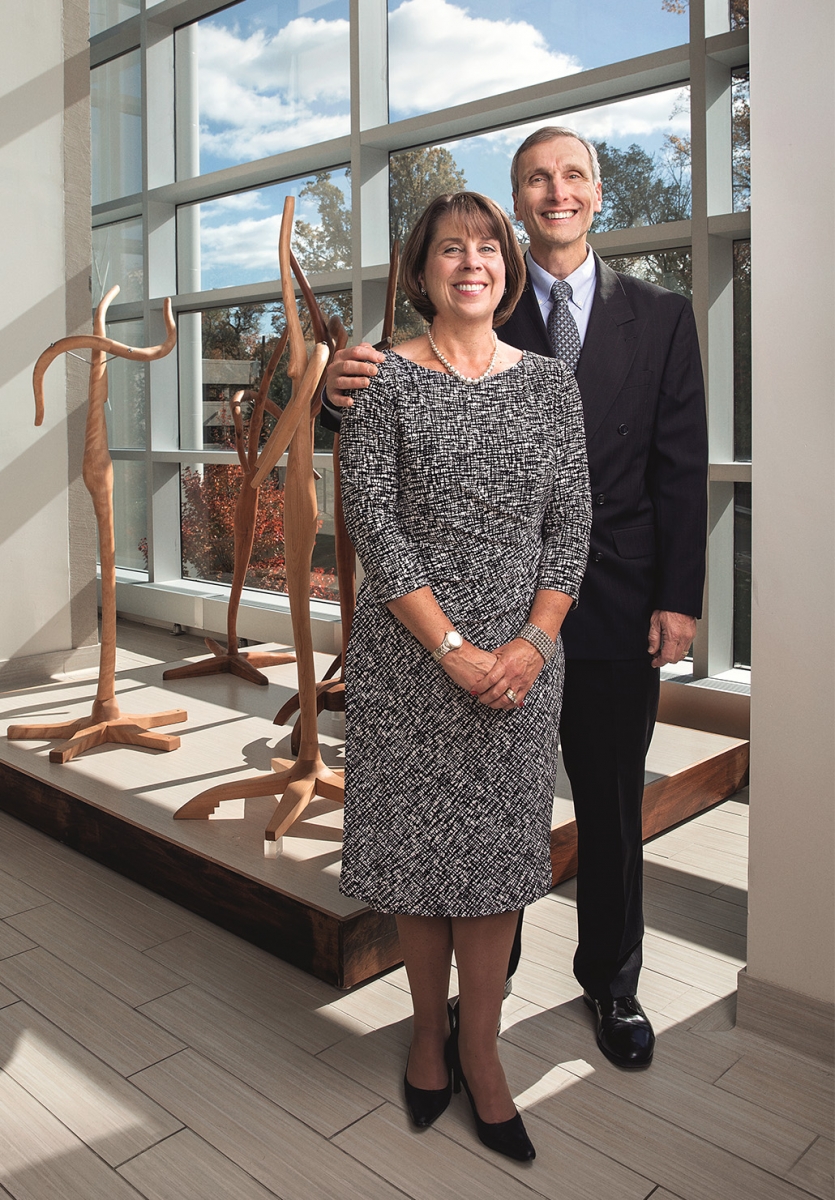 After both of their fathers died from lung cancer, Bill and Sue Federici became committed to advancing research of the disease.
Both 2013 and 2014 were difficult years for Bill and Sue Federici. In 2013, Sue's father, Gerard Flaherty, was diagnosed with stage IV lung cancer after an x-ray did not detect any trace of the disease several months before. Around the same time, Bill's father, Richard Federici, was also diagnosed with stage IV lung cancer.
In October 2013, Gerard died at the age of 81, and just six months later, Richard died at 85. Both fathers were happy and healthy until the last three months of their lives. "It was striking how precipitous the fall was for them," Bill says. "They went from being two healthy men in their eighties to dying in a really short amount of time."
Although their fathers were not treated at Fox Chase, Bill and Sue had become familiar with the Center through local charity events they'd attended with West Pharmaceutical Services, where Bill served as chief financial officer and senior vice president. Through their experiences they wondered if Fox Chase, known for its excellence in research, training, and care, could present an opportunity for them to honor their fathers' memories.
Bill and Sue met with Hossein Borghaei, DO, Chief of Thoracic Oncology, and Margie Clapper, PhD, Professor of Cancer Prevention and Research. "When we met with the doctors, we were touched by the passion and energy they brought to the research and detection of cancer," Bill says. "The research being conducted at Fox Chase offers hope for early detection." He adds, "The way the research teams work hand-in-hand with the medical teams is amazing."
The Federicis decided to donate $1 million to create The Richard P. Federici and Gerard R. Flaherty Endowed Fellowship for Lung Cancer Research in memory of their fathers. They established this fund in February 2015 with the hope that more doctoral students will be able to work alongside Fox Chase professionals to find an early detection test and cure for the disease that took their fathers' lives.
"We feel blessed by all that's been given to us by our fathers," Sue says. "This fellowship is a way for us to give to other cancer patients what neither of our fathers had: an early diagnosis and maybe a few more years of life."
Most recently, Bill and Sue committed their support to the Center as the Event Co-Chairs of the 2018 In Vino Vita Benefit and Wine Auction. Their dedicated efforts to ensure the event was a success, along with their personal contribution of $250,000, helped raise a total of $1.64 million for the advancement of patient care at Fox Chase.