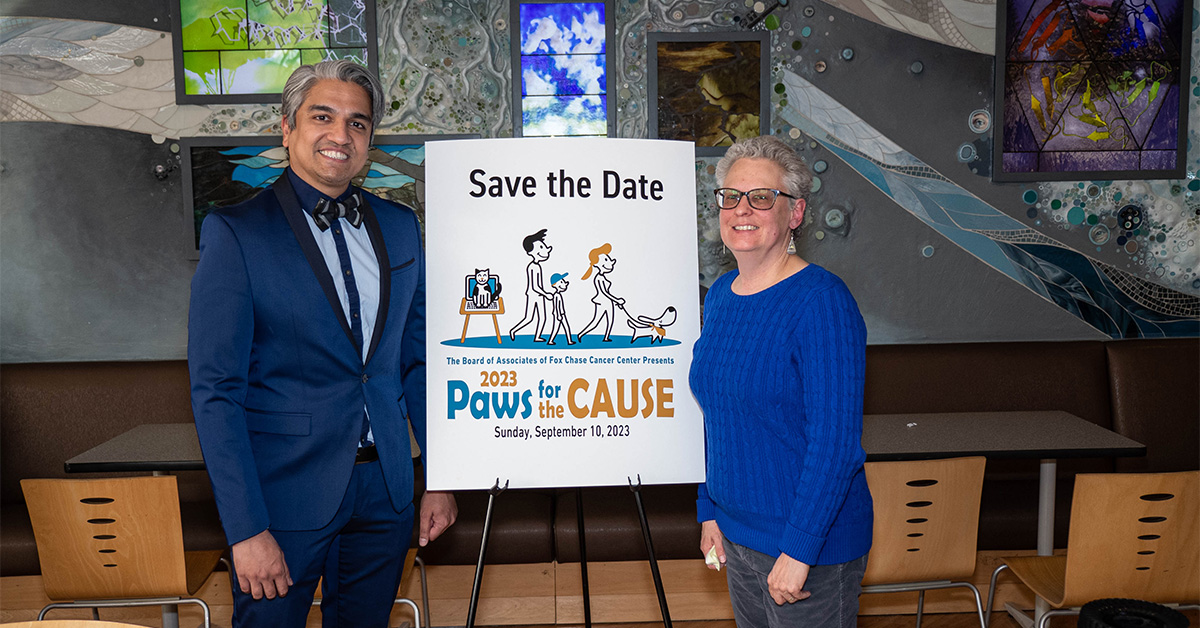 Adding a new twist to a beloved tradition, the Board of Associates of Fox Chase Cancer Center hosted its first-ever special tea this spring to kick off fundraising for Paws for the Cause 2023. The ever-popular dog walk is set to take place on Sunday, September 10, 2023 on the Fox Chase campus, marking its 24th year.
"Each year that we've hosted Paws for the Cause, the community support has grown and we couldn't be more grateful," noted Julia Goplerud, president of the Board of Associates, as she welcomed everyone to the special tea.
Prizes and people filled the Fox Chase Cafeteria for the afternoon event, which featured special refreshments, a raffle, giveaway water bottles, and plenty of dog lovers eager to support this fun event with their furry friends.
Goplerud introduced this year's patient and physician ambassadors during the festivities.
Elaine Spangler—accompanied by her rescue dog, Daisy—will serve as the 2023 patient ambassador. She shared her personal story, noting the sharp contrast between her professional experience and her feelings about becoming a patient.
"I have worked in clinical trials research for more than 25 years," Spangler said. "So when I received my stage IV metastatic breast cancer diagnosis last year, I couldn't believe it—now being on the other side.
"The good news is I reached out to Fox Chase and my nurse navigator got me enrolled in a clinical trial," she continued. "My team is wonderful, and I am in awe of what you all do here."
Abhishek Aphale, MD, director of Mohs Surgery in the Department of Medicine, Section of Dermatology, will serve as the physician ambassador for Paws for the Cause 2023. He echoed Spangler's sentiments about Fox Chase.
"What makes this institution so special is that we have so much world-class research here, but we still feel like a family. Our patients feel this too," he said.
Dr. Aphale has participated in Paws for the Cause for the last couple of years with his histotechnician and other co-workers. The energy at the event instantly won him over.
"Everyone—both dogs and humans alike—has a great time," he said. "This is one of my favorite events, and I'm so excited and honored to be chosen as this year's physician ambassador. It promises to be a good day."
Paws for the Cause features a one-mile walk around Fox Chase's picturesque Northeast Philadelphia campus. Food, music, children's activities, contests and prizes, vendor sales, raffles, and more create an enjoyable, family-friendly day that keeps many returning year after year. In fact, last year's walk saw a record 618 participants and their dogs. The event is organized by the Board of Associates with generous support from title sponsor West Pharmaceutical Services, Inc.
"Paws for the Cause was so powerful for me because it gave me purpose, fight, and fun," Spangler said of her experience participating last year. "It was a reason to bring my family and friends together, and I am so honored to help make this year's event an even greater success. We're doing better and better as years go by, because we all pitch in to support life-changing cancer research."
Since its first year, Paws for the Cause has raised more than $850,000 to support postdoctoral fellowships and cancer research programs at Fox Chase.
The 2023 dog walk will also welcome Lori Giampaolo as its returning event chair and captain of Team Giampaolo, one of the event's top fundraising teams.
Registration for Paws for the Cause 2023 is available by going to foxchase.org/giving/paws-cause.