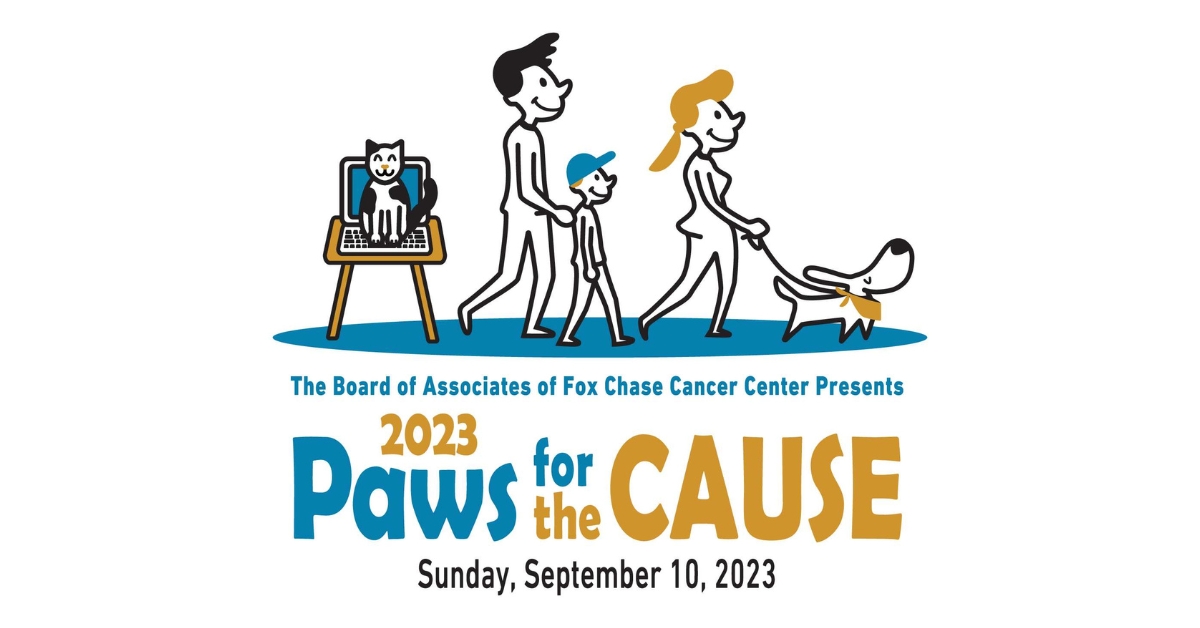 PHILADELPHIA (September 5, 2023) — Registration for Paws for the Cause 2023, Fox Chase Cancer Center's ever-popular dog walk fundraiser, is now open. The event, now in its 24th year, will be held Sunday, September 10, from 9 a.m. to noon in the Reimann parking lot.
The event features a one-mile walk around the Fox Chase campus, as well as food, music, children's activities, contests and prizes, and more. A variety of vendors and animal rescue organizations will also be on hand. In addition, all are invited to follow Paws for the Cause on Facebook through the Fox Chase Ambassadors page to see sponsor and vendor highlights and to post photos of themselves and their pets supporting the event from afar.
This year's returning event chair is Lori Giampaolo, who is also a top fundraiser for Paws for the Cause. Fox Chase dermatologist and Director of Mohs Surgery Abhishek Aphale, MD, will serve as the 2023 physician ambassador.
Elaine Spangler—accompanied by her rescue dog, Daisy—will serve as the 2023 patient ambassador. She has worked in clinical trials research for more than 25 years and was shocked when she was diagnosed with stage IV metastatic breast cancer last year.
"The good news is I reached out to Fox Chase and my nurse navigator got me enrolled in a clinical trial," Spangler said. "My team is wonderful, and I am in awe of the work that is done at Fox Chase."
Aphale said that what makes Fox Chase so special is the world-class research that it conducts. "But we still feel like a family. Our patients feel this too," added Aphale, who has participated in Paws for the Cause for the last few years with coworkers.
"This is such a fantastic event, so I'm excited and honored to be chosen as this year's physician ambassador," he said.
Since its first year, Paws for the Cause has raised more than $850,000 for cancer research at Fox Chase. The event is organized by Fox Chase's Board of Associates with generous support once again this year from title sponsor West Pharmaceutical Services Inc.
Advance registration includes a giveaway bag and is $20 for adults and $10 for teens 13 to 18. Onsite registration, which includes a giveaway bag while supplies last, is $25 for adults and $15 for teens 13 to 18. All children 12 and under may attend for free.
Participants can go to foxchase.org/paws to register for the event, to fundraise, and to make donations.