Jennifer Barsky Reese, PhD, FSBM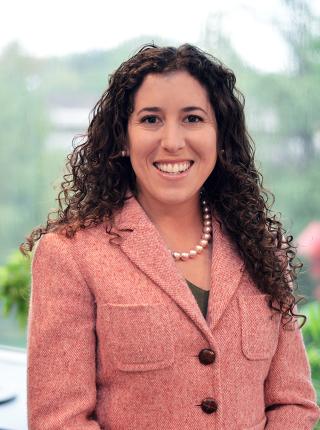 Specialties
Research Program
Other Specialties
Survivorship, QOL, Sexual Function, Breast Cancer, Interventions
Educational Background
American Cancer Society Postdoctoral Fellowship, Department of Psychiatry and Behavioral Sciences, Johns Hopkins University School of Medicine, Baltimore, MD, 2009-2012
T32 Postdoctoral Fellowship, Department of Psychiatry & Behavioral Sciences, Duke University Medical Center, Durham, NC, 2008-2009
Behavioral Medicine Intern, Department of Psychiatry & Behavioral Sciences, Duke University Medical Center, Durham, NC, 2007-2008
PhD, Clinical Psychology, Rutgers, the State University of New Jersey, Piscataway, NJ, 2008
BA, Barnard College, Columbia University, New York, NY, 2001
Certifications
Licensed Psychologist, State of Pennsylvania
Memberships
Academy of Communication in Healthcare
American Psychosocial Oncology Society
Scientific Network on Female Sexual Health and Cancer
Society of Behavioral Medicine
Honors & Awards
New Investigator Award, American Psychosocial Oncology Society, 2021
Co-Author, Honorable Mention Abstract, Sexual Medicine Society of North America Annual Fall Meeting, 2020
Putnam Scholar, Academy of Communication in Healthcare, 2018
Faculty Scholarship, International Conference on Communication in Health Care Conference, Baltimore, MD, 2017
Co-author, Best Abstract, Female Sexual Health, International Society for Sexual Medicine Conference, 2014
Early Career Scholarship, Summer Institute on Longitudinal Methods at Penn State University, State College, PA, 2010
Phi Beta Kappa Society, 2001
Summa cum laude with Departmental Honors in Psychology, 2001
Hollingsworth Prize for Outstanding Research Project in Psychology, 2001
People
Kristen A. Sorice, BA

Research Lab Manager

4th Floor, Young Pavilion

Sarah McIlhenny, BA

Research Study Assistant

4th Floor, Young Pavilion

Danny Middleton, BS

Research Study Assistant

4th Floor, Young Pavilion

Margaret Brown

Administrative Assistant

4th Floor, Young Pavilion
Research Interests
Sexual health and intimacy after cancer
Factors contributing to psychosocial well-being for individuals and couples after cancer
Distress, resilience and coping for cancer survivors
Couple-based interventions for cancer survivors
Patient-clinician communication about sexual health in cancer
Development and evaluation of behavioral interventions in cancer
Lab Overview
Work in our lab centers on developing evidence-based interventions that aim to improve sexual health outcomes, relationships, and quality of life for those affected by cancer. We incorporate a diverse range of study designs and methods, including qualitative methodology, survey methods, communication analysis, and randomized controlled trials, which yield a deep understanding of the problems under investigation and thus help us develop feasible, acceptable, and effective interventions. Our research studies are funded by the National Cancer Institute and American Cancer Society.
Lab Description
Work in our lab investigates the factors contributing to cancer survivors' psychosocial well-being and ability to cope with after-effects of cancer, with a focus on cancer-related sexual concerns. Research in our lab has demonstrated that impairments in sexual quality of life are common, distressing, and often persist if unaddressed. Findings have also illuminated the key role that cancer survivors' intimate relationships play in survivors' psychosocial well-being. Collectively, work in this area has contributed to the understanding of the prevalence and nature of sexual concerns for those diagnosed and treated for cancer, thus helping to pave the way feasible, acceptable, and potentially effective interventions.
Other related research is concerned with examining distress and resilience in cancer survivors. In a current pilot study, we are currently examining relationships among distress, resilience, and inflammatory biomarkers and effects of racial background in a sample of colorectal cancer patients. In this vein, work in our lab has helped clarify the understanding of how patients perceive benefit from their cancer diagnosis, including finding gratitude and cultivating acceptance. Future projects will build on these findings, with the aim of developing evidence-based interventions to reduce distress, enhance resilience, and improve survivors' quality of life.
In addressing the many issues that confront cancer survivors, interpersonal relationships play a critical role, and our lab has interest in developing and evaluating couple-based interventions for cancer-related health concerns, foremost of which are sexuality and intimacy. A key objective of this work is to identify how best to help couples cope. In earlier work, we elucidated a model of coping flexibly with sexual concerns in cancer that influenced subsequent intervention development. We have found promising effects of couple-based approaches for addressing sexual concerns and enhancing intimacy and related outcomes in breast and colorectal cancer, and are currently evaluating this approach in a clinical trial. We are also extending this line of research to women with metastatic breast cancer, about whom little is known with respect to their sexual and intimacy needs and who are in particular need of survivorship-related interventions. We plan to continue this work by determining optimal methods for dissemination of these approaches, once determined effective, and by assessing the utility of couple-based approaches in enhancing other outcomes in cancer populations in future studies.
An additional major area of interest in our lab is to investigate patient-provider communication about sexual health after cancer, with the ultimate aim of integrating sexual health within cancer care. Our work in this area has been instrumental in characterizing the prevalence and nature of patient-provider communication about sexual health in cancer, elucidating patient and provider barriers and facilitators of this communication, and identifying potential paths forward to improve clinical care for sexual concerns. This work is culminating in innovative provider-focused and patient-focused interventions which hold promise for integrating sexual health into cancer care and enhancing patients' psychosocial outcomes. 
The following ratings and reviews are based on verified feedback collected from independently administered patient experience surveys. The ratings and comments submitted by patients reflect their own views and opinions. Patient identities are withheld to ensure confidentiality and privacy. Learn more about our Patient Experience Ratings.
Ratings Breakdown
Loading ...
Patient comments
Loading ...