Ref. No. 241-MP  
Background
During surgery, patients are generally administered oxygen or anesthetic gases via a laryngeal mask airway, endotracheal tube or tracheotomy tube placed in the patient's airway. These devices are removed shortly after the procedure, but it is often necessary to keep them in place for additional time. After surgery, supplemental oxygen is administered to the patient through these airway devices, and the oxygen is required until the airway device is removed. In these cases supplemental oxygen is delivered, for example, via a T-piece connected to a lengthy tube that attaches to an oxygen supply, via a Mapleson-style circuit, or via a tracheotomy collar. When the airway device is removed, the T-piece or circuit piece is discarded, and additional oxygen may be supplied to the patient via a nasal cannula placed on the patient. Thus, supplying a post-surgical patient with oxygen typically requires a two-step process (e.g., T-piece exchanged for a nasal cannula), which is costly and generates waste. There is a need for affordable and more efficient systems for delivering supplemental oxygen to post-surgical patients.
Summary of the Invention
A novel adapter for nasal cannula was developed in Fox Chase Cancer Center. The adapter includes a chamber with cannula clips, a connector having an opening, and a connector lumen in communication with the chamber and the opening. This nasal cannula adapter for post-surgical patients facilitates the gas administration through the nasal cannula.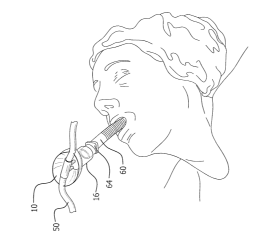 Figure:
System administering gas to a patient comprising the nasal cannula adapter, a nasal cannula, and an airway device.
10 - nasal cannula adapter
16 - connector
50 - nasal cannula
60 - airway device
64 - standard fixture, connector or adapter that enables the airway device to be operably connected to a gas source
Patent Status: US 9,283,343 B2 patent issued on March 15, 2016
For Licensing/Partnering information, please contact
Inna Khartchenko, MS, MBA
Director, Technology Transfer​
215-214-3989
[email protected]