"I'm now 75 and three years cancer free. It can happen. It's a very aggressive, rare cancer. But I'm here, and you can be too."

‐Miriam Lieberman
For decades, my healthcare routine was the same: When I scheduled my annual mammogram to screen for breast cancer, I also booked an appointment for a preventative transvaginal ultrasound. That's because my sister survived a bout with uterine cancer 40 years ago, and our family history could put me at risk of developing the same cancer.
But at my routine gynecological exam in 2018, I realized I hadn't had a transvaginal ultrasound in three years. Though my gynecologist said I was "fine" and gave me a clean bill of health, I asked for prescriptions for the mammogram and the ultrasound.
I waited a month. Then I had the mammogram and the transvaginal ultrasound and nothing was fine.
Both tests had found tumors.
Two Tumors and a Diagnosis of Breast Cancer and Uterine Carcinosarcoma
The mammogram showed a mass—too deep to be felt from outside the body—that was diagnosed after a later biopsy as early breast cancer. The transvaginal ultrasound led to an even more devastating discovery: a tumor filled my uterus. A later hysteroscopy led to the diagnosis of a rare and aggressive uterine carcinosarcoma.
I thought, "Oh my god, what happened to my life?" My husband Mike and I have two sons and eight grandchildren. It was very scary.
I needed a breast lumpectomy and a complete hysterectomy. Mike began researching hospitals and surgeons. A friend of ours, a young man who was healthy after a bout with liver cancer, recommended Fox Chase Cancer Center, which is not far from where I live in Exton, Pennsylvania. Within days, I was booked for appointments with renowned surgical oncologist Dr. John Daly, and Dr. Stephen Rubin, a gynecologic oncologist at Fox Chase.
In Good Hands
Although Dr. Daly, who has since passed away, told me I could be confident in beating my breast cancer, Dr. Rubin underscored the seriousness of a uterine carcinosarcoma diagnosis. He told us that I had about a 50% chance of making a full recovery. Despite the odds, we appreciated Rubin's candor. "He was very honest, straightforward," said my husband, "a guy you felt you could trust."
I approached the day of my surgeries—July 17, 2018—with optimism. I had high hopes, because I knew Dr. Rubin was a great surgeon.
The surgeries were successful. Dr. Daly removed the breast tumor, and during the hysterectomy, Dr. Rubin cleared out my uterine mass. The 15 lymph nodes removed during surgery were all cancer free.
Post Surgery Treatment
Buoyed by the good news, I felt well enough the next day to host a few bedside visitors. I really felt very confident after the surgery. I just felt that I was going to be OK.
My cancer treatment didn't end there, however. The next month, I began chemotherapy with my medical oncologist and Kathleen Smith, advanced practice clinician and nurse practitioner in hematology/oncology. My six chemotherapy sessions, scheduled three weeks apart, concluded just before Thanksgiving that year.
I remember saying, "Oh, good, I can really enjoy Thanksgiving at my son's house," because the day after the chemo I was fine. It was the second day that you get sick and you don't want any food.
In January 2019, I went under the care of Dr. Penny Anderson, chief of the division of breast and gynecologic radiation and oncology, for 30 days of breast radiation and three rounds of internal radiation. My treatment was over by February.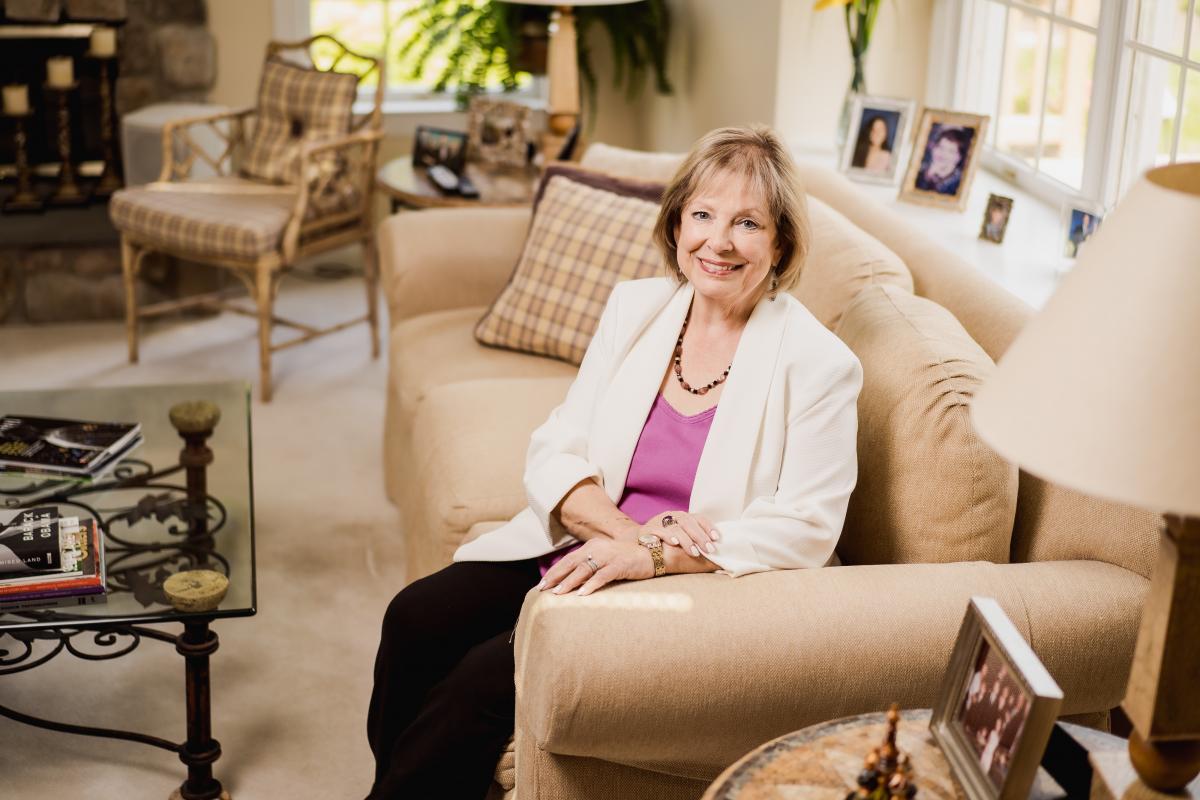 By July—one year after my cancer diagnoses—I felt well enough that Mike and I took our two sons and their families on a weeklong cruise to celebrate. 
I'm now 75 and three years cancer free. It can happen. It's a very aggressive, rare cancer. But I'm here, and you can be too.
Staying Vigilant
Last year, I briefly found something of a two-person support group when my first cousin was diagnosed with the same uterine carcinosarcoma. My cousin traveled to Philadelphia to meet with Dr. Rubin, but unfortunately her cancer was too advanced, and she died a month later at age 64. She was two months away from becoming a grandmother.
That really upset me something terrible. It's strange that two of us in the family, first cousins …
I know I have to stay vigilant in order to catch the cancer early if it ever returns. Despite the COVID-19 pandemic, I haven't missed any of my follow-up appointments at Fox Chase. I hope others can take to heart the hard lesson I learned after skipping my ultrasound three years in a row.
If you're at Fox Chase, you've got good doctors. So just try to do all the right things and get checked and don't miss your appointments.
Learn more about breast cancer and uterine sarcoma treatment at Fox Chase Cancer Center.