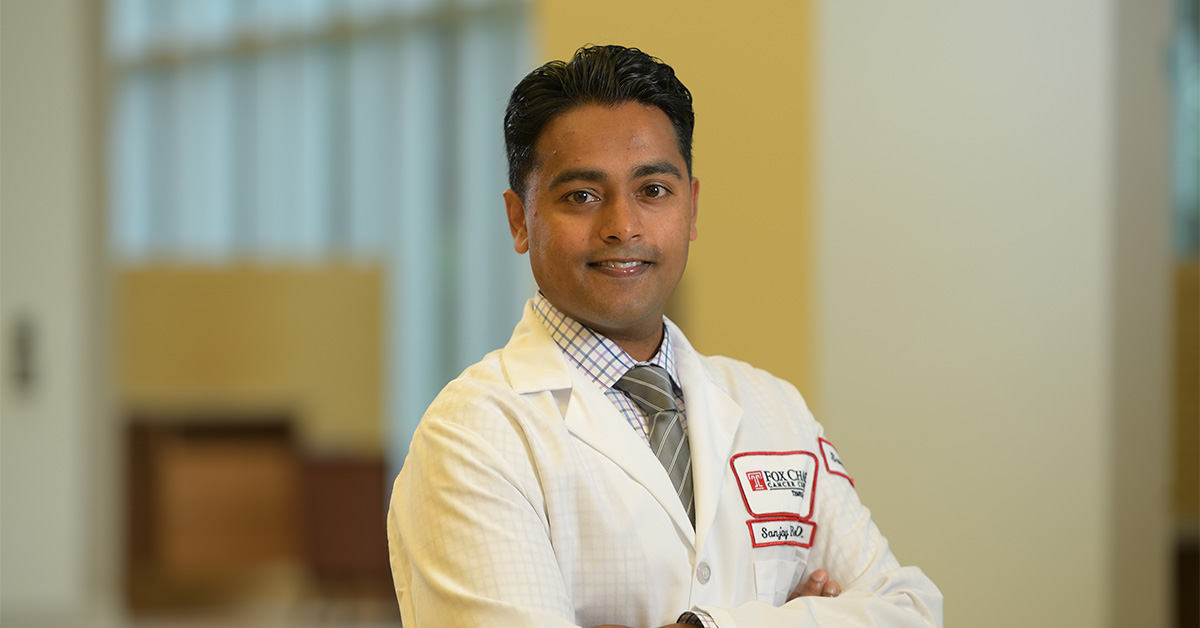 PHILADELPHIA (June 27, 2023)—Fox Chase Cancer Center is proud to announce that Sanjay S. Reddy, MD, FACS, has been appointed to the Marvin S. Greenberg, MD, Chair in Pancreatic Cancer Surgery.
"Dr. Reddy expresses a rare passion for providing the highest-quality care, fueled by the latest advances in pancreatic cancer research and surgical techniques," said Robert Uzzo, MD, MBA, FACS, President and CEO of Fox Chase.
Appointment to an endowed chair rewards a physician's or scientist's professional contributions, recognizes the value of their research endeavors, and safeguards the funding needed to continue innovative, groundbreaking work.
The chair is funded with generous support from the estate of Concetta "Chet" Greenberg, who was an ardent champion of cancer research during her life. Her support of Fox Chase has been transformational, with multiple gifts, including a multimillion dollar one representing the largest private donation by an individual in the institution's history.
In 2017, at the age of 96, she helped establish the Marvin and Concetta Greenberg Pancreatic Cancer Institute with this funding to honor the memory of her husband, Marvin. "The institute fosters collaborative efforts among the disciplines of basic biology, clinical medicine, and population sciences to provide the most advanced and comprehensive care for patients with pancreatic cancer," said Jonathan Chernoff, MD, PhD, Cancer Center Director.
Reddy's roles extend beyond his position as an associate professor in the Department of Surgical Oncology. He also serves as program director of the Complex General Surgical Oncology Fellowship and clinical director of the Gastrointestinal Service Line. Furthermore, he co-directs the Pancreatic Cancer Institute with Igor Astsaturov, MD, PhD, and Edna "Eti" Cukierman, PhD.
Reddy specializes in treating patients with pancreatic cancer and is recognized regionally and nationally as a thought leader in this field. He advocates fiercely for his patients and has been at the forefront of progressive treatments and research, particularly concerning neoadjuvant therapy for pancreatic cancer. In addition to his medical work, he actively engages in education and advocacy efforts for pancreatic cancer patients and survivors in the region.
Reddy joined Fox Chase's faculty in 2014 after completing a two-year complex general surgical oncology fellowship at the institution. During his fellowship, he received guidance and mentorship from esteemed physicians such as John Hoffman, MD, who held the Greenberg chair since its establishment in 2008, as well as Elin R. Sigurdson, MD, PhD, FACS, FRCS (C), and Jeffrey Farma, MD, FACS.
As the newly appointed chair, Reddy will continue the legacy of national leadership established by Hoffman. His focus will be on advancing the field of pancreatic cancer treatment, providing superior and compassionate patient care, and ensuring meticulous, safe, and high-quality pancreatic surgery.