Fox Chase Cancer Center and the City of Philadelphia Mural Arts Program teamed up to design and produce a  mural, entitled Pathways, that portrays Fox Chase's three main areas of focus—bold science, breakthrough medicine, and personal touch.  The 250-square-foot mural, in Fox Chase's  cafeteria, is a multimedia work incorporating paint, glass mosaic, sculptural elements, collage and back-lit layers of painted glass. It was dedicated January 30, 2012.
Members of the Fox Chase community were invited to meet the artists and share ideas—and meaningful objects—that could be incorporated in the mural. Over the next several months, a team of artists worked with the Center's staff, patients and visitors, many of whom volunteered their time to conceptualize, paint and construct.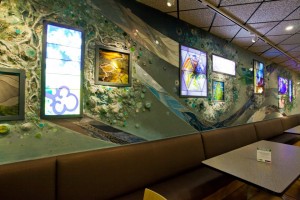 Three pathways of green- and blue-hued mosaic swirl across the mural, representing the three core areas of the Center's mission.
Lead artists Meg Saligman, an internationally recognized muralist, and Emilie Ledieu, an artist who specializes in mosaic techniques, described their interactions with the Fox Chase community that inspired different aspects of the mural. They noted that there were many moving moments when family members shared stories and mementos representing lost loved ones to be included in the massive artwork.
Objects collected from the Fox Chase community were included in the finished mosaic portion of the new mural, including painted eyes of significant members—both past and present. Throughout the mural, keys, seashells, microscope parts and other found objects and trinkets tell stories about the Center's science and humanity.
Saligman highlighted the instrumental role of the late Baruch S. Blumberg, MD, PhD, in developing the mural's primary themes. Before his passing last April, the Nobel Laureate contributed his observation of the interplay between science and nature, which can be seen throughout the mural in the juxtaposition of scientific and natural imagery. In particular, it was a comment from Blumberg that inspired the many painted eyes depicted in the mural.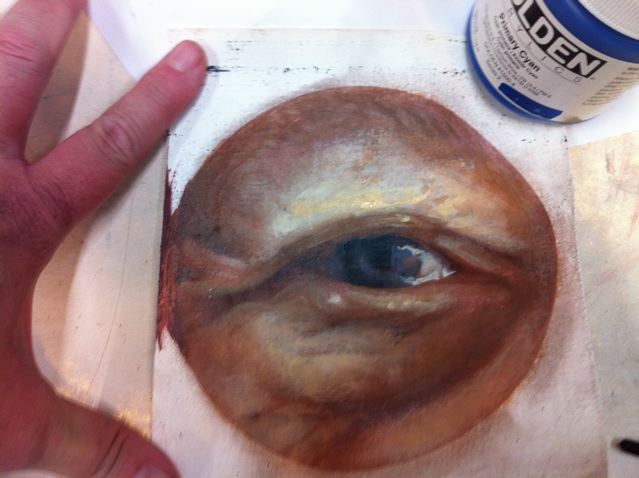 "I asked Barry, 'What does it take to make a big discovery?'" Saligman recalled. "He said, 'You have to be looking.' So we have included as many eyes as possible, looking along various pathways." The eyes represent scientists, caregivers, patients, volunteers—and even pet therapy dogs.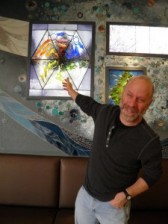 Back-lit panes of painted glass illustrate Blumberg's "nature in science" idea. A hexagonal protein, suggested by researcher Roland L. Dunbrack, PhD, for its naturally beautiful shape, is located near an image of the Tree of Life. Several feet away, a Mintz mouse—a mouse model developed by Beatrice Mintz, PhD, that is particularly useful in melanoma research—is flanked by a close-up of the bark of the tallest tree in the courtyard, planted by Blumberg himself.
"It is our hope that this project will live on continually as an inspiration and beacon of hope for all that pass through these doors," said Jane Golden, executive director of the Mural Arts Program.
Pathways is one of over 3,300 murals and works of public art created since 1984 by the Philadelphia Mural Arts Program. The nation's largest mural program has earned Philadelphia international recognition as the "City of Murals." Mural Arts engages 100 communities each year in the transformation of neighborhoods through the mural-making process.