Meals and Snacks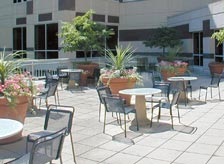 Terrace Café 
Located on the first floor of the West Building behind the Outpatient registration desk, near the entrance from the West garage. Indoor seating is always open, plus outside seating on the terrace facing the inner courtyard. Offers continental breakfast, assorted pre-made, packaged sandwiches and salads, soup, desserts, snacks and soft pretzels as well as coffee, tea, iced tea, juice, soda, water and milk. Hours are Monday to Friday, 7 am-6:30 pm; Saturday, 9 am-4:30 pm; and Sunday, 11 am-3 pm.
Coffee Cart
Located in the West Building lobby, just indoor from the Terrace Café. The Starbucks cart offer a variety of coffees, teas, lattes and cappuccino as well as baked goods. A portion of proceeds from the cart goes to patient care at Fox Chase through the Friends of the Hospital of Fox Chase Cancer Center. Open 7 am-2 pm.
Cafeteria
The Fox Chase Cafeteria is open to all patients, their families, and Center staff. Sit inside or on the terrace overlooking the courtyard. Located on the second floor of the Center Building. Open Monday to Friday. Breakfast is served from 7-10 am; continental breakfast is served from 10-11 am; and lunch is served from 11 am-2 pm.
Vending machines 
Available 24 hours a day in the cafeteria and in the third-floor waiting area of the Hospital.
Snack Shop at Temple University Hospital – Jeanes Campus
Hours: Sunday–Saturday, 7am–7:30pm | Jeanes Campus Main Lobby