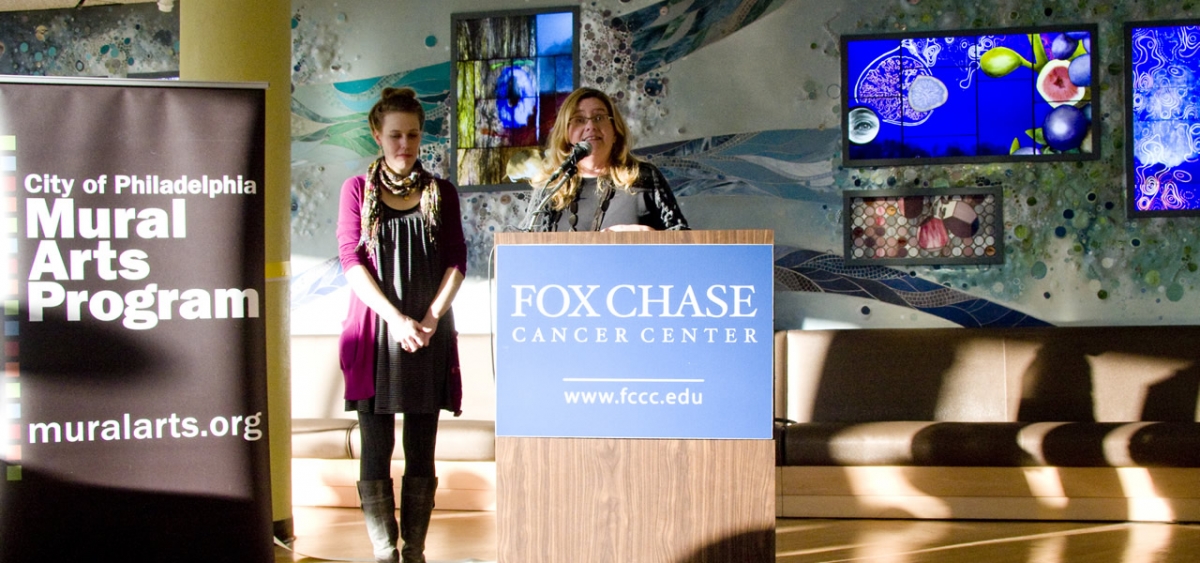 PHILADELPHIA (January 30, 2012) – Fox Chase Cancer Center and the City of Philadelphia Mural Arts Program have teamed up to design and produce a new mural, entitled Pathways, that portrays Fox Chase's three main areas of focus—bold science, breakthrough medicine, and personal touch.  The 250-square-foot mural, which is located in Fox Chase's newly renovated cafeteria, is a multimedia work incorporating paint, glass mosaic, sculptural elements, collage and back-lit layers of painted glass.
"We are very excited to have had the opportunity to work with the Mural Arts Program, an organization that has spent years creating inspirational artwork that engages communities all over the city of Philadelphia and gives them a voice to tell their individual and collective stories," says Michael V. Seiden, MD, PhD, President and CEO of Fox Chase Cancer Center.  "The process of creating the mural at Fox Chase has given our staff, patients, and volunteers the opportunity to come together to tell our story in a new way."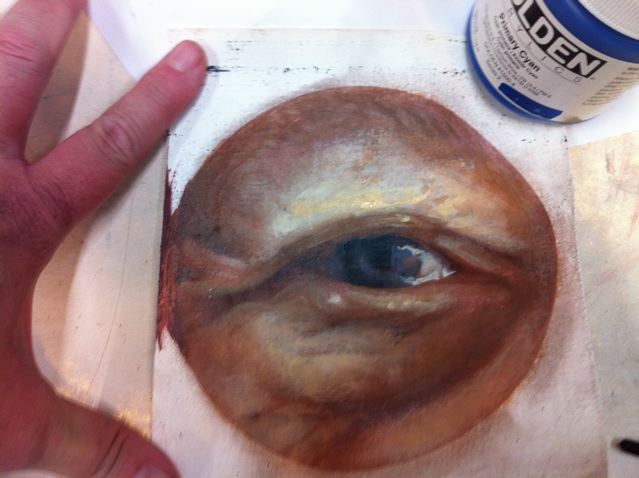 Accomplished mural artists Meg Saligman and Emilie Ledieu conducted an extensive series of meetings at Fox Chase and held hands-on creative activities with staff and patients.  Objects collected from the Fox Chase community were included in the finished mosaic portion of the new mural, including painted eyes of significant members—both past and present. 
"It has been a privilege to partner with Fox Chase Cancer Center, one of the leading cancer research and treatment centers in the United States, on this project," says Jane Golden, Executive Director of the City of Philadelphia Mural Arts Program.  "What Meg and Emilie have achieved is absolutely brilliant and truly innovative.  We hope 'Pathways' will inspire the Fox Chase community for many years to come."
Trailblazer Meg Saligman has positioned herself as a leader in pushing the boundaries of muralism in the 21st century. A creator of iconic Philadelphia murals like Common Threads at Broad and Spring Garden Streets, Saligman is an artist whose exceptional talent is complimented by her use of technology to expand the visual impact of public art. After dark, LED lighting, a component that was also used in Fox Chase's new mural Pathways, animates another of the artist's murals: The Evolving Face of Nursing at the intersection of Broad and Vine Streets.
Gifted glass mosaic artist Emilie Ledieu developed an interest in art-making within the realm of social justice while conducting research for Villanova University's Center for Peace and Justice, during her extensive work with renowned artist James Hubble, and while participating in projects for the Pacific Rim Parks Organization.  She has been working with the Mural Arts Program since 2006. You can take in her detailed, glittering, elegant compositions in numerous locations throughout the city of Philadelphia such as the upcoming mural "Under the Clothespin" at 15th and Market streets and in projects abroad. Fox Chase Cancer Center board member, Ed Glickman, helped secure funding for the new mural through the Pennsylvania Real Estate Investment Trust (PREIT), where he serves as president.
The City of Philadelphia Mural Arts Program is the largest mural program in the nation.  Since 1984, Mural Arts has created over 3,300 murals and works of public art, earning Philadelphia international recognition as the "City of Murals."  Mural Arts engages 100 communities each year in the transformation of neighborhoods through the mural-making process, while award-winning, free art education programs serve nearly 1,000 youth at sites throughout the city and at-risk teens through education outreach programs.  Mural Arts also serves adult offenders in local prisons and rehabilitation centers, using the restorative power of art to break the cycle of crime and violence in our communities.  This year, over 20,000 residents and visitors will tour Mural Arts' outdoor art gallery, which has become part of Philadelphia's civic landscape and a source of pride and inspiration.