"I never imagined the wonderful care and support I would receive from my skilled doctors and their staffs. I would never go anywhere else!"

‐Jack Gullo
A few days before leaving on my vacation in August, 2017, I noticed a loose tooth. My biggest worry was that maybe I had an abscess and it would ruin my trip.
When I got home, my dentist said I should have it pulled, so I went to an oral surgeon. The oral surgeon said, "I see something, so I'm going to do a biopsy." I kind of knew right then that I had cancer.
It turned out I had oral cancer, specifically stage IV squamous cell carcinoma in my jaw, and the tumor had spread to my gums and one lymph node. By then I could feel a lump in my cheek about the size of a walnut, so I knew I needed to see someone who specialized in head and neck cancer.
A Complicated Surgery
Before I even went in for surgery, I was already meeting with the rehabilitation team at Fox Chase Cancer Center, which is where I chose to be treated. They taught me swallowing exercises, neck exercises, and mouth-opening exercises. It was all to prepare me for the recovery process.
In early October, I underwent surgery. I had a mandibulectomy, a multistep surgery. First they took out the part of my jaw that had the cancer, then they took a piece of bone from my leg to reconstruct my jaw. My plastic surgeon, showed me how they used technology to cut the bone so that it was an exact fit.
They also took muscle tissue from my leg and used it to reconstruct my gums. This surgery got complicated when we found out a few days later that the flap had failed and was not getting blood flow, so they had to rush me back into the OR to remove the failed tissue and do it again. The second time, it worked.
I had to be on an IV and feeding tube after surgery, because I couldn't eat or drink due to risk of infection. After about two weeks I could start drinking water, then eventually I could eat food. I was finally discharged on October 31.
Joining a Clinical Trial
The standard follow-up treatment for my cancer is radiation, but I had the opportunity to participate in a clinical trial. I had an aggressive type of cancer, and they wanted to study whether radiation and chemotherapy was more effective than radiation alone. So in November, I started six weeks of radiation and received the chemotherapy drug cisplatin at the same time.
Going through radiation and chemo wasn't easy. My mouth burned, and I lost my appetite. I had to go back on the feeding tube and was in a lot of pain. Fortunately, my care team was great about pain management. With medication, I was able to continue functioning enough to keep my flooring business running. I wasn't out there at the job site, but I could do things like go to the bank and take care of office stuff.
'In a Year, You're Going to Be Fine'
I was 185 pounds when this started, and over the course of treatment I dropped to 130. On New Year's Day, 2018, I woke up and couldn't get out of bed. I had a 104-degree fever. My doctors warned me this could happen, so it wasn't a surprise, but they said I should come to the hospital.
It was my lowest point, but my oncologist, Dr. Jessica Bauman, was there. "Jack," she said, "in a year, you're going to be fine." That meant a lot to me. It was so reassuring to have the familiar faces of my care team around me. I knew I was in good hands.
All that great care let me try to start getting back in shape. My passion is fitness—I love to exercise. I tried to keep up my routine during chemotherapy by walking on a treadmill. But after a few weeks I was too fatigued and had to stop.
Little by little since finishing treatment I got back to my old self. I'm riding my bike again, and I feel like I'm at the same level of fitness as I was before this happened. They warned me I might not be able to taste food again, but I did. I remember the first time after treatment that I nibbled a bit of pizza and tasted the fennel in the Italian sausage—I don't think anything ever tasted so good.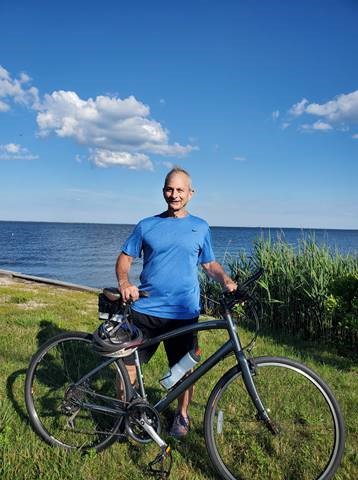 More importantly, the cancer hasn't returned. That's major. Like I said, squamous cell carcinoma is a very aggressive cancer and tends to come back quickly. When I made two years cancer free, my radiation oncologist, Dr. Thomas Galloway, said it was a big deal. Now it's been three years.
If you look at the reconstruction that was done on my jaw, you can see that it was a perfect job. You can't tell I had surgery. A doctor or nurse oncologist would notice the lymphedema, the puffiness around the neck, from my radiation, but most people can't tell that I had anything wrong with me.
It's a two-hour drive from my house in New Jersey to Fox Chase, and during treatment my wife had to drive me back and forth four or even five days a week. But it was worth it. I kid my brother and tell him, "Even after all I've been through, I'm still better looking than you!"
I'm glad I chose Fox Chase for my care after my oral cancer diagnosis. I never imagined the wonderful care and support I would receive from my skilled doctors and their staffs. I would never go anywhere else!
Learn more about treatment for head and neck cancer at Fox Chase Cancer Center.