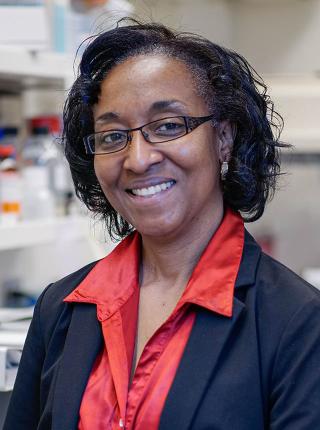 Associate Director, Diversity, Equity, and Inclusion
Professor, Cancer Prevention and Control Program
PI: African Caribbean Cancer Consortium
Research Program
Educational Background
MPH, Epidemiology, University of Pittsburgh, PA
PhD, Infectious Diseases and Microbiology, University of Pittsburgh, Pittsburgh, PA
BS, Medical Laboratory Sciences, Hunter College, New York, NY
Memberships
Member, External Advisory Committee, NCI P20 grant, Florida Minority Cancer Research & Training Center, University of Florida 2014-present
Member, African Organization for Research and Training in Cancer 2012 – Present
Member, Lung Cancer Working Group, Fox Chase Cancer Center 2012-present
Scientific Advisory Board Member - Hampton University Skin of Color Research Institute 2009 - 2011
Delta Omega Honorary Society in Public Health, Omicron Chapter 2008 – Present
Member, Women in Cancer Research (AACR) 2004 – Present
Member, Minorities in Cancer Research (AACR) 2004 – Present
Member, American Association for Cancer Research 2002 – Present
Member, American Association for Cancer Research, Minorities in Cancer Research Council 2020 – Present
Honors & Awards
International Community Service Award, TJB - Philadelphia, PA 2015
My Sisters' Health Watch Distinguished Stakeholder, Permanent Mission of Grenada to the United Nations 2015
Citation, City Council of Philadelphia, for the African Caribbean Cancer Consortium contribution and commitment to community engagement and uniting families in the Philadelphia African Diaspora 2015
Certificate of Appreciation, FunTimes Magazine, in recognition of invaluable contribution of cancer health communications focused on the African Diaspora, Philadelphia, PA 2013
Citation, City Council of Philadelphia, 2012 Echoes of Africa Community Service Award 2012
Honorary Citation, Commonwealth of Pennsylvania Legislative Black Caucus, for the International Conference of the African-Caribbean Cancer Consortium 2012
Third Annual Charles Gordon Henry Award, in appreciation of dedicated work in Cancer Research, Dec. 2012, Barbados Society of Pennsylvania, Inc. 2012
University of Pittsburgh & Jackson State University Research Career Development Institute in Minority Health and Health Disparities Scholar 2005
Keleti Prize for Excellence in Environmental Health (University of Pittsburgh, GSPH) 2005
Edward A. Smuckler Memorial Workshop Scholar: Pathobiology of Cancer (AACR), Aspen, CO. 2004
People
Elizabeth Blackman, PhD (c), MPH

Project Manager

P2039

Samantha Boudeau, BA

Doctoral Student

P2034

Albert Doughan, MPhil

Doctoral Student

P2123

Denise Yvette Gibbs, BS

Technical Specialist

P2123

Sharon Harrison, PhD, MPH

Postdoctoral Associate

P2048

Darlene Curran

Administrative Assistant

P3048
Research Interests
 Molecular Epidemiology of Cancer in the African Diaspora
Genomic basis for cancer risks and outcomes.
Cancer Prevention Project of Philadelphia (CAP3) - multicultural community-based cohort of healthy participants.
African Caribbean Cancer Consortium (AC3) - a global effort to assess cancer burden in the African Diaspora.
African Cancer Genome Registry (AGR) – a multi-national cohort of Black participants diagnosed with cancer.
Lab Description
Racial disparities in head and neck squamous cell carcinoma
Squamous cell carcinoma of the head and neck refers to a variety of malignant tumors arising from the oral cavity and upper aerodigestive tract. The primary risk factors for head and neck cancer are tobacco and alcohol use, and more recently HPV has been defined as an independent risk factor for oropharyngeal tumors. Racial disparities among patients with head and neck squamous cell carcinoma (HNSCC) have remained unchanged for more than three decades. Persons of African ancestry have a higher incidence compared to persons of European ancestry. Notably, Black patients consistently have lower five-year survival rates as compared to White patients. Although studies of racial disparities in HNSCC have been conducted, many suggest that the observed differences may be related to barriers to care and screening; but we have shown that the differences may be independent of these factors. After matching on age and smoking-dose (pack-years) and adjusting for socioeconomic and insurance status, any tobacco and alcohol use, any family history of cancer, gender, and age, we observed that Black oral cavity cancer patients were more likely than Whites to be diagnosed with advanced-stage disease (AdjOR = 3.60, 0.97–13.41). Similarly, Black larynx cancer patients were more likely than Whites to be diagnosed with positive lymph nodes (AdjOR = 2.26, 0.92–5.61) and Black patients were more likely than White patients to develop second primaries, recurrences or metastasis (AdjHR = 1.47, 0.99-2.18). We believe that genetic and environmental risk factors and their interaction may contribute to the higher incidence of head and neck cancer in Black Americans. We are currently evaluating the interactions of tobacco/alcohol exposure and genetic variations in genes involved in these metabolic pathways in order to understand how these interactions contribute to the differences in cancer risk and outcome between Black and White populations.
Cancer Prevention Project of Philadelphia (CAP3 Study)
Through our community engagement efforts we have developed a successful model for population-based health disparities research studies. We provide the community not only with information about the importance of incorporating cancer prevention practice and screening into their lifestyle but we also provide community members with a better understanding of the importance of cancer disparities research and the value of participating in research studies. This approach over the years has led to an overwhelming acceptance, thus providing us with the ability to successfully recruit study participants of African Ancestry. This model involving community engagement and research recruitment has been successfully adapted in the Caribbean, the "Tobago Cervical and Oral Cancer Research Study", as well as the US Philadelphia metropolitan area, the "Cancer Prevention Project of Philadelphia (CAP3)". The CAP3 study is research registry of cancer-free participants and serves as a pipeline project for our population-based molecular epidemiology research studies. To date there are more than 750 participants of African Ancestry enrolled and recruitment is ongoing. To learn more please call Dr. Camille Ragin at 215-728-1148.
African Caribbean Cancer Consortium (AC3)
The AC3 is a multi-institutional collaborative network that focuses on studies of cancer risk and outcomes among populations of African ancestry (African-American, African and Caribbean). AC3 is a broad-based resource for education, training and research on etiology, screening, prevention, treatment and survivorship related to cancer in populations of African Descent. Our overarching goals are: a) To build knowledge, capacity and infrastructure b) To advance the science of cancer prevention and control in populations of African ancestry. Recognizing the public health significance of cancer in populations of African origin, and socio-cultural factors that influence disparities in health outcomes, we have provided a platform in the AC3 to report country-level findings and we have also fostered collaborative research to examine genetic and environmental contributions in carcinogenesis among populations of African origin. Our working groups focus on investigating gene x environment interactions. Since 2009, AC3 members have conducted studies of biomarkers of susceptibility to and outcomes from prostate cancer among men of African ancestry; cervical human papillomavirus (HPV) infections in Black women from the US, Jamaica, Tobago, Barbados, Guadeloupe and the Bahamas and assessments of knowledge, perception and attitudes of HPV and the HPV vaccine in the US, and Bahamas and many others. AC3 has conducted community education and research information sessions to the community since its conception in 2006. In addition, research skills training sessions during our AC3 meetings has contributed to developing and strengthening of population-based cancer research and cancer registration in the Caribbean to facilitate stronger collaborative research studies. We also provide research training opportunities in our CORE laboratory here at Fox Chase Cancer Center to undergraduate and graduate students where they learn molecular biology techniques, epidemiology study designs and applications. Additional information can be found at www.ac3online.org
Caribbean Regional Center of Research Excellence
Non-communicable diseases (NCDs) are our greatest population health threat worldwide. Low and middle income countries (LMICs) disproportionately suffer from the premature and preventable morbidity and mortality due to NCDs. In LMICs, NCDs account for 48% of deaths compared to 25% of deaths in high income countries. In the Caribbean region, the problem is even more troubling, 60% of deaths and most illnesses, are attributed to NCDs. Despite these significant disparities in NCD incidence and mortality, and severe population burden, NCDs such as cancer and cardiovascular disease (CVD) have not received the scientific attention commensurate with this heightened regional epidemic. Further, the health of the Caribbean region is closely tied to U.S. population health because of geographic proximity and the shared population due to high Caribbean migration to the main land. The African-Caribbean Cancer Consortium (AC3), an NCI- Epidemiology and Genomics Research Program (EGRP) supported consortium, is a global cancer research program at Fox Chase Cancer Center (FCCC), and partnered with the University of the West Indies (UWI) has had a strong partnership since 2007. To date, research in cancer, nutritional epidemiology and genetics has resulted in 13 publications, with the majority focused on prostate cancer. UWI, a regional University with its main campus in Jamaica, has a Caribbean-wide network of health research and health care facilities and contains expertise in the skills required for NCD research including basic science, epidemiology and clinical research. It has a strong tradition of research in obesity, diabetes, CVD cancer and their risk factors. FCCC (AC3) and UWI seek to build on this existing partnership and institutional strengths to promote prostate cancer and cardio metabolic research. Both themes, while separate public health issues, are inter-related. Prostate cancer, CVD and diabetes are the leading causes of death in Jamaica and in the wider Caribbean region. Furthermore, both disease groups share common risk factors and are usually comorbid diseases. Therefore, a regional research program focused in both of these areas will help to address the greatest burden of NCDs in Jamaica and the Caribbean region. The overarching goal of this project is to conduct foundational activities to ultimately establish a Regional Center for Research Excellence (RCRE) that will effectively build infrastructure, resources and expertise to stimulate and increase collaborative research aimed at addressing the NCD epidemic in the Caribbean. The focus of this project is to build on existing strengths and infrastructure between FCCC and UWI in Jamaica, and to leverage this strong partnership to plan for a robust research program, an operating shared resource platform and research enhancement activities to catalyze NCD research in the region.
The Living in Full Health Project
For all populations, genetic and environmental factors such as diet, the build environment, psychosocial factors and access to health care services have been documented to be important determinants of cancer and cardiovascular disease. The importance of these biological and social factors on disease incidence and outcomes are not fully disentangled. Comparisons between similar populations in diverse settings are the best means of understanding the natural history of the disease and the attributable risk for these factors. While these determinants have been studied in relation to CVD in migrant Black populations in the US, these studies are few in number. Furthermore, migration has been shown to influence cancer incidence in Asian migrant populations in the US. However, similar studies have not been conducted in populations of African Ancestry who have immigrated to the US. Considering the potential diverse environmental exposures among Black populations from different geographic regions, comparative studies are one important means of helping to better understand the health of Black immigrants in the US. Further, as the US Black population suffers the highest cancer and CVD incidence and mortality, focus on their inclusion is urgent and must be prioritized to address health disparities in the US.
In response to the National Institutes of Health call (PAR-17-470) for proposals to: 1) to support research that develops or extends cohort or surveillance studies to better understand health of populations in Caribbean countries; and 2) to enable these cohorts to be used in comparative research to better understand the health of Caribbean immigrants in the US, we have partnered with the University of the West Indies (UWI), Mona to establish a cohort of 8,000 Jamaicans to follow over time.
The following ratings and reviews are based on verified feedback collected from independently administered patient experience surveys. The ratings and comments submitted by patients reflect their own views and opinions. Patient identities are withheld to ensure confidentiality and privacy. Learn more about our Patient Experience Ratings.
Ratings Breakdown
Loading ...
Patient comments
Loading ...