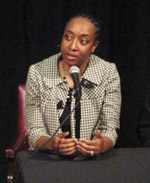 VIEW ALL POSTS
Bringing Science to Life
by Maddy Weber

From Fox Chase Cancer Center Connect, April 18, 2012

Fox Chase health disparities researcher Camille Ragin, PhD, answers questions about being a scientist of color at a panel discussion at the Franklin Institute on March 23, 2012.

"I had no intention of being the person I am today," Camille Ragin, PhD, told a crowd at the Franklin Institute on March 23, tracing her unpredictable path from a childhood in Jamaica to her career as a health disparities researcher at Fox Chase.

Ragin was one of three panelists for "The Color of Science: An Evening with Prominent African American Scientists," a discussion moderated by the Franklin Institute's chief astronomer, Derrick Pitts. The event was part of an Institute series honoring the scientific contributions of people of color.

"The reason we need to bring science to every child, especially children of color, is that we don't know who is going to make the next big discovery," Pitts told the roughly 60 people gathered in the Franklin Theater, flanked by frescoes of Newton, Galileo and Copernicus. Part of their goal, he explained, is to identify role models for these children—scientists who are active today and not just pictures in a textbook.

Ragin was joined by Larry Gladney, PhD, an astrophysicist at the University of Pennsylvania, and William Massey, PhD, a mathematician at Princeton University. Together, the panelists recounted what led them to careers in science and the challenges they faced along the way.

Under a Microscope

Responding to a question from Pitts about when she first realized she was interested in science, Ragin recalled being intrigued in high school by biology, particularly the human cell: "There is so much detail there and all of this balance that occurs on this infinitely small level."

Ragin's fascination with cells grew further when she was able to look through a microscope while visiting the lab of her aunt, a cytohistologist at a local hospital. "I thought, 'This is cool. I want to do this,'" Ragin remembered.

That experience inspired her to pursue medical technology training in the United States. But she would eventually stray, following a path that would lead her to epidemiology and, specifically, disparities in cancer.

It was a journey, Ragin said, that was influenced by her own internal calling as well as the sage guidance of several important mentors and advisors.

Responding to a question from the crowd about what makes a good mentor, Ragin said: "A real mentor does not have their own interests at hand. They are someone who will guide you because of you."

That's why, when her college advisor told her, "I see you as an epidemiologist," Ragin had to think long and hard. She was already interested in disease and was on track to pursue a master's degree in infectious diseases and molecular biology. She hadn't even considered epidemiology, the study of health patterns and distribution.

A Chance to Make a Difference

Eventually, Ragin realized her advisor was right. "I recognized that this was my chance to make a difference," she explained. "As an epidemiologist, you look at the statistics, and there is always a disparity no matter which cancer you're looking at. I realized that I needed to do my part to figure out why this was."

During her studies, she soon noticed that the field of epidemiology had its own disparities.

"I observed that not many people of color were doing what I do," said Ragin, who was the only person of color in her PhD program. "Sometimes I felt like I was in my own little world. I had to put blinders on and realize: It's okay if you're the only one. You need to build your own network. If no one around you is doing what you're doing, find them."

Which is exactly what she did. Ragin established the African Caribbean Cancer Consortium, a multi-institution collaborative that focuses on cancer risk and outcomes among populations of African ancestry. Their goal is to examine all of the factors¾from biology to community attitudes¾that contribute to health disparities in this group.

"If you really want to address the problem, you have to look at it from all perspectives," Ragin explained. "If you put all of the pieces together, it will start to make sense."

Despite the international focus, Ragin said the little things are what make her work rewarding: "It makes me feel good if I can reach just one person who will start thinking about their risk and prevention."

Healthy people and cancer patients aren't the only ones Ragin is reaching out to in her role at Fox Chase. She spends 10 weeks each year mentoring and training two students recruited from historically black colleges—students who, as Pitts suggested, may be in line to make the next big discovery.