"I think a lot of people feel like they're alone when they're going through this. I tell them, 'You're not alone, there are a lot of us in this battle together.'"

‐Mike Fitzpatrick
I talk to other cancer survivors, and I think a lot of people feel like they're alone when they're going through this. I tell them, "You're not alone, there are a lot of us in this battle together." I should know—I've been through it six times.
I thank God for my wife, Anna. We've been married 31 years, and she's my rock. She's also a respiratory therapist, so she knows a lot more about this medical stuff than I do. A lot of the decisions I've made might not have made had it not been for her.
My first cancer diagnosis was in 1998. My boys were one and three years old. I felt a twinge in my right posterior thigh, and it turned out to be liposarcoma. I went through multiple surgeries, radiation, and some gnarly chemotherapy, but we beat it. The doctors even discussed amputating my leg and said that even if they saved it, I would probably never walk right again.
I, however, don't know the meaning of the word "never," and two months later I marched up Broad Street in the Mummers Parade on New Year's Day with the Aqua String Band. The following November, I started playing ice hockey again.
Then, in 2010, I was getting routine bloodwork, and my doctor said he didn't like my white blood cell count. I was diagnosed with CLL—chronic lymphocytic leukemia.
The funny thing is, I've never been in treatment for the leukemia. My numbers go up and down, but so far they haven't been high enough or with symptoms where treatment is necessary. So right now I just go to Fox Chase Cancer Center every few months for monitoring with Dr. Jason Incorvati, a medical oncologist.
A New Diagnosis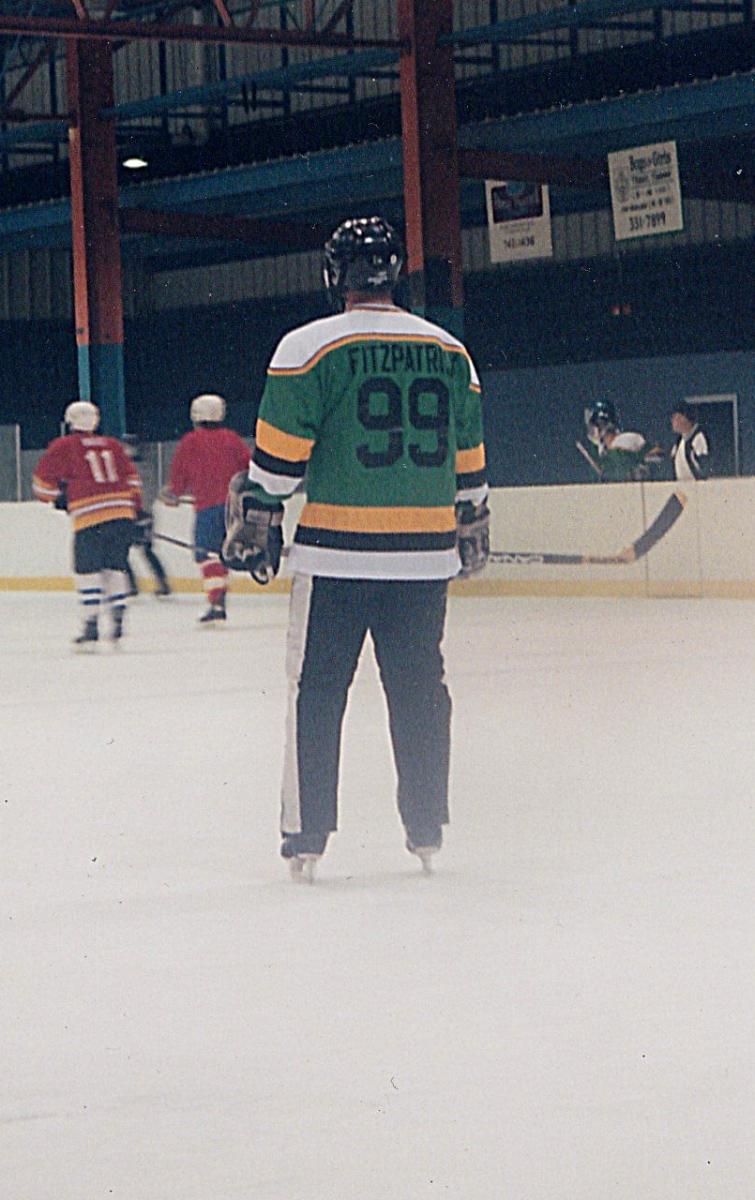 Fast forward to 2015. My youngest son was now in high school, and he was getting ready to go to Michigan State for the world finals of Odyssey of the Mind, a problem-solving competition. And I had kidney stones. I was doubled over from the pain, and my wife suggested I get checked out at the emergency room.
They gave me a CT scan, and when the doctor came back, he said, "Yeah, you definitely have kidney stones, but you also have a large neoplasm." That's a tumor growth.
I ended up going to see Dr. Alexander Kutikov, the chief of the Division of Urology and Urologic Oncology at Fox Chase, and I came to find out he's one of the top surgeons in the country. They did a procedure to see if the cancer had spread, but they found it was localized to just the kidney. The diagnosis was renal cell carcinoma.
So I went ahead to Michigan, taking my cancer and my kidney stones with me, and my son's team won the world championship! Then we came back, and within a week I was at Fox Chase having kidney surgery.
Keeping a Positive Outlook
They took out the kidney. It was laparoscopic surgery, where they cut three little holes on your belly and just a little sliver on your side to take the kidney out. Do you know how they actually remove the kidney? They put your kidney in a bag after they cut it away and they tie it up. Then they take out the bag through a small hole. Can you believe it?
Some people might get depressed by things like this, but my wife and I have an attitude that kind of puts some people off. We'll be in the preop area and we're talking and laughing, cracking each other up. We've gotten some weird looks, like, don't you know how serious this is? But that's just how we've made it through all this. Laughter has been a huge part of this battle.
When I was first diagnosed with cancer in 1998, my wife and I took 15 minutes to fall apart. We cried, we hugged, we felt sorry for ourselves. Then my wife looked at me and said, "We're going to beat this." And since then, that's what we've done. We try to keep a positive attitude. I couldn't do this without her.
After the kidney surgery I was in the hospital a couple of days, and I did have some pain in the first few days, which is normal. Afterwards I had the most glorious shower of my life. When I came home they gave me this little pillow to hold against my side when I had to cough or anything like that.
Being There for My Kids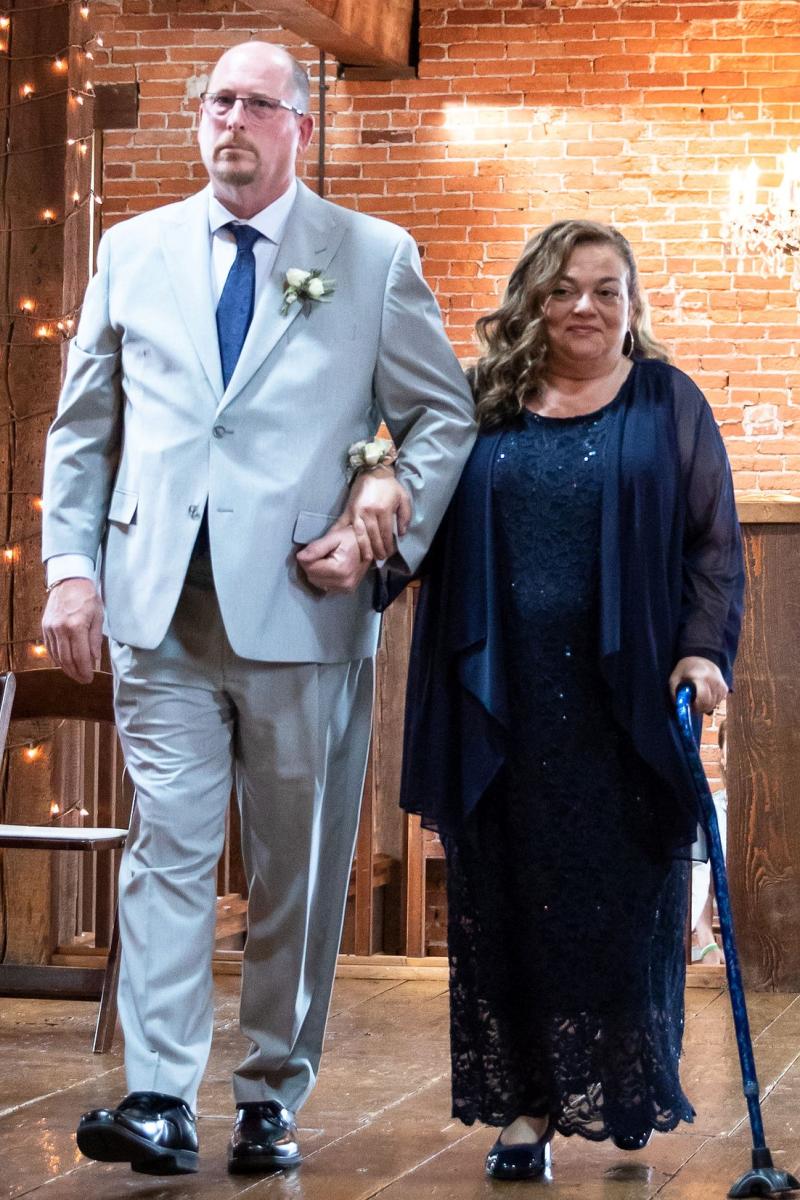 My other cancers, like squamous cell carcinoma, a type of skin cancer, were relatively easy compared to the kidney cancer. I've had squamous cell three times, and I've had surgery on my face, on the back of my hand, and on my back. That means I've been treated for cancer a total of six times!
We don't know why I've had cancer so many times. There's no history of cancer in my family. I used to do hazmat demolition, so there was a lot of speculation that it was because of that. There's no way of proving it.
A lot of people with cancer set milestones—they want to make it to their son's wedding or their daughter's graduation or something like that. For me it was more about wanting to be there for those big life decisions, like when your kid is thinking about trying drugs or alcohol. Those are the important things. I've always coached sports, participated in my son's activities, knew their friends. I wanted to be there for them day to day.
My wife reminded me of that every day, every treatment, every surgery. She always pinned a picture of my boys to my hospital gown.
Today, my older son is happily married and in politics, and my youngest son is studying to get a doctorate in organic chemistry. They're wonderful kids, respectful, and they really did well for themselves. I'm glad I could be there for that.
Learn more about treatment for renal cell carcinoma at Fox Chase Cancer Center.