"I have Jesus on my side, the big guy. Whatever will be will be, and I have the best hospital, the best doctors, and the absolute best nurses."

‐'Cowboy' Jack Novek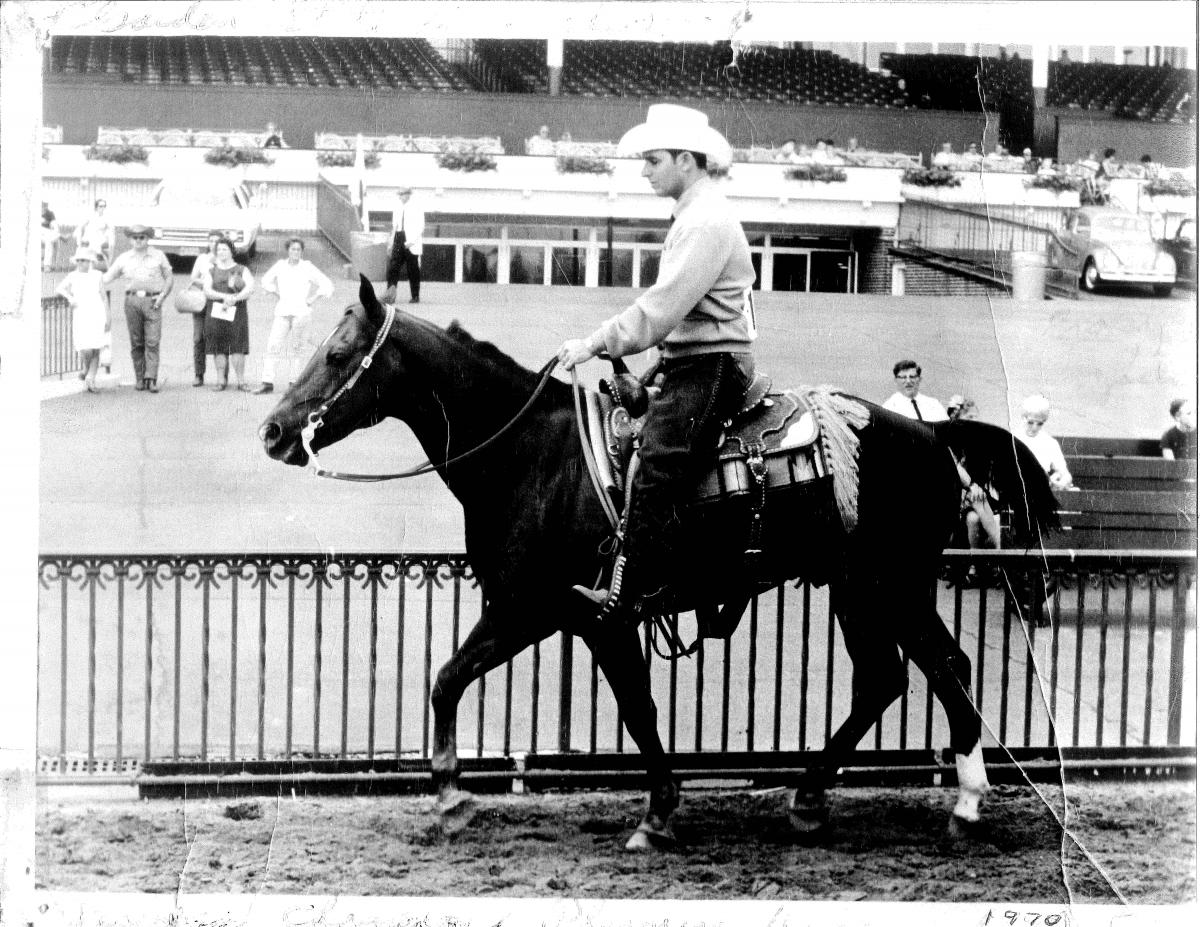 I am 78 years old and have owned horses for 68 of those years. I am a cowboy through and through. My father gave me my first pony when I was just five years old and my first horse when I was 10. I have had hundreds of horses since. I also used to train the ponies down at the race track. 
Being a professional horse man in Salem, New Jersey, and working outside my entire life, my health is extremely important. In 1993, my health truly became my top priority when I was diagnosed with prostate cancer.
Discovering Fox Chase Cancer Center
After receiving my cancer diagnosis from my local doctor, I called my Uncle Jack, who lived in Philadelphia. He recommended I see Dr. Richard Greenberg, a urologic oncologist at Fox Chase. In January 1993, Dr. Greenberg removed my prostate.
I had a catheter in for three weeks after the surgery and was not allowed to drive during that time. However, I was so thankful to the nurses who took care of me, so on Valentine's Day I drove over with boxes of chocolates for each of them.
Returning to Fox Chase
After that, I made an appointment to get my skin checked twice a year. I was never great at remembering to put on sunscreen, and sometimes I would even forget my hat. In 2017, all of those bad habits added up when I received another cancer diagnosis from my local hospital.
The doctor told me I had skin cancer in multiple spots. Too many spots, in my opinion, so I sought out another doctor. That is when I came to Fox Chase once again.
Meeting with Dr. Abhishek Aphale, a dermatologist at Fox Chase, made it a whole different ball game. He was able to surgically remove my squamous cell carcinoma and got me on a regular schedule for checkups. I now see his fellow dermatologist, Dr. Anthony Santoro.
To show my appreciation for my dermatology team, I wrote them a little poem: "Roses are red, violets are blue. Every time I get the C-word, the doctors and nurses and staff come through. So I am thanking you."
Two Diagnoses at Once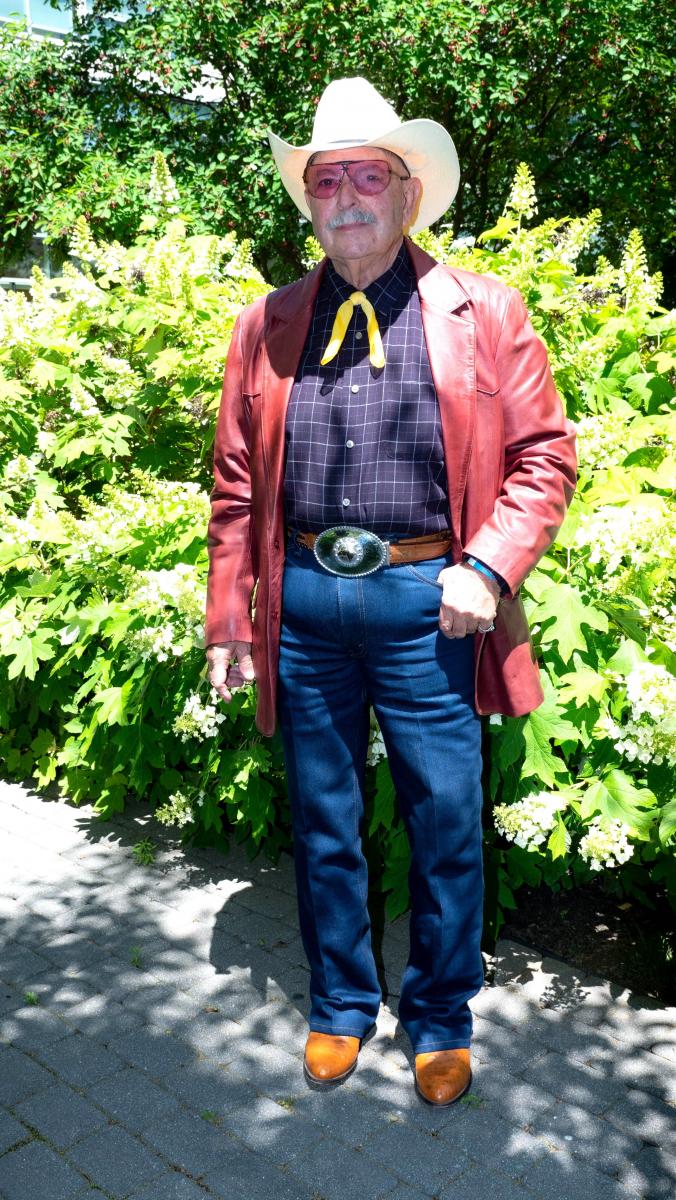 I enjoy writing in my journal, and through it I have found great peace and a que sera, sera attitude. I have Jesus on my side, the big guy. Whatever will be will be, and I have the best hospital, the best doctors, and the absolute best nurses. So in 2019, when I was diagnosed with cancer again, I knew exactly where I wanted to be treated.
When I told my local doctor that I was going to Fox Chase, he agreed with my decision. "They are the best," he said.
In March of 2019, Fox Chase confirmed that I had MALT non-Hodgkin lymphoma, which is an unusual form of lymphoma, in my stomach. I also had a precancerous polyp. However, my faith never wavered. I knew I was in good hands with my Fox Chase team. I was also thankful in that moment that I didn't end up getting the job as the Marlboro man, which I was actually a candidate for, because I never smoked. Otherwise, I might have had another cancer tacked on there. 
Treatment Plan in Motion
I went to see Dr. Jason Incorvati, who handled my physical exams and ordering my lab work. He referred me to Dr. Joshua Meyer, my radiation man, as I call him, who started me immediately on a treatment plan for my MALT lymphoma. Since I am constantly working on my farm and tending to my horses, I stay fit. So Dr. Meyer was shocked when I did not experience any nausea the first few weeks of treatment.
But by the end of my treatment, I did experience lingering nausea and could not stand the smell of bacon or coffee, two things I love in the morning. Dr. Meyer called my gastroenterologist at Fox Chase to postpone treatment for my precancerous polyp for four weeks to give me time to recover.
After some rest, I went in for my endoscopic surgery with my gastroenterologist. He removed the polyp using a colonoscope, a long, narrow tube with a light and video camera at the end. The polyp was a high-grade dysplasia, which means if it had not been removed it would have progressed to colon cancer. I bled for about five days afterwards.
After the fifth day, my gastroenterologist at Fox Chase checked in on me, cleared me, and I did not need to go back for another six months. When I go to Fox Chase now, I also see Dr. Elin Sigurdson, a surgical oncologist. These guys are excellent!
Cancer Cannot Halt This Cowboy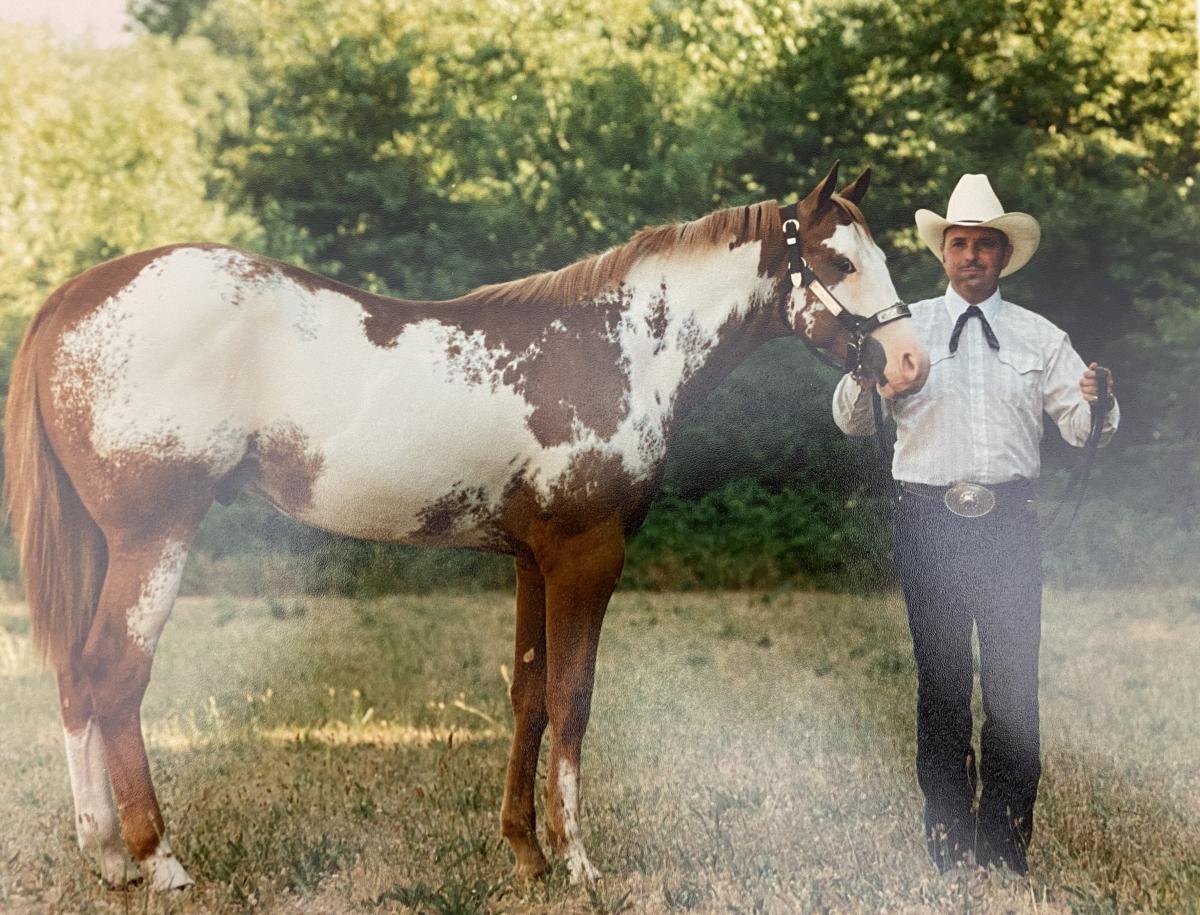 Throughout my treatment I was still able to keep doing what I love. Every Friday evening, I go trap shooting. Back in 2002 I was in the top 10 for trap shooting in New Jersey. So all throughout my treatment, if it was on a Friday, I would go home to take a nap and then be right back out there shooting. I only missed one Friday, and that was the day of my surgery because my wife insisted I follow my doctor's orders and rest. 
I have been married for almost 49 years. My wife Ella and I met when she was renting a horse. At the time I thought her name was Ellen, but I have never made that mistake again! We actually got married on horseback on "Channel 6 Action News." We have two kids, five grandkids, and five or six great-grandkids. I lost count.
I am beyond grateful for my Fox Chase team, or I should say, my Fox Chase family. It is thanks to them I am able to continue working on my farm, at my side business selling mattresses, and trap shooting. I enjoy coming back for my annual checkups because that means getting to see my life-saving team again.
Learn more about prostate cancer, squamous cell carcinoma, and MALT non-Hodgkin Lymphoma at Fox Chase Cancer Center.