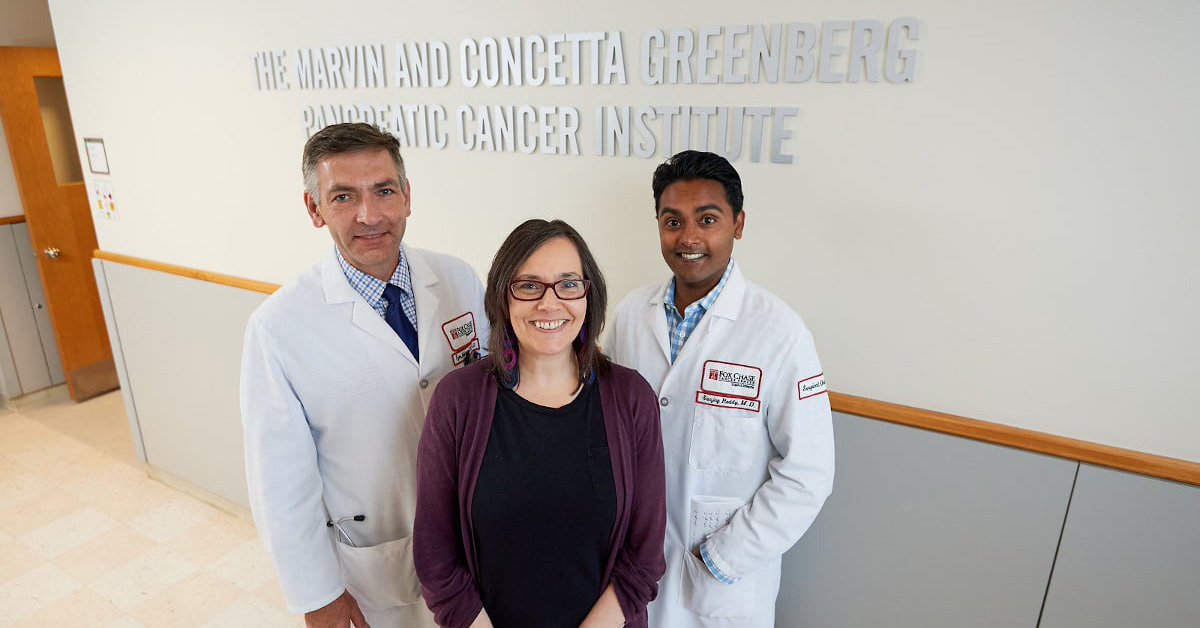 PHILADELPHIA (August 24, 2021)—Fox Chase Cancer Center and the Marvin and Concetta Greenberg Pancreatic Cancer Institute were recently renewed as a Clinical Center of Excellence and named for the first time as an Academic Center of Excellence for Pancreatic Cancer by the National Pancreas Foundation.
This distinction makes Fox Chase and the Marvin and Concetta Greenberg Pancreatic Cancer Institute one of the few selected centers in the nation to hold this distinction.
"The process for this application was rigorous. The foundation needs to see that we have true multidisciplinary care, not just that we have the clinical expertise but the academic backbone as well. Because of the Marvin and Concetta Greenberg Pancreatic Cancer Institute, we were able to highlight and showcase what we've done in the space of pancreatic research," said Sanjay S. Reddy, MD, FACS, co-director of the institute.
The Marvin and Concetta Greenberg Pancreatic Institute was launched in September 2017. Since then, the institute, led by Reddy, Igor Astsaturov, MD, PhD, and Edna Cukierman, PhD, has established the pancreas cancer translational research group, and now has multiple funded grants in pancreatic cancer. Additionally, the translational research group also has 12 ongoing clinical/Institutional Review Board (IRB) protocols, with four studies awaiting approval or activation, according to Reddy.
"I don't believe a lot of centers can say that. There are many clinically heavy centers, but with pancreas cancer, having a strong academic and scientific research program is incredibly important for patients facing this disease," said Reddy.
"When I see patients, they always ask questions about what we're doing in the lab, and how we are pushing the science forward. It's important for them to know that they have contributed to advancing the options we can offer pancreatic cancer patients in the future. They find it interesting to learn about the science behind what we do," he said.
Reddy said recognition by the National Pancreas Foundation is an important way for patients to do just that. As a nonprofit organization, the group is aimed at providing support and education for pancreatic cancer patients as well as advocating for research and new therapies. In addition to assisting those with pancreatic cancer, the foundation also focuses on patients afflicted with non-cancer diagnoses.
"The National Pancreas Foundation is an excellent resource for clinicians and patients alike," said Reddy. "It's a great source of information where patients can learn about the pancreas and many other facets of pancreatic cancer."