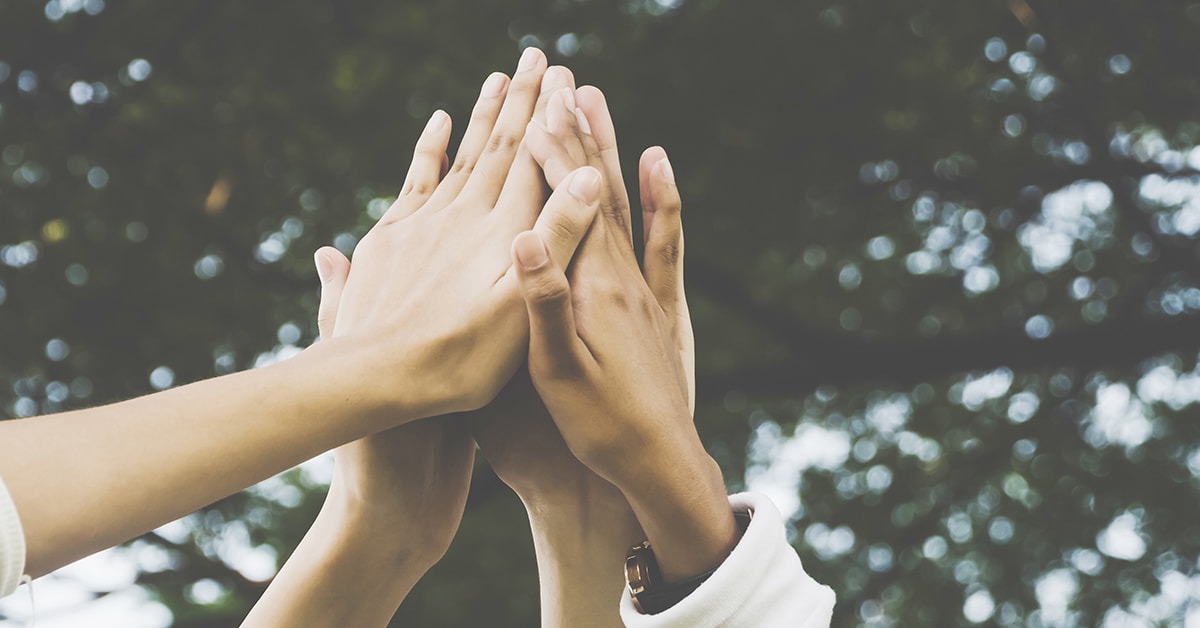 VIEW ALL POSTS
11 Ways to Support Cancer Patients
Updated: February 17, 2020

Cancer has a way of putting things into perspective. No matter how it's touched your life - whether you're a survivor, are undergoing treatment, or have a loved one who's been through it - cancer can be such a tough journey that it makes you grateful for the people who helped along the way.

And there are lots of different ways to give back. No matter what your comfort level is or where your talents and skills lie, there's always a need for help. We've put together a list of ways – both conventional and unconventional – you can give back to those affected by cancer.

1. Volunteer your time at a cancer center. Volunteers are the backbone of many support services offered at Fox Chase. Even just 4 hours a week can change the life of someone affected by cancer. We're always looking for volunteers to help staff areas on campus such as the surgical family waiting area, the infusion room, our research labs, and the gift shop. Reach out and get more information about the Volunteer Program at Fox Chase.
2. Offer personal support – in person or over the phone. Cancer survivors know what it's like to live with cancer. And patients just embarking on their cancer journey can benefit tremendously from hearing survivors share their experience and offering words of encouragement and support. At Fox Chase, the Patient to Patient Network encourages survivors to sign up to talk over the phone with a patient who's been diagnosed with the same cancer type. We are always looking for survivors to help support others.
3. Make a personal donation to a specific cancer research program near and dear to your heart. Cancer research is crucial for bringing us closer to a cure and we are making strides every day.
4. Join an advocacy walk or run. There's no shortage of cancer awareness events, especially in the Philadelphia area. Not only do these events raise large amounts of money donated to cancer research, but they're a great way to become a part of the larger cancer awareness community. Take a look at some upcoming walks and runs. We'd love to have you on the Fox Chase team!
5. Provide meals to patients and families traveling for cancer care. Hope Lodge provides a free home away from home for cancer patients and a caregiver. They are always looking for groups to prepare a meal for the guests. There are a number of other volunteer opportunities at the Hope Lodge as well.
6. Give a ride to someone in need. Not everyone has access to transportation to receive treatments. The American Cancer Society offers car rides to patients in need through their Road to Recovery Program. Learn more and sign up to be a driver here.
7. Volunteer your dog to act as a pet visitor. Dogs can provide such comfort to patients and families. And they're a big part of our volunteer team at Fox Chase. Learn more about how to get involved in this program here by contacting [email protected].
8. Maximize your favorite hobby. Think about what you're good at and what you love to do. Use that talent to bring joy to others. Knitting, crocheting, or quilting a handmade blanket, pillow, shawl, or cap can provide such comfort to a patient who might be having a down day. Donations are accepted through the Volunteer Department.
9. Offer insight on advisory councils that work to improve patient care and experience at cancer centers. The Patient and Family Advisory Council at Fox Chase is dedicated to strengthening collaboration between patients, families, and their healthcare teams. We are always looking for past and current patients to bring this insight to the group.
10. Donate magazines or books. One thing is for sure – fresh reading material is always appreciated when you're in a waiting room. There are a number of ways to go about this and contacting your local cancer center is a great start. They may have ideas and be able to share their needs. One idea from our Fox Chase volunteer office is to use your airline frequent flyer miles to purchase magazines for the cancer center. Don't let them go to waste! You can find out  more information by contacting [email protected].
11. Spread cheer through writing. Everybody loves receiving mail. A card with some encouraging words and sentiments can turn someone's entire day around.

Studies show that giving back makes YOU better. It makes you happy and lifts your mood. Here at Fox Chase, our volunteer office does an incredible job at directing our volunteers' time and talents to the perfect recipients. Please do not hesitate to reach out to them to ask where your help is needed.

Learn more about all of the ways you can give back by contacting our Volunteer Office.