"I wake up each and every day with gratitude and realize the team at Fox Chase saved my life."

‐Tierra Ryan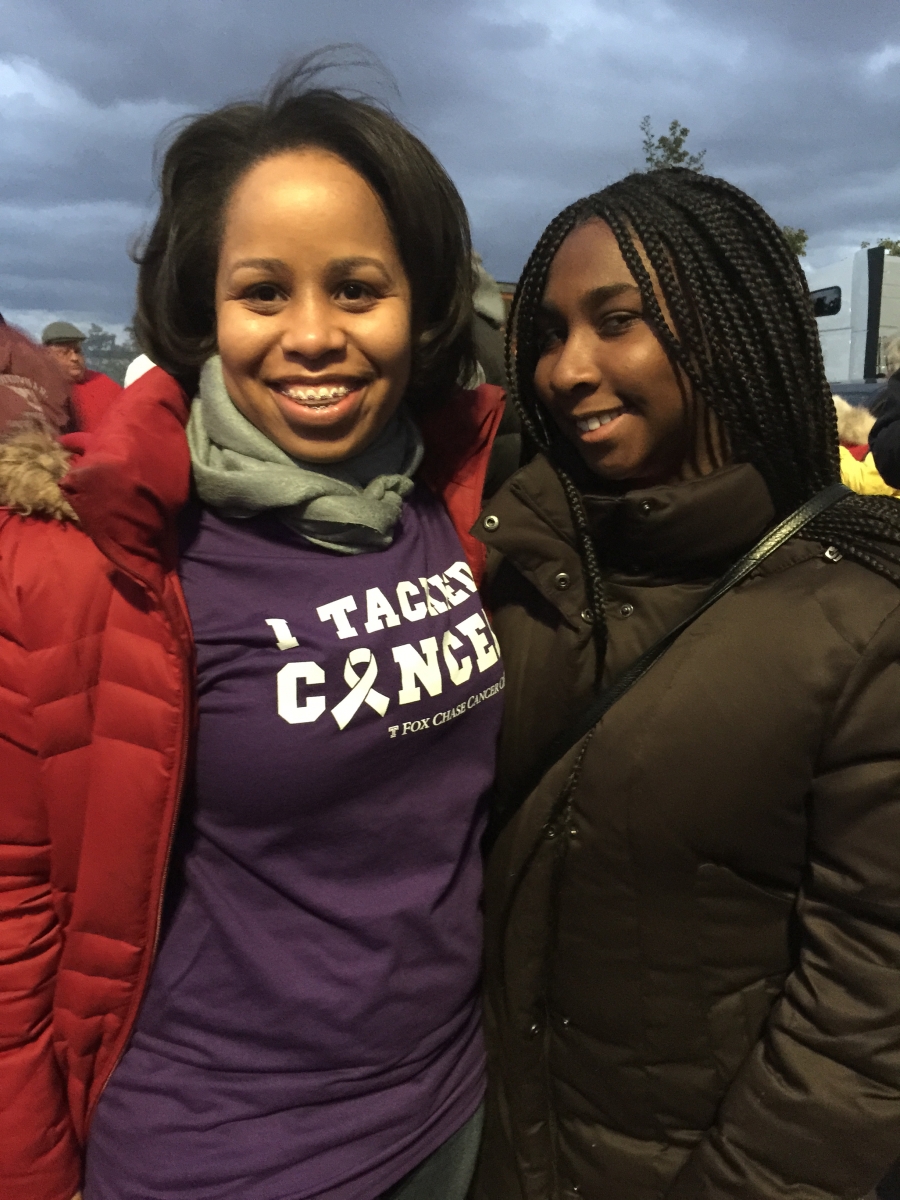 At 31, I was a young professional woman, working as a pharmacist and a medical writer for a large pharmaceutical company. I had been in my position for six months and was still getting acclimated with my job. I was in good health, worked out regularly, had a personal trainer, and did my best to maintain a healthy lifestyle.
In early spring 2014, I started to notice changes in my body. I was unusually tired and had profound night sweats. In the early evening, I became extremely tired. I started to think I was working out too hard. Then, the night sweats became more excessive. I would wake up in the middle of the night, and my pajama shirt would be drenched. I even kept my thermostat low. Finally, I realized it was time to share these episodes with my primary care doctor.
Coming to Fox Chase
My doctor performed a physical and suggested diagnostic testing including a thyroid ultrasound and chest computed tomography scan. Because the lymph nodes in my neck were enlarged, I was referred to an oncologist.
When I heard that my lymph nodes were affected, I began to worry. With my background in medicine, I understood what it could mean. My doctor recommended two hospitals, and Fox Chase Cancer Center was one of them. I chose Fox Chase because I had seen their television commercials and knew of their solid reputation, and I also liked that they only focus on cancer. My doctor called on my behalf, and my positive experience at Fox Chase started from there.
Within a few hours, I received a call from Norma Fenerty, a nurse navigator at Fox Chase. I was experiencing so many emotions: fear, anxiety, and panic. Just having a reassuring phone call helped. Norma told me that I had an appointment the next day, and that put me at ease.
Treatment Plan
With my dear friend and my father by my side, I met with a hematologist oncologist at Fox Chase who specializes in blood cancers. My hematologist oncologist was very compassionate and calmed me down immediately. I was sobbing in her office, and she reassured me that she thought I would be okay. She explained that my diagnosis, Hodgkin's lymphoma, was one of the most treatable and responsive cancers and said my outlook was good. I trusted her and knew right away that Fox Chase was the place I wanted to be.
My hematologist oncologist started me on a course of chemotherapy prior to radiation therapy. My body was responding well, and I managed the symptoms just fine. I even worked during my treatments. I was receiving chemotherapy over the summer, so I couldn't really handle being out during the day because I would get dehydrated and I would get terrible headaches. However, my treatments only required that I modify my daily activities, as opposed to stopping me from doing them all together. For example, I would show up to a party later in the day, so it wasn't during a hot time of day. I did have some discomfort with eating and couldn't eat the same foods because I would have mild irritation in my mouth. However, for the most part, I was able to do everything almost normally.
The collaborative approach offered by Fox Chase faculty helped me feel better both physically and emotionally. Knowing there were doctors behind the scenes working on my case made me feel better. The team approach truly benefits the patient.
Supportive Doctors
About six weeks after chemotherapy, I met with radiation oncologist Dr. Thomas J. Galloway to begin the next step in my treatment. Dr. Galloway was excellent. He explained everything in a way I could understand, and that was helpful to me.
In November 2014, I was placed on surveillance because my cancer was in remission. The day I heard that my cancer was under control was one of the best days of my life.
I now see my hematologist oncologist every six months and Dr. Galloway once a year for follow-up care. My hematologist oncologist is one of the nicest doctors out there. She's supportive and always tried to calm my fears. I'm truly thankful to the doctors and staff at Fox Chase because they saved my life. Because of them, I have a long life ahead of me.
I still work in the pharmaceutical industry, but in May 2016, I became a medical science liaison focusing on oncology. I talk to oncologists, nurses, and pharmacists about the clinical and medical benefits of a drug and answer any questions. As a cancer survivor, I leveraged my experience for this job.
Gratitude
Giving back to the community is something I am passionate about. Through my graduate sorority affiliation, I do charity work, community service, and mentoring. I like to help the community, and I feel good when helping others.
I enjoy spending time with friends and family, working out, traveling, and dining out in the city. I also have a toy poodle now, and she brings so much joy to my life. Life is precious, and I don't take my health for granted. My cancer diagnosis has definitely changed my perspective on life. I value my time, and I focus on positive things. I was a healthy 31-year-old woman, and in the blink of an eye, I was told I had cancer—it changed everything. Even though I'm now healthy, there is still always the concern of whether it will come back. My goal is to try to live healthy so that I'm not ever in that situation again. I wake up each and every day with gratitude and realize the team at Fox Chase saved my life.
I hope my story will help other patients on their journey. A positive attitude is so important. When you receive a cancer diagnosis, I really believe it helps to be spiritually grounded. Whatever your belief is, rely on your faith. Try to live a healthy lifestyle, and remain active if you can. Employ your support system. Don't be afraid to ask for help. Reach out to people because it helps you mentally and physically. If you need a break, if you need time off from work, don't be afraid to say so. Going to chemo and radiation can be very exhausting on the body, so don't be afraid to say, "I need a break." And just enjoy life. Take it one day at a time, and live life to the fullest.
Learn more about treatment for Lymphoma at Fox Chase Cancer Center.