"I knew from the moment I left my first consult that Fox Chase was where I'd get treatment."

‐Nick Pifani
I'm 45 and live in Delran, New Jersey, with my wife and two kids. I work as a vice president of business development for MasterCard, and in my spare time I love to run.
I've run marathons and completed an Ironman 70.3 (also known as a Half Ironman), which consists of a 1.2-mile swim, a 56-mile bike ride, and a 13.1-mile run. So, I'm no stranger to pain and discomfort.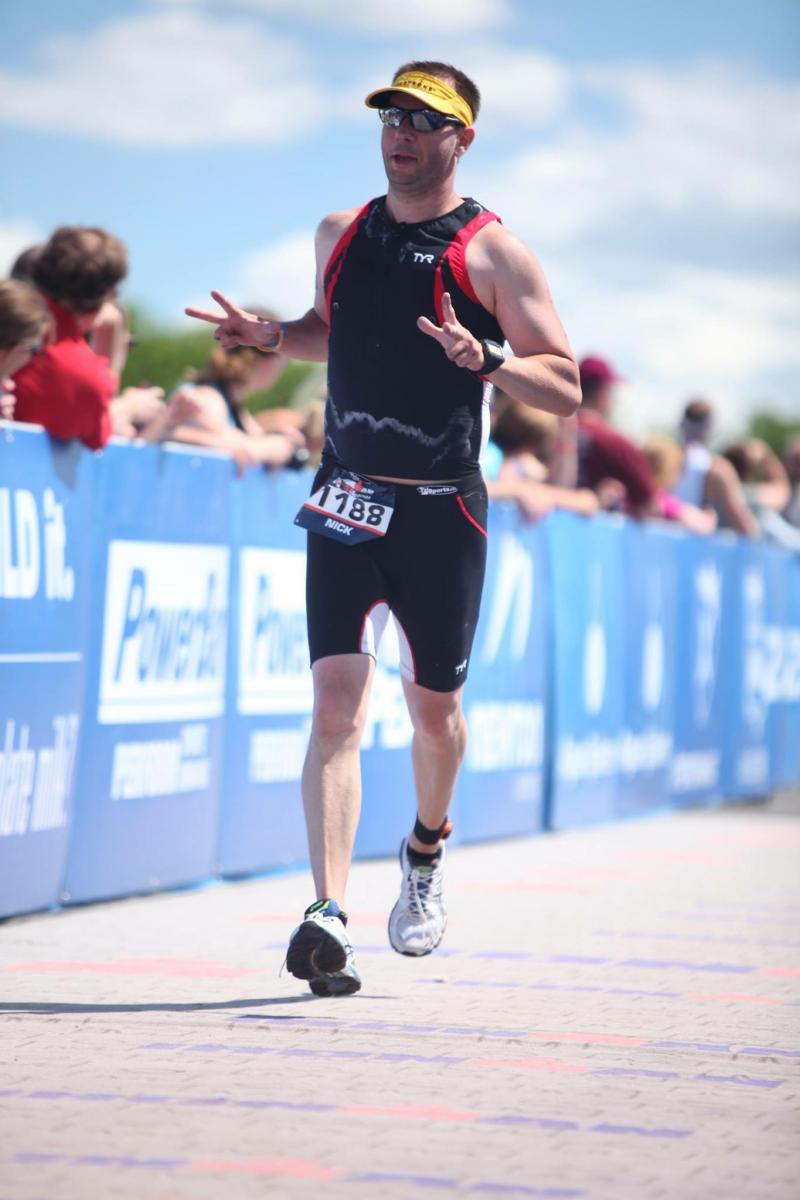 That's why, when I started having digestive issues in early 2017, I didn't think much of it. I called my family doctor and asked for GI specialist recommendations, figuring it was an ulcer.
A Worsening Condition
The appointment I made was four weeks away, but over the next couple of weeks, my stomach issues got worse and worse. I was in absolute distress every time I ate. What ultimately put me over the edge, though, was the back pain. There were three nights in a row where I couldn't sleep at all because the pain was so bad. I was taking three or four hot showers a night to try and get some relief.
Finally, on March 7, 2017, I took myself to the emergency room. I went by myself, because my wife needed to get our kids off to school and then go to school herself (she's a schoolteacher), and I assumed I'd just get some medication and leave.
At the hospital, they took my blood pressure, which was through the roof because of the pain. After asking me some questions, they did an ultrasound to check my gallbladder. That came back fine, so they ordered CT scan to check my appendix.
When the doctor came in to tell me the results of the scan, he turned off the TV in my room. That's when I knew something was really wrong. He told me I had a mass on my pancreas.
I asked if it was cancer, and he told me I'd need to get an MRI to confirm. However, based on his expression, I already knew.
An Inoperable Tumor
I could have gotten the MRI right there at the hospital, but I wanted to free up the bed for someone who needed it. Instead, I scheduled the MRI for the next day. When my family doctor called me with results the morning after the MRI, I already knew what was coming. I had lined up appointments with oncologists before the diagnosis was even official.
I started with an oncologist at a hospital in Philly. When he looked at my scans, he told me that the tumor was too involved, affecting arteries and veins, meaning I wasn't a candidate for surgery. Instead, I needed to go get other treatment first to try and shrink the tumor, and then he'd see if it was operable. That's how I wound up at Fox Chase.
That very same afternoon, I met with Dr. Igor Astsaturov, a medical oncologist. A friend had referred me to him after he had treated a relative's pancreatic cancer. As it turned out, Dr. Astsaturov was also treating my cousin, who had been diagnosed with pancreatic cancer just two weeks before me.
When Dr. Astsaturov realized this connection, he pushed for genetic testing. The results revealed that I had the PALB2 mutation, which is linked to BRCA mutations. Apparently when you have that mutation, it's very susceptible to platinum-based chemotherapy, so that was the first line of treatment I received.
Treatment at Fox Chase

Nick receiving chemotherapy at Fox Chase.
Chemo was rough. I only made it through six sessions, which were scheduled every other Thursday. It just destroyed me. Even though I'm young and in shape, my body was not recovering.
However, Fox Chase has the best chemo nurses on the planet. I've been to other hospitals, but the Fox Chase nurses set the standard so high. They took great care of me, and they were amazing to my wife, too. I still bring them treats every holiday.
In the middle of chemo treatment, my care team ordered CT scans. The good news was that my scans, along with my labs, showed that the tumor was starting to respond. However, because my body was so beaten down, my platelet count was too low. I started having to miss chemo sessions. 
That's when I met with Dr. Joshua Meyer, a radiation oncologist who is another world-class doctor and person. He gave me five weeks of targeted radiation, Monday through Friday, which I handled really well.
At the end of that round of treatment, in August 2017, we took another CT scan. The tumor had shrunk significantly and moved away from the artery and vein. At that point, I could go back to the doctor that I originally saw for surgery.
The Fox Chase Difference
I see the Fox Chase commercial all the time that says: "Where you start matters." I've been to a lot of wonderful institutions and been treated by a lot of outstanding doctors in my life, but I wouldn't have made it to the surgical table—and I probably wouldn't be here today—if not for Fox Chase.
I knew from the moment I left my first consult with Dr. Astsaturov that Fox Chase was where I'd get treatment. Talking to him made me feel confident that Fox Chase had a plan specifically for me. I knew they'd give me the best shot to make it. And I did.
Life After Cancer
I've been cancer-free now for almost three years. I'm back to running pretty darned fast and working out hard, and for the most part, I feel really good.
I tell people I'm the 2.0 version of myself now, because an experience like this changes the way you think.
Before I was diagnosed, I watched my mom battle colon cancer for six years. As her son and someone who helped take care of her, I thought I really understood what a cancer patient went through. Turns out I had no idea.
That's why I'm so involved now with PanCAN, the Pancreatic Cancer Action Network. I'm the Sponsorship Chair for the Philadelphia affiliate and the Co-Chair of the Survivor Council.
Before my cousin, I didn't know anybody I could talk to about my disease. So, I promised myself, "When I make it through, I'm going to volunteer and make a difference." I make it a point to tell my story, because if even one person hears it and it helps them, that makes a difference.
Learn more about treatment for pancreatic cancer at Fox Chase Cancer Center.