"The doctors and staff at Fox Chase significantly reduced my worry and fear with their expertise and by having the answer for every question that I had."

‐Amy Wolf
My name is Amy Wolf and I am a breast cancer survivor who was treated at Fox Chase Cancer Center.
Before my diagnosis, I worked with preschoolers, acting as an aid for children with autism. After going in for an annual physical, my doctor felt a lump in my left breast, but when she placed my hand on it, I couldn't feel it.
Right after she told me about the lump, the doctor booked a diagnostic mammogram for me and sent the mammogram team a note about the specific area she was talking about. After the mammogram showed what she had felt, they brought me in from the waiting room and took me for an ultrasound.
I knew the results of the ultrasound wouldn't be what I wanted, and I was right. After a biopsy in July 2015, I was diagnosed with hormone receptor-positive, HER-2 negative breast cancer.
The diagnosis was quite a shock, as I have no family history of breast cancer. However, the doctors and staff at Fox Chase significantly reduced my worry and fear with their expertise and by having the answer for every question that I had.
Surgery and Avoiding Radiation
Following my diagnosis, in September I underwent a double mastectomy, which was performed by my surgical oncologist. During the surgery I had expanders, which are inserted to prepare patients for permanent breast implants, placed by a Fox Chase plastic surgeon. Although the mastectomy removed the majority of my tumor, some had spread into the muscle behind my breast, which had my doctors concerned, so to play it safe, they recommended radiation therapy.
My medical oncologist, Dr. Jennifer Winn, collaborated with my surgical team and Dr. Penny Anderson, a radiation oncologist, on my proposed radiation therapy. Dr. Anderson determined that because the location of the tissue that they wanted to treat was so close to my heart, the radiation could potentially cause damage to it.
So they had to think of ways to avoid doing radiation and prevent any unnecessary risk. As a solution, my doctors decided, and I agreed, that I would undergo a second surgery to remove the muscle tissue in hopes that the pathology would come back clean, which, thankfully, it did, so I never needed to undergo radiation therapy.
As all that was happening, I worked closely with Dr. Winn on what further treatment I might need. I was given an Oncotype DX test, which helps determine how likely it is that breast cancer will return and whether patients will benefit from having chemotherapy in addition to hormone treatment. I was happy to find that the test showed that I did not need chemotherapy.
Based on those test results, Dr. Winn had me start on tamoxifen, a hormone therapy that is also known by its brand name, Nolvadex. I have now been on it for six years and will continue taking it for another four years.
Dr. Allison Aggon has taken over my case and now does my yearly checks. All my doctors have made me feel lucky to receive care from them. Now, any time I hear that friends and family have been diagnosed with breast cancer, I immediately refer them to Dr. Aggon.
Something that has always stood out to me about Fox Chase is the staff's personal touch. After being treated for my breast cancer, I had another brief stint in the hospital for a gallbladder issue. While there, every doctor and nurse I had been treated by before came to visit me and ease my anxiety, regardless of the fact that I was being treated outside of their departments.
On the CT scan that helped determine that my gallbladder needed to be removed, Dr. Sanjay Reddy, a surgical oncologist, detected an indicator of cancer on my liver. Now they test my liver markers and do MRIs every few months to keep an eye on things, because if the numbers go up or they see something on the MRIs, they might need to do surgery.
Resilient Together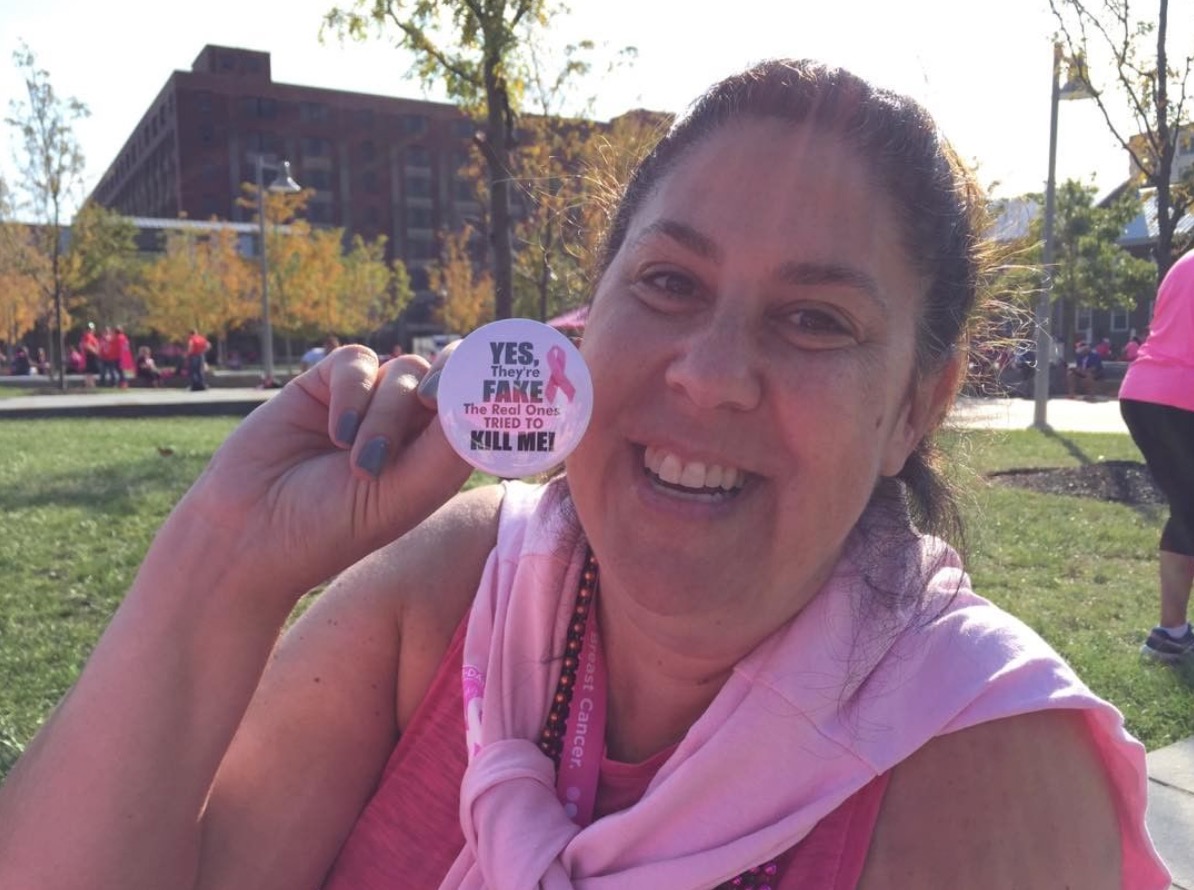 Since my treatment at Fox Chase, I have been able to return to work at a small boutique near my home. In addition to this, I have also begun a nonprofit organization, Resilient Together, aimed at fulfilling the needs of breast cancer patients.
Whether that means making dinners, driving their children around while they're in treatment, or just offering support while they go to appointments, it's one of the most rewarding things I've done. Resilient Together has offered me so many opportunities to give patients what was given to me as I was undergoing treatment.
I also started volunteering for Fox Chase's Patient-to-Patient Network, which connects new patients or caregivers to a fellow Fox Chase cancer survivor or caregiver who faced a similar cancer or underwent similar treatments.
I couldn't have done any of this without the support of my family and friends. My husband and children are so important to me and support me endlessly through their involvement in my organization and cancer treatments. And, of course, I must thank Fox Chase again. Without my brilliant team of doctors and staff members, I don't know what I would do.
Learn more about treatment for breast cancer at Fox Chase Cancer Center.