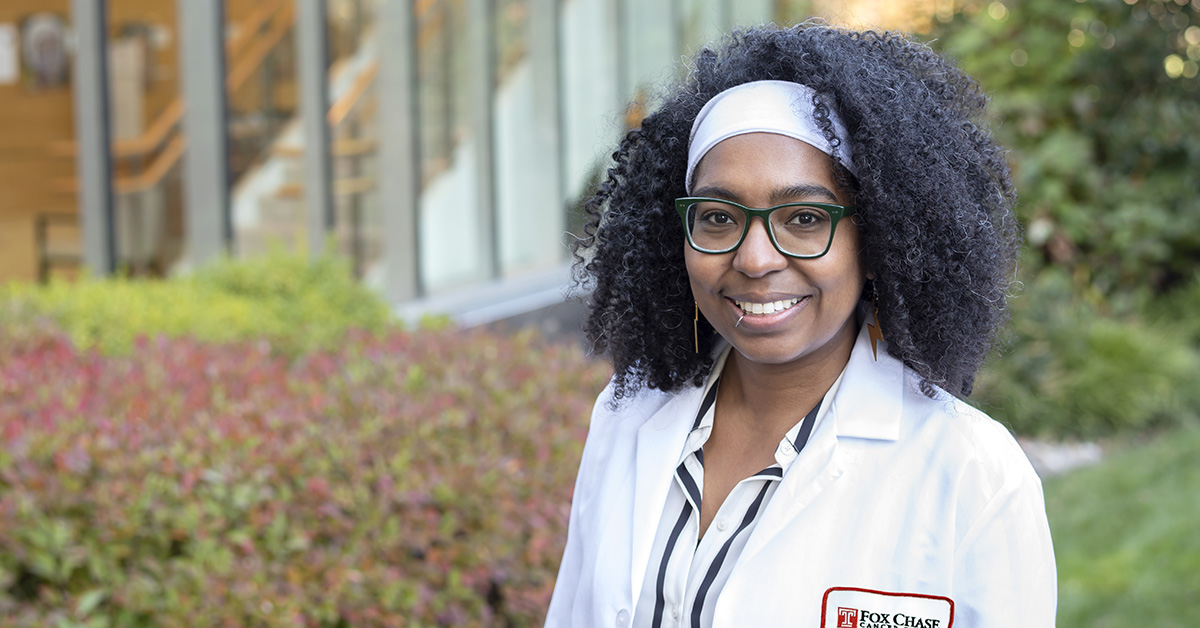 PHILADELPHIA (February 3, 2023)—Jaye Gardiner, PhD, a postdoctoral researcher at Fox Chase Cancer Center, has received the Maximizing Opportunities for Scientific and Academic Independent Careers (MOSAIC) Postdoctoral Career Transition Award to Promote Diversity (K99/R00) award from the National Institute of General Medical Sciences. She will receive up to two years of postdoctoral funding, followed by three years of funding after she secures a full-time faculty position.
The award is granted to postdoctoral scientists from underrepresented groups who submit outstanding biomedical research proposals and demonstrate commitment to enhancing diversity in the biomedical sciences. A pancreatic cancer researcher with a passion for science communication, Gardiner is especially moved to receive this award.
"I cried when I saw the email. To both have my scientific ideas validated and also my outreach seen as a strength as opposed to a distraction is very encouraging," she said.
Gardiner is a Black first-generation American who is also the first in her family to graduate from college. At Fox Chase, she conducts her research in the lab of Edna "Eti" Cukierman, PhD, who is co-director of the Marvin and Concetta Greenberg Pancreatic Cancer Institute.
Gardiner studies the tumor microenvironment, the "neighborhood," of pancreatic cancer, specifically fibroblasts, which are a type of cell that can help or hinder cancer growth. Having observed that fibroblasts retain their cancer-facilitating or cancer-suppressing properties even after they are isolated from cancerous or healthy tissue, Gardiner wants to better understand how the fibroblast genes directing these properties are influenced.
"The fibroblasts get 'educated' and, in a way, turned on or activated. But in cancer, they never turn back off," she said. "So part of the question I asked for my grant proposal is 'How, exactly, is this being regulated?'"
To answer this, Gardiner is exploring epigenetics—the "light switches" that turn genes on or off. For this, she has enlisted Johnathan Whetstine, PhD, the director of the Cancer Epigenetics Institute at Fox Chase, to be her co-mentor alongside Cukierman. Gardiner credits the collaborative culture created by Cukierman, Whetstine, and others at Fox Chase with her securing the MOSAIC award.
"The collaborative environment here is what has allowed my project to take shape," she said. "When you are a postdoc and can reach out to others to say, 'Hey, I have this idea, would you be willing to talk with me to help me think about this more deeply,' that's something that's very special about Fox Chase. I don't think I would've been able to develop this type of project at most other institutions."
Collaboration is important to Gardiner and isn't just something she prioritizes in the lab—she also collaborates in her science communication outreach efforts. Together with two former grad school classmates, Gardiner cofounded JKX Comics, an online comic series geared toward children eight and up. These free comics introduce readers to ideas and scientists in STEM in an engaging, entertaining way, without the jargon and firewall barriers typical of academic journals. To Gardiner, the comics are a way to pay forward the assistance and mentoring she's received and help expose more people to ideas she's passionate about.
"I want give people more access and exposure in case there might be someone like me that really loves this stuff, and they don't have to wait until they're almost done with college to figure out that it exists."