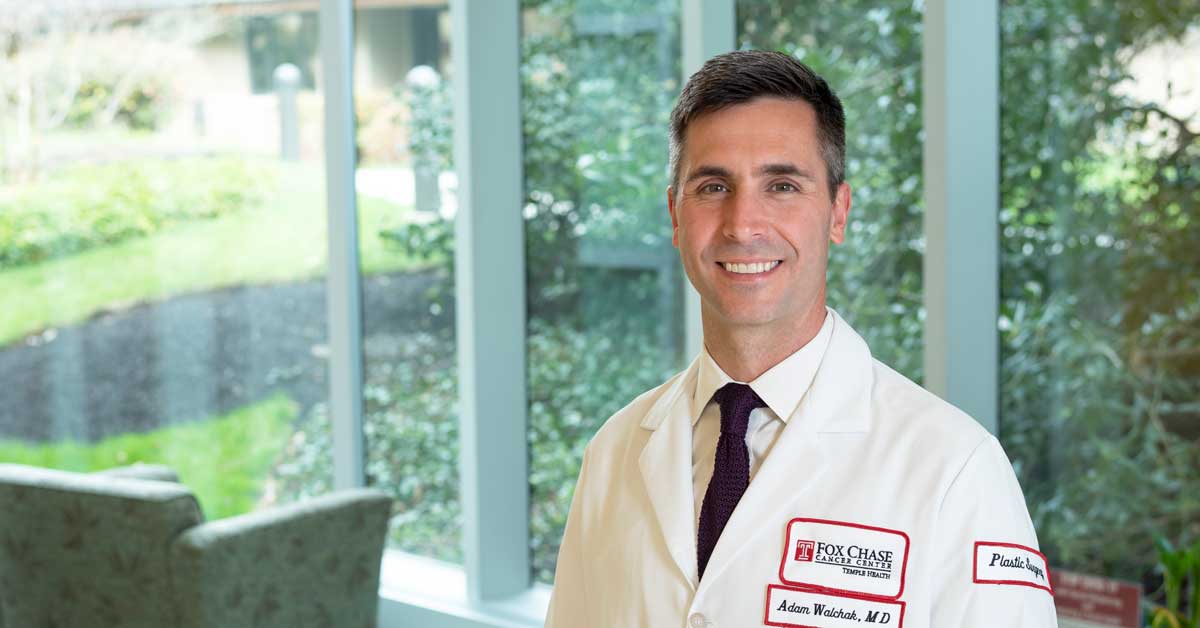 PHILADELPHIA (August 3, 2022)—Fox Chase Cancer Center is pleased to announce the hiring of Adam Walchak, MD, MS, as an assistant professor in the Department of Surgical Oncology, where he will work in the Division of Plastic and Reconstructive Surgery.
Walchak earned his undergraduate degree in biology from Villanova University and a master of science degree from Drexel University. He graduated from Drexel College of Medicine with his medical degree in 2009.
After medical school, Walchak completed his general surgery residency at Temple University Hospital, where he served as chief resident, and an observership at Chang Gung Medical Center in Taipei, Taiwan.
In addition, Walchak completed a plastic surgery residency at Montefiore Medical Center, where he also served as chief resident, and followed that with a fellowship in orthopedic hand and microsurgery at Integris Baptist Medical Center. Prior to joining Fox Chase, Walchak worked as a plastic and hand surgeon at Associates in Plastic Surgery in Media, Pennsylvania.
Walchak has published several peer-reviewed articles in various journals. He has also received numerous honors recognizing his talents as a surgeon, including the Consultant of the Year Award from the CCMC Emergency Department, the Adrian E. Flatt Fellows Scholarship, and the Leo M. Davidoff Society Award.
He also has an extensive history of volunteer work. This includes a 2012 mission trip to Retalyehu, Guatemala, where he repaired various facial defects with Rotaplast International, and a similar mission trip to Chengde, China, in 2008. Locally, Walchak has worked at the Chinatown Clinic as a medical assistant serving recent Asian immigrants and as a math tutor for inner-city youth at Chamonix Equestrian Center.
Walchak began his tenure at Fox Chase on April 1.