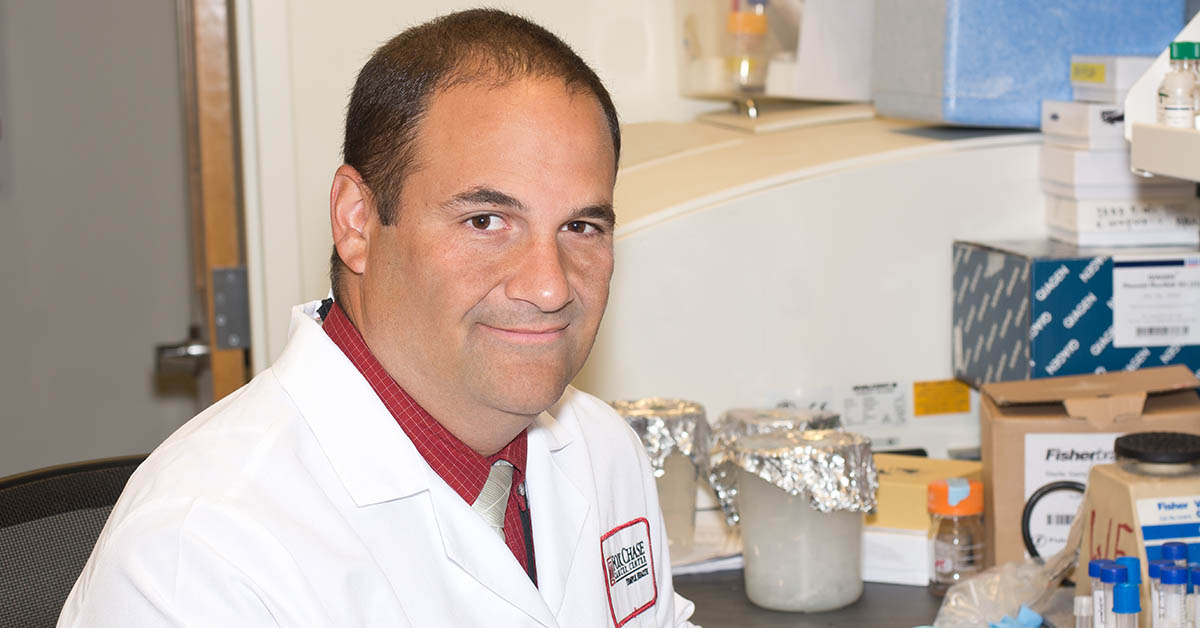 PHILADELPHIA (June 1, 2021)—Phillip Abbosh, MD, PhD, assistant professor in the Molecular Therapeutics Program at Fox Chase Cancer Center, has been awarded $250,000 per year for the next five years from the National Institutes of Health to develop a urine test that can detect bladder cancer.
The test is being developed for use in patients who have been diagnosed and undergone treatment prior to bladder removal—also called cystectomy—to determine if any residual cancer remains in their bladder.
"When someone has residual cancer and we try to do a biopsy to identify it, we often miss the cancer," said Abbosh. "In those cases where no tumor was identified by the surgeon trying to find tumor using their eyes, we can potentially identify its fingerprints in the urine."
The test works by capturing DNA in two forms that may appear in the patient's urine. One is actual strands of DNA that are released when tumor cells break open inside the bladder. The other form is captured from whole tumor cells that slough off the walls of the bladder and into the urine. Researchers can then use DNA from those two sources to analyze the genetics of the tumor.
This method of surveilling bladder cancer patients is less invasive than current methods. Its potential for higher sensitivity is promising as well for tumors that are very small or hard to identify when looking inside the bladder with a camera or reviewing a CT scan, two common methods of detection.
The test may also help confirm the absence of cancer and spare the patient a cystectomy. The current standard of care for patients with localized bladder cancer is to undergo chemotherapy and then a cystectomy.
However, as is being demonstrated in the RETAIN BLADDER trial being conducted by Daniel M. Geynisman, MD, an associate professor in the Department of Hematology/Oncology, some patients will respond to the chemotherapy and emerge from treatment without any cancer remaining in their bladders.
For these patients, a cystectomy, which is a life-altering procedure, may be unnecessary. The trick is to accurately identify patients who responded while still catching every patient who still has residual cancer. Abbosh is hopeful that this urine test, when fully developed, will help to achieve that goal.
"The idea is to use the urine test to sharpen the blunt tools that are currently available to us to clinically stage patients after chemo so we could say with more confidence: 'You do or do not have bladder cancer,'" he said.
With the support from the grant, Abbosh and colleagues will analyze urine from bladder cancer patients treated in five different clinical trials, two of which are being conducted at Fox Chase—RETAIN and RETAIN 2, which is being led by Geynisman and Pooja Ghatalia, MD, an assistant professor in the Department of Hematology/Oncology.