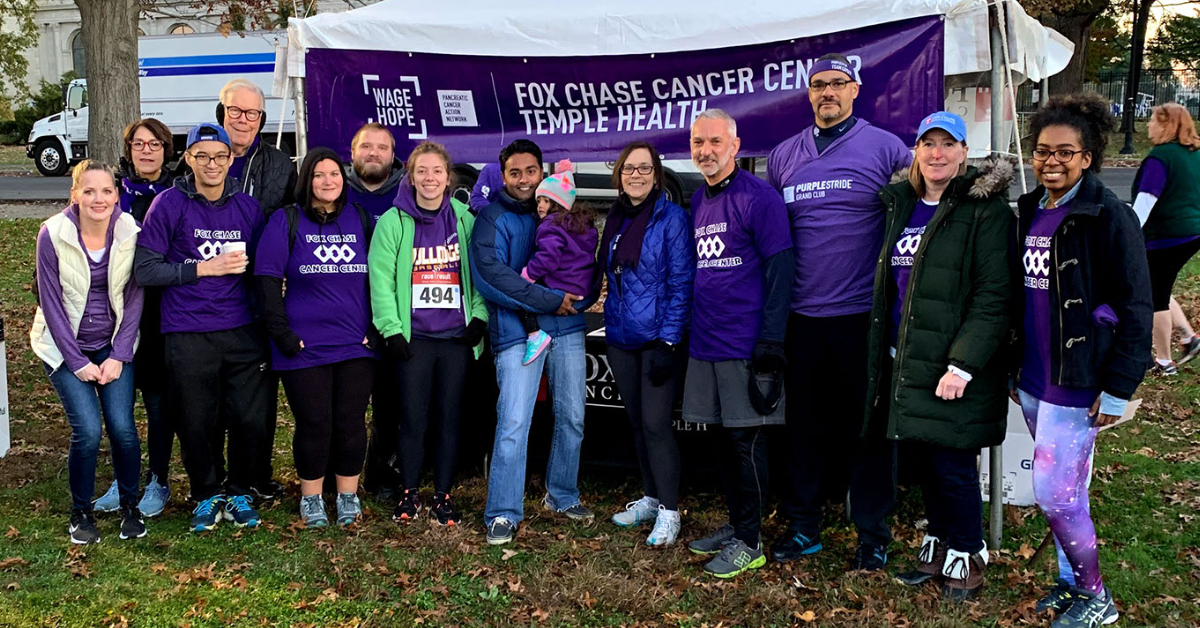 PHILADELPHIA (October 26, 2020)— Fox Chase Cancer Center is proud to support the Pancreatic Cancer Action Network (PanCAN) for PurpleStride Philadelphia 2020. Fox Chase will participate virtually with pancreatic cancer survivors, their loved ones, caregivers, and researchers on Saturday, November 7, 2020, to raise money for pancreatic cancer research and patient services.
The event is being held virtually for the safety of participants in light of the global pandemic. Through a fundraising page, PurpleStride participants can take part individually or with a team to garner donations.
Sanjay S. Reddy, MD, FACS, associate professor in the Department of Surgical Oncology at Fox Chase, is this year's team leader and honorary event co-chair. The clinicians, researchers, and staff on the Fox Chase team are affiliated with the center's Marvin and Concetta Greenberg Pancreatic Cancer Institute.
"The true importance of the event is that it brings together many high-volume pancreatic cancer centers and offers opportunities for collaborative efforts," said Reddy. "Through PanCAN, support through advocacy remains one of the most important goals of the foundation. This event gives a voice to a silent disease and by raising awareness allows us to obtain the much-needed funding to further our scientific endeavors to beat this disease."
PurpleStride is PanCAN's signature walk program, which raised approximately $14.9 million in 2018. This year, they aim to reach a $10 million goal, which will aid in PanCAN's mission to advance research and create hope for families facing this deadly disease.
Although the five-year survival rate for pancreatic cancer was 6% in 2014, it has steadily increased to 10%, an increase due in many parts to the grassroots efforts by advocacy groups like PanCAN and the partnerships it builds within the health community.
For more information about Philadelphia PurpleStride 2020, to join the Fox Chase team, or to donate visit http://www.purplestride.org/philadelphia.