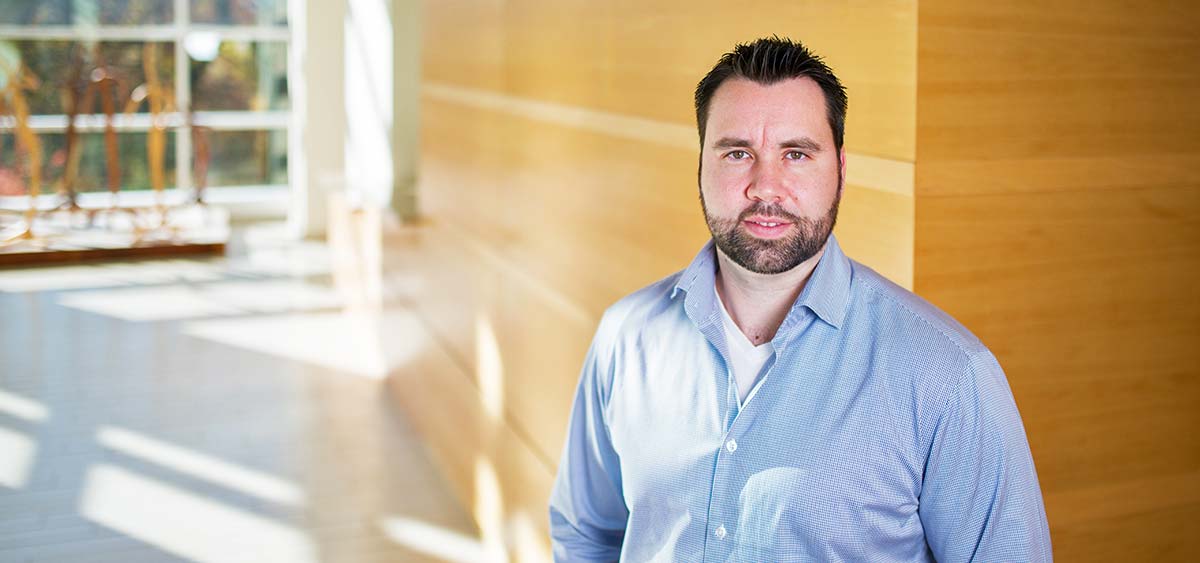 PHILADELPHIA (January 28, 2020) – James S. Duncan, PhD, assistant professor in the Cancer Biology program at Fox Chase Cancer Center, received the Liz Tilberis Early Career Award from Ovarian Cancer Research Alliance (OCRA). Duncan and the seven other 2020 award winners will receive a three-year grant of $150,000 per year to support their research on ovarian cancer. Duncan is one of 22 OCRA grantees receiving a total of $6.6 million in ovarian cancer funding this year.
Together with his grant collaborator, Denise Connolly, PhD, associate professor in the Molecular Therapeutics program and director of the Biosample Repository Facility at Fox Chase, Duncan will use the grant to research drug combination therapies to treat high-grade serous ovarian carcinoma—the most common and deadly subtype of epithelial ovarian cancer. The Tilberis Award is presented to junior faculty with a strong commitment to ovarian cancer research.
Specifically, Duncan and Connolly are investigating a new class of drugs called proteolysis-targeting chimeras (PROTACs). "Why we're excited about them is because they highjack the cancer cells' protein machinery," said Duncan. "These PROTACs can target and destroy a specific protein in the cell using the cancer's own protein degradation machinery."
The specific protein they are targeting is BRD4, which is pivotal to ovarian cancer development. PROTACs targeting BRD4 essentially "trick" the cancer cells into degrading this protein, which in turn kills the cancer cells. However, as with many promising cancer therapies, drug resistance remains an issue and very little is known about resistance to this type of therapy.
Duncan's research thus far has shown that the cancer cells respond to PROTACs by upregulating protein kinases, which prevents BRD4 from being degraded by the PROTACs. "Tumor cells bypass drug treatment through rewiring of their protein kinome, and then that allows them to become resistant to these drugs," said Duncan. "That's why you need combination therapies."
The OCRA grant will help Duncan evaluate the effectiveness of treating high-grade serous ovarian carcinoma using a combination of BRD4-PROTACs and kinase inhibitors.
Their goals in examining this combination drug therapy are twofold. First, they will attempt to demonstrate that combining BRD4-PROTACs and kinase inhibitors significantly improves the killing of high-grade serous ovarian carcinoma cells in animal models. If successful, this would provide the proof of principle necessary to move forward with clinical trials.
Their second goal is to learn more about how cancer cells respond to PROTACs. "PROTACs are so new, and the majority of cancer cells develop resistance to targeted therapies. So we're trying to understand mechanistically what occurs in terms of resistance," said Duncan. These findings could help to advance PROTACs as a revolutionary new class of drugs that can be used to treat not just ovarian cancer, but other forms of cancer as well.