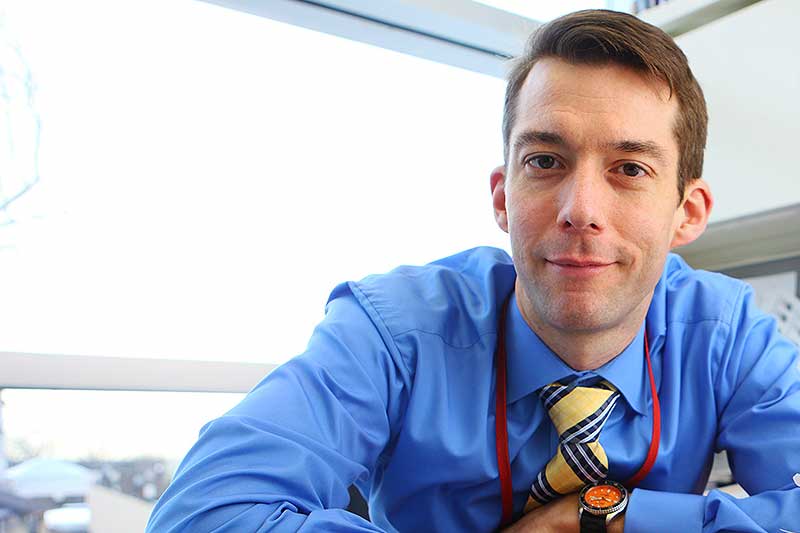 PHILADELPHIA (May 22, 2019) – Michael Hall, MD, MS, has been named chair of the Department of Clinical Genetics at Fox Chase Cancer Center.
An Associate Professor in the Department of Clinical Genetics, Dr. Hall will continue to serve in his other roles at Fox Chase, including director of Gastrointestinal Risk Assessment; and NCCN, Genetic Colorectal/Colorectal Cancer Screening Panel member.
"Dr. Hall has served our institution in an outstanding fashion for a number of years. Recognized among America's Top Doctors by Castle Connolly and our region's Top Doctors by Philadelphia magazine, he is well-regarded by professional peers and patients alike," said Richard I. Fisher, MD, president & CEO of Fox Chase Cancer Center.
As both an oncologist and a clinical cancer geneticist, Dr. Hall brings a valuable combination of experience to the department. He focuses his research and clinical work on cancers of the gastrointestinal tract with particular interest in colorectal, pancreatic, and small bowel cancers. In addition, he has specialized expertise in risk assessment for gastrointestinal, endocrine, and genitourinary cancers. In his practice, he sees a variety of patients, including young people who tend to have hereditary cancers, and consistently approaches each case with a great appreciation for the unique diagnosis and needs of the patient.
As chair, Dr. Hall will lead the department, building on the legacy of his predecessor Mary Daly, MD, founding director of Fox Chase Cancer Center's Risk Assessment Program, and further bolstering the strength of Fox Chase's clinical and research programs, cultivating new and innovative initiatives and promoting the development of the faculty and staff.