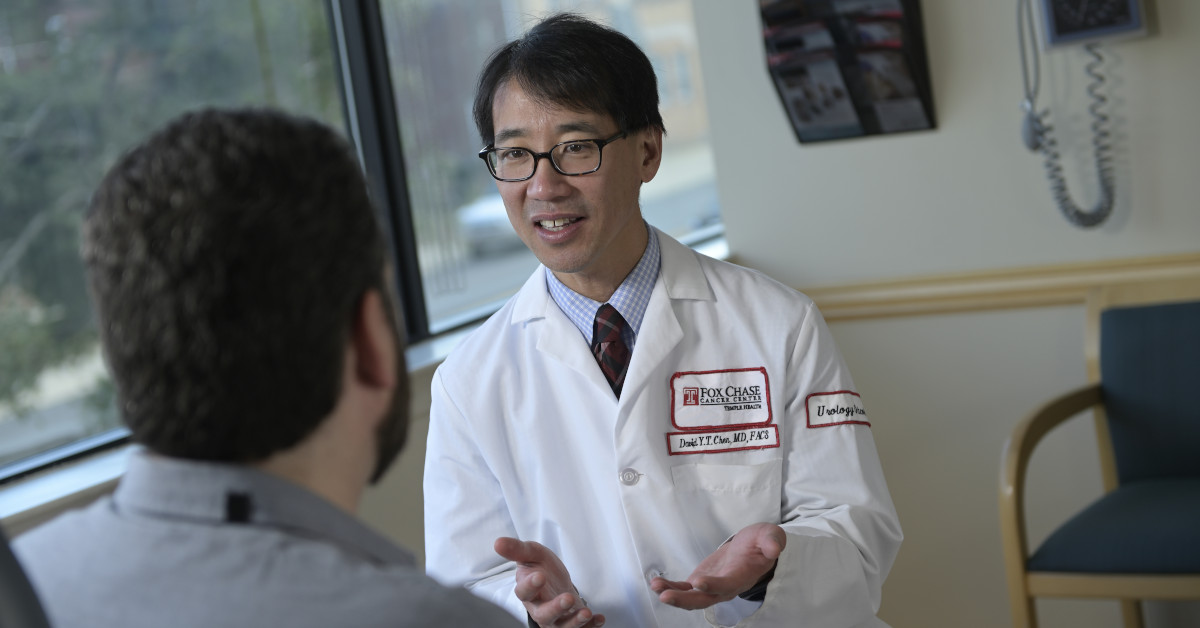 Now in East Norriton, the Prostate & Urologic Cancer Program at Fox Chase Cancer Center provides patients the same Fox Chase standard of care closer to their homes in Montgomery County.
The program offers patients with prostate and other urologic cancers a full scope of services—including surgical, radiation and medical oncology, genetic testing and counseling, as well as an array of support services.
The Prostate & Urologic Cancer Program is staffed by renowned radiation and urologic oncologists experienced in treating all patients with prostate cancer, including those who have been recently diagnosed. According to studies, patients who begin treatment at a hospital that specializes in cancer, like Fox Chase, have a better chance of survival*.
Our physicians consult with every patient to review their treatment options and to guide them in making informed decisions about managing their disease.
Urologic Oncology
Our nationally ranked urologic oncologists provide consultations at Fox Chase East Norriton for patients with prostate cancer. As a leader in prostate cancer care, we specialize in all forms of prostate cancer treatment, including focal therapy, prostate gland ablation, and both robotic and traditional prostatectomy. We also offer men with low-risk prostate cancer the option of active surveillance.
Through Fox Chase's robust research program, we also offer new treatments to patients in the form of clinical trials. On average, patients in our clinical trials receive the newest treatments years before they are approved for general use.
Radiation Oncology
Our highly experienced radiation oncologists provide patients access to advanced radiation therapies. For certain patients with prostate cancer, we offer hypofractionation at Fox Chase East Norriton. The state-of-the-art therapy can shave weeks off the traditional treatment length with the possibility of fewer short-term side effects and a better quality of life. Many clinical trials have proven hypofractionation to be just as safe and effective as conventional radiation therapy.
Fox Chase also specializes in high-dose rate (HDR) brachytherapy for prostate cancer, which offers the greatest amount of bladder and rectal sparing. Fox Chase was the first to perform HDR prostate implants in the Eastern United States and has one of the largest brachytherapy programs in the region.
Why Choose Fox Chase East Norriton for Prostate Cancer
Fox Chase East Norriton's Prostate & Urologic Cancer Program is staffed by renowned radiation and urologic oncologists who offer the latest treatment options for prostate cancer.
Fox Chase East Norriton physicians are part of the medical staff of Fox Chase Cancer Center and Suburban Community Hospital. Patients receive the same quality of care and personalized treatment as they would at our Fox Chase main campus.
Fox Chase has the highest designation from the National Cancer Institute (NCI) as a Comprehensive Cancer Center—recognized for excellence in cancer treatment research, prevention and education.
Our faculty members participate in cancer panels at the National Comprehensive Cancer Network, helping to write the guidelines for cancer care that form the basis of clinical decisions in medical centers across the country.
Fox Chase East Norriton is conveniently located on the campus of Suburban Community Hospital in Montgomery County.
Learn more about Fox Chase Cancer Center East Norriton - Hospital Outpatient Center
*JAMA Oncology, October 8, 2015. Risk Adjusting Survival Outcomes in Hospitals That Treat Patients With Cancer Without Information on Cancer Stage.