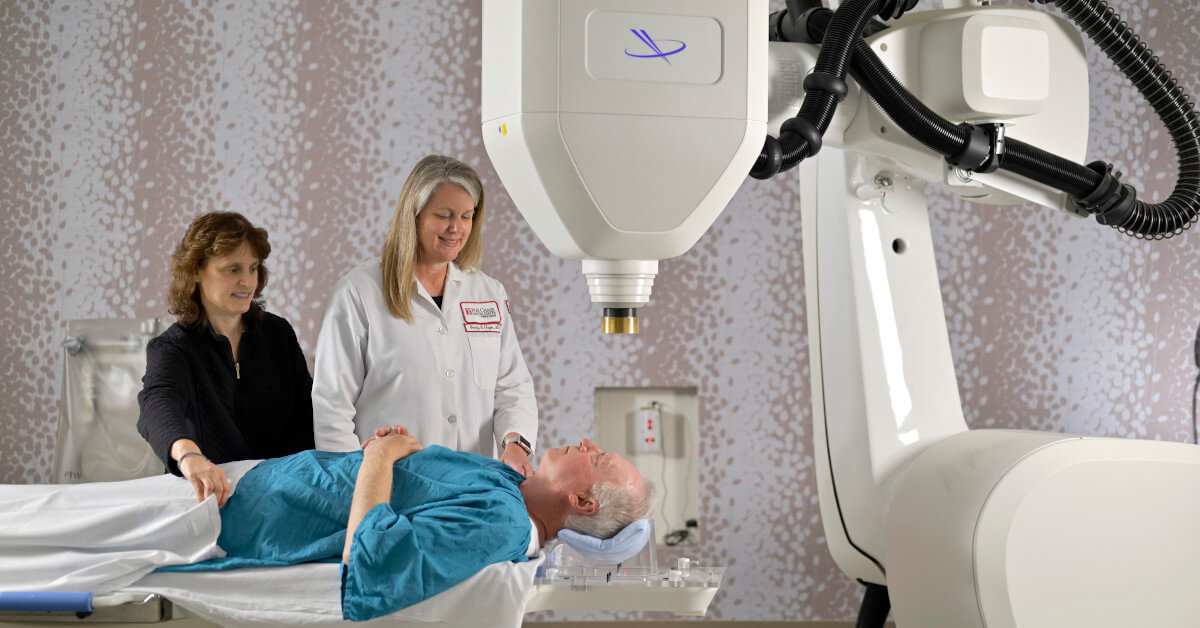 Fox Chase Cancer Center Buckingham offers patients access to advanced radiation techniques and technologies that decrease treatment time, improve the precision of treatment, and reduce side effects.
Led by Dr. Shelly Hayes, associate professor of radiation oncology at Fox Chase Cancer Center and director of the facility, the radiation oncology team at Fox Chase Buckingham offers patients vast clinical expertise, cutting-edge technologies, and overall exceptional care in a quiet and comfortable suburban setting.
The radiation technologies available at Fox Chase Buckingham include:
CyberKnife® System: A painless, non-surgical option that delivers stereotactic body radiation therapy and stereotactic radiosurgery to tumors that are inoperable or in difficult locations. As an alternative to surgery, it allows for quicker recovery times and minimizes interruptions in systemic therapies.
Trilogy Linear Accelerator with Rapid Arc: This technology's power and precision allow patients to experience faster and more comfortable treatments.
LightSpeed RT 16-slice 4D CT Simulator: This key tool for radiation treatment planning allows assessment of tumor motion.
The Calypso 4D Localization System: This technology enables real-time tracking and targeting of tumors (specifically those located in the prostate, liver, and lungs).
The CyberKnife® System
Fox Chase Buckingham offers eligible patients treatment with the CyberKnife® system, which features a linear accelerator directly mounted on a robot for the precise delivery of radiation therapy.
As an outpatient procedure, CyberKnife® treatment does not require incisions, anesthesia, or hospitalization. Treatment typically takes place between one and five sessions, which is a substantial difference from conventional radiation treatments that take many weeks.
How Does CyberKnife® Work?
CyberKnife® enables stereotactic body radiation therapy and stereotactic radiosurgery treatments, which are highly complex, precisely delivered types of external-beam radiation therapy. The CyberKnife® uses very high doses of radiation to treat inoperable or complex cancerous tumors in the body. The delivery of higher doses of radiation in fewer sessions has proved to be highly effective in treating certain cancer types, and it is completely non-invasive. This allows for little to no recovery time and less interruption in systemic therapy.
Using image-guidance technology and computer-controlled robotics, the CyberKnife® system locates and tracks the tumor. Throughout treatment, it adapts and corrects in real time to accommodate any motion, keeping the radiation delivery on target.
As the robot moves and bends around the patient, it approaches the tumor from thousands of unique angles. This allows for higher doses of radiation to be delivered with pinpoint accuracy to the tumor, which reduces exposure to surrounding healthy tissues while providing highly targeted treatment. This enhances safety and minimizes the risk of side effects.
Depending upon the part of the body being treated, an immobilization device is sometimes used during the procedure for additional precision.
Who Is a Candidate for CyberKnife®?
CyberKnife® is an excellent option for tumors that move when a person breathes (like lung tumors and certain liver or kidney tumors) and tumors that move because of changes in bowel or bladder filling (like pancreatic and prostate tumors).
It is also used to treat tumors in the brain or spine as an alternative to or in conjunction with surgery.
What To Do Next
For more information about Buckingham's radiation therapy services or to schedule an appointment, please call 215-794-2700.