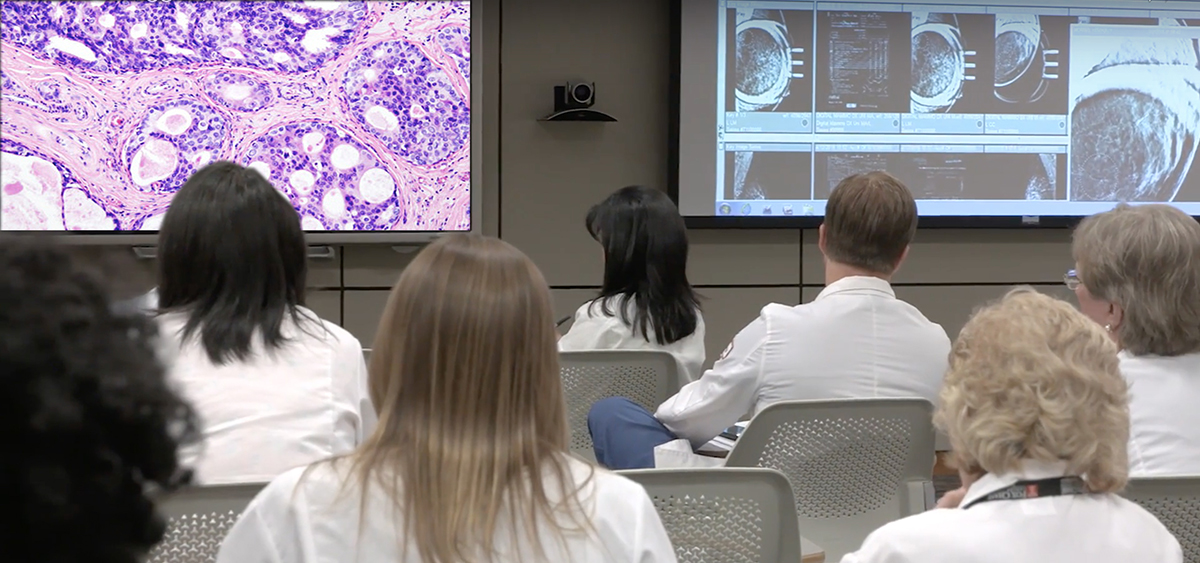 VIEW ALL POSTS
The Important Role Tumor Boards Play in Cancer Care
When it comes to cancer care, looking at a patient's case from different perspectives is an essential part of deciding the best treatment approach. That's why tumor boards are so crucial. These meetings provide a huge benefit to patients, though it's a process patients don't usually know much about.

Here to give you a look behind the scenes is Stephen C. Rubin, MD, Division Chief of Gynecologic Oncology at Fox Chase Cancer Center.

Q: What is a tumor board, and what role do they play in cancer treatment?

A:A tumor board is a meeting made up of specialized doctors and other health care providers who regularly gather to discuss cancer cases that are unusual and/or challenging. The goal is to decide on the best possible treatment plan for a patient as a group. Your case might be discussed if you have a less common type of cancer that doesn't have a standard course of treatment. It could also be presented if your current treatment isn't working the way it should.

The experts on these boards all have different medical backgrounds relating to the care of a cancer patient, so they share different perspectives.

"One of the wonderful things about Fox Chase is that we have a system of multidisciplinary tumor boards, where we review every new patient's case with our cancer-specific oncologists to make sure that we formulate an optimal plan for each and every patient based on their own individual needs," Rubin said. "It's very valuable for clinical care."

Q: What kinds of specialists are on tumor boards?

A: Several types of cancer doctors and other specialists sit in on these meetings. "We value input from different disciplines," Rubin said. Tumor boards can include:

Pathologists
Medical oncologists
Radiation oncologists
Surgical oncologists
Genetic experts
Nurses
Social workers

Smaller hospitals might have one general tumor board that discusses many different types of cancer cases—including cancers they only occasionally treat. But large NCI-designated comprehensive cancer centers like Fox Chase have multiple tumor boards, each focusing on a different type of cancer. For instance, one tumor board meets to discuss breast cancer cases, while another focuses on lung cancer.

"Every member of a Fox Chase tumor board has an expertise in some aspect of cancer, and they've treated a high volume of patients with that particular cancer," Rubin said.

Q:  What are the benefits of having my case presented to a tumor board?

A: Having many different types of specialists meet to discuss your case could result in a better treatment plan. That could include new options for surgery, chemotherapy, or radiation, as well as clinical trials.

"It gives multiple second opinions instantly," Rubin said. "If you talk something over with six, eight, or 10 people, you might come up with things that an individual may not think of. Overall, this translates to a much more considered, thoughtful and robust treatment plan for patients."

Q: How does the process work?

A: Fox Chase's tumor boards discuss a few new cases every week. During the meeting, each case is presented individually. Your care team will talk about your health history and your cancer. They'll also share detailed information about your tumor, including radiology scans and microscopic slides from your biopsy. After getting all the facts, the board will discuss treatment options.

Your doctor might tell you if your case is being presented to a tumor board. But it's just as common to find out after the fact, once your doctor is ready to share treatment recommendations.

One more reason to choose Fox Chase

For many patients, specialized tumor boards are just one of the many reasons to receive care at an NCI-designated comprehensive care center like Fox Chase.

Find out more about the benefits of being treated at a NCI-designated Comprehensive Cancer Center.