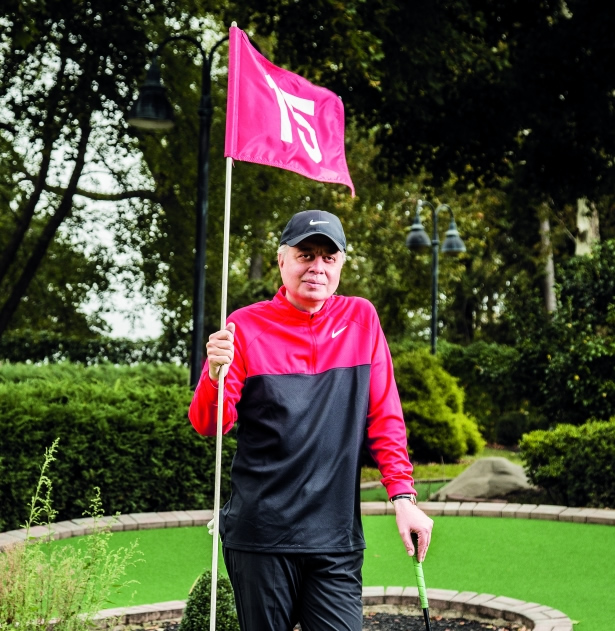 Changing Course
One Family's Journey from Pakistan to Philadelphia

A photo of Mahmood Saeed standing on a golf course with an iron in his hand, with his clubs next to him and several balls on the ground.

In Mahmood Saeed's experience, necessity truly does breed invention. He's been in the U.S. for nearly three years and while he has come to love his new city of  Philadelphia, he will always miss his home in Pakistan.

"The thing I miss the most, aside from my family, is the food," Mahmood said. "After months of craving my favorite Pakistani dishes I decided to make them myself. The first time I even so much as boiled an egg was when I moved to the U.S."

When his cancer appeared suddenly in 2003, Mahmood was golfing with friends on a sunny day. Shooting pain in his abdomen suddenly overwhelmed him. He woke up at Shaukat Khanum Memorial Cancer Hospital and Research Centre, the largest cancer center in Pakistan. Doctors there diagnosed him with renal cell carcinoma and sent him straight into surgery to remove his kidney. "The care I received from the doctors at Shaukat Khanum was excellent and definitely on par with clinicians in the U.S.," Mahmood said.

Years passed and Mahmood put his illness behind him. However, in March 2015, he again felt searing abdominal pain and this time was diagnosed with necrotizing pancreatitis. During surgery doctors found that stage 4 renal cell carcinoma had spread throughout his abdomen. Mahmood had a decision to make.

"When I had surgery the first time it was an emergency. We had no time to weigh options or research the best treatment," Mahmood said. "This second time, however, my wife and I were able to make an informed decision."

Though Mahmood and his wife, Zahra, lived in Pakistan they maintained a home in Philadelphia where Zahra had family. With his diagnosis, they knew they needed to move. 

"If I could have stayed in Pakistan I would have," Mahmood said. "It's my home and the care I received really was top notch. The issue with treatment in Pakistan begins when your cancer is no longer treatable with standard procedures. There simply aren't the funds to provide long term or experimental treatment to patients."

In Pakistan, there are private hospitals, but they are very expensive, as the patient must pay all costs out of pocket. At charity hospitals, like the one where Mahmood was treated, patients receive baseline care free of charge. "There is no hierarchy when it comes to cancer healthcare at Shaukat Khanam hospital," said Zahra, "It doesn't matter if you are the prime minister or a person without a home, everyone is treated exactly the same."

Mahmood Saeed, posing by a hole at a golf course and holding a pink flag in one hand.

Due to a lack of resources in Pakistan and because private health insurance is not widely available, patients with advanced cancers must look elsewhere for treatment. The Saeeds relocated to Philadelphia, and before their plane landed, Zahra had already scheduled appointments at two hospitals. Ultimately they decided on Fox Chase Cancer Center, following recommendations from family members. Mahmood met with Sanjay Reddy, a surgical oncologist at Fox Chase. 

"I'm so fortunate to have met Dr. Reddy. He refuses to give up, and for me and Zahra, giving up wasn't an option, although it had been presented to us many times," he said. After Mahmood's recurrence, doctors in Pakistan were blunt, saying there was nothing more they could do, and encouraging them to seek help elsewhere.

"Although it was hard to hear at the time, I now appreciate the honesty of the doctors," Zahra said. "They knew they couldn't provide the care that Mahmood needed and had the integrity to make sure we knew that."

After three months of treatment, scans showed that one tumor was completely gone and the others had shrunk in half. Mahmood's health had completely changed. Mahmood appreciates his medical team's commitment to cutting edge treatments.

"When something doesn't work or I don't respond well, they keep pushing onward with the ultimate goal of seeing my cancer disappear," he said. "My oncologist, Dr. Daniel Geynisman, is a constant pillar of support and strength for us, patiently answering all our questions and tirelessly seeking new avenues. He is simply brilliant." 

This journey has not been an easy one. Like learning to prepare his favorite Pakistani dishes, Mahmood has learned to adapt. 

"If I wasn't willing to adapt to change, to move to the U.S., to seek out experimental treatment, I might not be here today," said Mahmood. "Cancer is a story of unexpected transformation of the inner self. Fortunately instead of wandering in a jungle of uncertainties and asking, 'why me,' I found peace in strengthening my faith in God." 

Mahmood said he follows the advice of the poet Rumi, who said that if you want to strengthen your faith you need to soften on the in-side. For rock solid faith, your heart needs to be as soft as a feather.