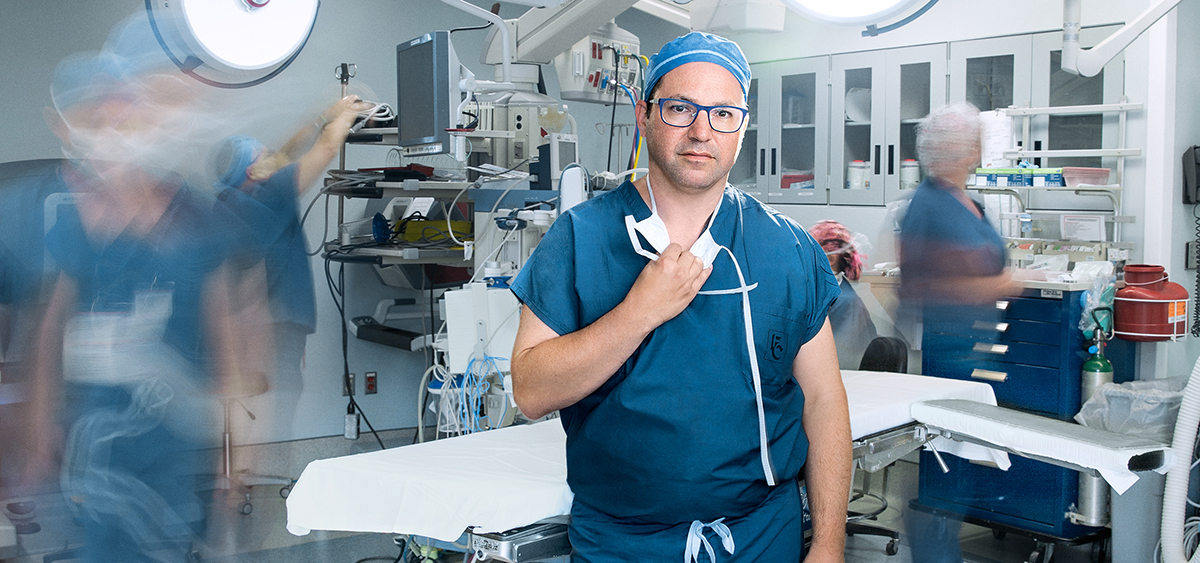 A Day (or Two) in the Life of Surgical Oncologist Jeffrey Farma
Originally published in

Forward, Fall/Winter 2015

Precision, compassion, patience, determination, and dedication — these are key traits of any good surgeon. Luckily for his patients at Fox Chase Cancer Center, Jeffrey Farma possesses all of these traits. Also like any good surgeon, Farma never slows down. He is on the go from the moment he wakes up with his children — helping his wife Daria get them ready for the day — to the time he leaves the hospital some 13 hours later. Regardless of his busy schedule, it's clear that he always has time for his patients, just like all of the doctors on the surgical oncology team.

Fox Chase surgical oncologists split their time between seeing patients in the clinic and performing life-saving surgeries in the operating room, offering minimally invasive procedures when possible. Many, like Farma, are also heavily involved in charity work, research, clinical trials, and the mentoring of medical students, residents, and fellows.

"There is not one day that is routine. I learn something new about patients, life, and cancer on a daily basis."

— Jeffrey Farma, SURGICAL ONCOLOGIST

However, Farma's not too busy to answer a phone call from a patient's mom, personally sort out why a pharmacy is scrimping on his patient's pain medication, reminisce with a patient about Tampa, Florida, where he completed his fellowship, or humbly accept a gift of pasta — all things that happened during a two-day observation of him in the clinic and the operating room.

A THURSDAY AT FOX CHASE:

CLINIC
(6:00 a.m.)

Helping the kids get ready for summer camp
It's a special day because Farma has the chance to help his wife Daria make breakfast for their three children, Olivia, 5, Ethan, 8, and Max, 10. He'll try to fit in exercise, if there's time. His drive is only about seven to 10 minutes, and during this time he often listens to music or NPR.

(7:00 – 8:00 a.m.)

Research meeting
As associate professor of surgical oncology, part of his job is to train up-and-coming surgical oncologists. This morning, he meets with three new fellows and three second-year fellows, helping them plan their research projects.

(8:30 a.m.)

Clinic starts in the Center's Young Pavilion 
Farma usually meets with patients twice a week on Tuesdays and Thursdays and performs surgeries on Mondays, Wednesdays, and Fridays. He sees 25 to 30 patients in a full day at the clinic with five to seven new patients each day who are diagnosed with sarcoma, gastric cancer, melanoma, and colorectal cancer.

Today, he's working with ambulatory care clinic nurses Kimberly Gaier and Christina Griffith, as well as Joyce Au, a second-year surgical oncology fellow. Aaron Bennett, a Temple University surgical resident and third-year Temple medical student, is shadowing him.

(8:35 a.m.)

First patient appointment of the day: James Levens, 71
After a few minutes of catch-up, Farma speaks to Levens about how he'll need surgery to treat a tumor in the upper portion of his stomach. Farma then encounters a common concern among cancer patients: fear of the unknown.

"I've been fooling around online and scaring myself about what can happen," Levens says, and so Farma attempts to put him at ease.

"Stomach cancer is always concerning and there are risks to any surgery we do, but the good news is that we operate on patients like you all the time," Farma says. He adds, "Sometimes we use chemotherapy and radiation combined, but for your situation, we're going to do just chemotherapy and surgery."

Levens seems relieved. He's scheduled back in a few weeks to start chemotherapy.

(10:45 a.m.)

Quick break to do office work
Farma takes a break from speaking to patients. He stops by to say hello to his wife Daria, a physician assistant in the anesthesia department. He then reviews X-rays, catches up on emails, and returns phone calls. He's easily accessible to patients and gives out his personal cell phone number and email address.

It comes in handy a few minutes later when he gets a call from the mother of one of his patients. She's confused about an aspect of her daughter's treatment, but he sorts it out before jumping back into clinical appointments.

(11:10 a.m.)

Appointment with Jon DiPippo, 67, for follow-up on surgery to treat Merkel cell carcinoma, a type of skin cancer
Farma asks DiPippo, his tenth patient of the day, how he's feeling. He responds that "everything feels good." Farma suggests he start planning for radiation treatment and refers him to radiation oncologist Shelly Hayes. They part ways — but not before DiPippo's wife hands Farma a giant Tupperware container full of homemade penne pasta with meatballs as a "thank you" gift and plants a kiss on his cheek.

Nurse Gaier says Farma gets a lot of gifts like this one.

(11:45 a.m.)

Appointment with Anthony DiBartolo, 68, who has both colon cancer and large cell lymphoma
DiBartolo experienced rectal bleeding, which is a signal for colon cancer. In addition, he had a lymph node in his stomach and a mediastinal mass. He's had two rectal surgeries in the past three years and chemotherapy to treat the two types of cancer he's coping with simultaneously.

DiBartolo's is one of the more complicated cases he's treated, but Farma says these are the types of complex cases that the doctors at Fox Chase are experts in treating.

(12:00 p.m.)

Appointment with Jimmy Shepherd, 78, for stomach surgery follow-up
Shepherd's is another tough case in which Farma performed surgery to remove his entire stomach, and a few days later, Shepherd required open heart surgery. It's how Shepherd got his nickname from the nurses around Fox Chase and nearby Temple University Hospital – Jeanes Campus: "Iron Man."

The sprightly 78-year-old tells Farma he suffers from a little nausea; Farma says it's because he's eating meals that are too big.

"You've had your stomach removed. You have to eat five or six small meals a day," Farma says. "Graze like a sheep."

(12:30 p.m.)

Lunch
On the menu: his gift of penne and meatballs.

(1:00 – 4:00 p.m.)

More clinic appointments with patients

(4:00 – 5:00 p.m.)

Meeting with clinicians and basic scientists about implementing melanoma translational research projects

(5:00 – 6:00 p.m.)

Rounding on his patients in the hospital

(6:30 p.m.)

Drives home

A FRIDAY AT FOX CHASE:

OPERATING ROOM
(6:00 a.m.)

Rise and shine

(7:00 – 8:00 a.m.)

Pre-operation conference with surgical oncology fellows

(8:30 – 9:00 a.m.)

First operation of the day: Tara Davis, 42
In the operating room, Farma is once again flanked by Au and Bennett, but today also enlists the help of nurse Monica Scanlan. Farma performs a surgery to completely remove a tumor on Davis' left lower abdomen that was previously biopsied. She has a dermatofibrosarcoma protuberans, a rare type of soft tissue sarcoma that develops in the deep layers of the skin.

He takes a resection of the tumor, surrounded by fat, carefully cutting 2 centimeters around the 1.8 millimeter sarcoma. Farma explains that if the margins surrounding the tumor come back negative, there's a very low chance of the cancer coming back.
The operation goes well. Davis will be awake in a few hours and released the same day.

(10:50 a.m.)

Second surgery begins: Karen Kolendorski, 30
Today, Kolendorski is having a total laparoscopic gastrectomy, or removal of her entire stomach. It's hard to believe you can live without your stomach, but Scanlan explains how. She says that during the operation, Farma will take out Kolendorski's stomach, then cut part of the small bowel and connect it to meet the esophagus.

"It's like cutting out the middle man," she says.

Kolendorski's operation is preventive. She has an inherited gene called CDH1, which puts her at a high risk of developing the gastric cancer that both her mother and sister developed.

Removing her stomach helps reduce the chances of developing cancer. Farma points to her X-ray. Kolendorski also has a large cyst on her spleen, which is blocking where he needs to operate, making the operation slightly more complicated. However, Farma isn't too worried.

He brings up his music playlist on his iPhone. A Smiths song fills the room, and he makes the first incision.

(5:00 p.m.)

Surgery complete
"It went well, a little longer than I expected," Farma says, sounding tired but pleased. He's got one more operation to perform today, an ileostomy reversal from 6:00–7:30 p.m.

(8:00 p.m.)

Last surgery finished
Farma wraps up his last surgery. After a 13-hour day, he heads home to welcome some friends over for a barbecue. He can relax with family and friends over the weekend so he is refreshed for Monday.