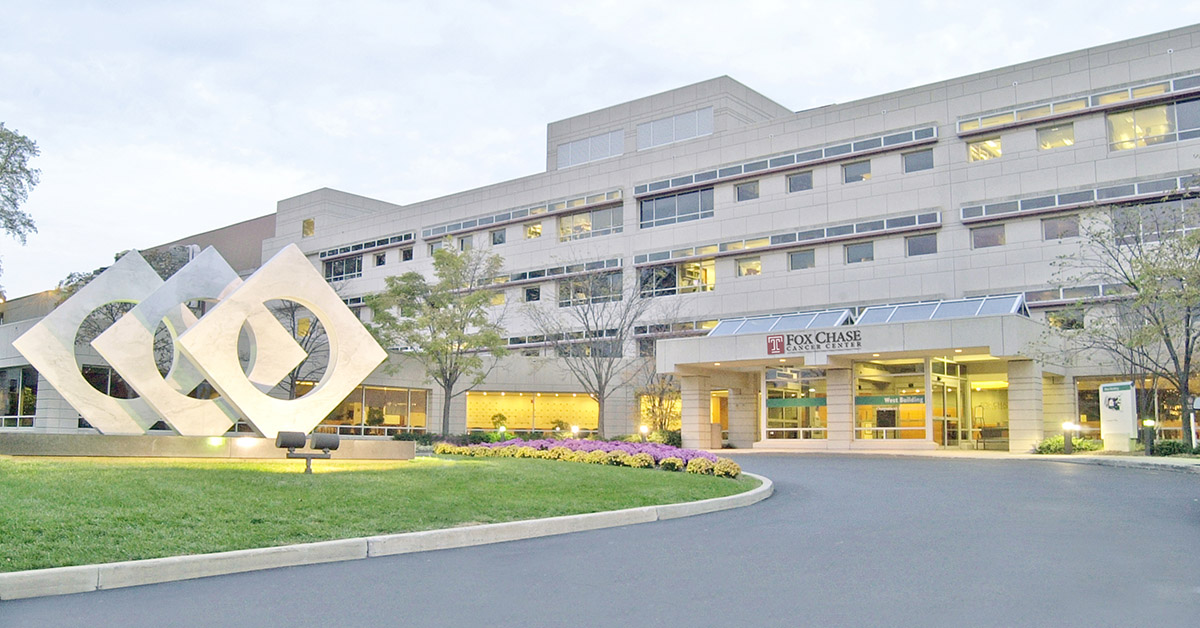 Philanthropic Support in FY21 Expands Research and Enriches Patient Care at Fox Chase Cancer Center
Donors rallied behind the Center's transformational mission
Medical excellence was top of mind for Temple Health donors this year, whose combined philanthropic support of education, patient care, research and service to the community totaled an impressive $52.5 million—$25.5 million raised for the Lewis Katz School of Medicine, $16.8 million for Fox Chase Cancer Center and $10.2 million for Temple University Hospital. Together, gifts from Temple Heath donors exceeded last year's cumulative giving by 25% and represented more than half of Temple University's $104 million fundraising total for the 2021 fiscal year (July 1, 2020–June 30, 2021).

"Our donors are essential partners in our continuous drive for excellence in education, research, patient care and community initiatives," stated Nina Weisbord, Interim Vice President, Temple University Institutional Advancement and Chief Advancement Officer, Temple Health.  "We are grateful for every gift made in support of our mission, and for the affirmation of the remarkable work happening across Temple's healthcare enterprise."

Amid the challenges presented by the pandemic, donors contributed a total of $16.7 million to Fox Chase Cancer Center—supporting top-of-the-line, innovative cancer treatment and patient care, alongside transformational research that moves the field forward.

"Private philanthropy is vital to the advancement of cancer science and medicine," said Richard I. Fisher, MD, President and CEO, Fox Chase Cancer Center. "The generosity of our donors gives us the freedom to ask big questions, pursue the next breakthroughs, and invest in a future that holds greater promise for all of us. We are inspired by the deeply-felt hope of our donors, and we honor their support with the fervent dedication we bring to our work."

Support for research was a central focus across the year. Fox Chase's signature annual gala, the In Vino Vita Benefit and Auction, was held virtually in October 2020. With an online audience of nearly 2000 people, the event raised $700,000, including $400,000 in devoted Special Pledge funding for early-stage researchers. Amaranta Craig, MD, a gynecologic oncology fellow, and Julia Judd, DO, a hematology/oncology fellow, recently received the first two Young Investigator Awards funded from Special Pledge proceeds. Inspired by the investment in the next generation of cancer researchers, longtime supporters Lauren and Don Morel committed an additional $1.2M to fund targeted Fox Chase research grants.

Grateful patient Roberta R. Scheller and her husband Ernest Scheller, Jr. formalized their commitment to establish the Roberta R. Scheller Chair in Urologic Oncology. Alexander Kutikov, MD, FACS, was selected as the inaugural chair. This gift stands alongside an anonymous grateful patient planned gift that will establish an additional new endowed chair in cancer research.

The Hearst Foundations contributed a $200,000 grant to establish a Fourth Year Clinical Cancer Genetics Fellowship. This was the first Hearst Foundations gift to Fox Chase since it provided funding between 1996-2001 to establish the William Randolph Hearst Cancer Genetics Counseling Fellowship, which is still active today.

Donors also answered the call to support enriching patient care. Dr. Robert Young, who served as president of Fox Chase Cancer Center from 1988-2007, has remained a dedicated supporter. This year he and his wife Barbara made a gift of $180,000, which brought their lifetime giving to the Center to more than $1 million. Dr. Young is the first faculty member to reach this milestone. 

Area business leader Bill Sautter, a longtime friend of the late Lewis Katz School of Medicine Dean and Fox Chase surgeon John M. Daly, MD '73, jointly committed with his company the Elliott-Lewis Corporation to a gift to name the chapel at Fox Chase. The contributions will support Pastoral Care Services. The Binswanger family has pledged funds to support renovations to Boo's Boutique that will expand the boutique's breast prosthetics services to include nutrition counseling, massage and other complementary therapies.

At the Lewis Katz School of Medicine, generous support directed towards scholarship, the school's top philanthropic priority, represented more than $6.8 million in combined giving, including two significant legacy gifts—a $3 million commitment from an alumni donor who added to their existing $1 million scholarship commitment, and another $1 million bequest from an alumnus for a new named scholarship fund. Additional gifts from donors established or significantly added to twenty endowed scholarship funds, and the medical school was able to distribute approximately $3.06 million in donor-funded scholarships during the 2020-2021 academic year, an increase of nearly 18% over FY20.

Hayden Marshall, MD Class of 2024, and recipient of the Leopold and Graboyes Family Term Scholarship Fund shared his personal appreciation for his scholarship, noting "this gift has given me a sense of encouragement and helped me to continue to give my all, which was especially needed in this challenging year."

The school's ongoing commitment to equity and social justice in medicine was another key priority for donors in FY21. A $1 million legacy gift and $50,000 donation from Margaret Barnes, MD '81 was directed to the Katz School of Medicine's Center for Urban Bioethics (CUB) to help the Center expand its education and advocacy initiatives aimed at mitigating racism in medicine. George Parry, FOX '67, an ardent supporter of CUB's work to address the overdose epidemic in Philadelphia, pledged his own $1 million legacy gift to support the Center. The new Dean's Fund for Diversity and Inclusion, established with a gift from the late John M. Daly, MD '73, will support students who have been historically underrepresented in medical education.

A significant commitment from the Bill & Melinda Gates Foundation in support of The Hope Center for College, Community and Justice at the Lewis Katz School of Medicine will be directed towards the #RealCollege Institutional Capacity-Building Cohort (ICBC)—a program designed to assist colleges and universities in retaining students experiencing food and housing insecurity.

To close the fiscal year, and in concert with planning for the annual White Coat Ceremony in August 2021, a generous donation from Board of Visitors Member E. Ronald Salvitti, MD '63 launched a groundbreaking curricular advancement. The Katz School of Medicine is now the first medical school on the east coast and just one of a handful in the country to distribute personal point of care ultrasound devices to every first-year medical student.

"The success of the fundraising program at the Lewis Katz School of Medicine, particularly as we navigated the pandemic and the loss of Dean John M. Daly, MD '73 is a testament to the unshakable faith and support of our entire Lewis Katz School of Medicine community," shared Amy J. Goldberg, MD, Interim Dean, Lewis Katz School of Medicine. "I am deeply grateful for our donors and their ongoing commitment to our students, our faculty and our vision for the future."

Temple University Hospital continues to earn recognition across all its campuses for superb patient outcomes, outstanding clinical quality and unprecedented growth. This upward momentum was reflected in the remarkable $10.2 million raised from grateful patients and their families, corporate and foundation funders, supporters and friends in FY21—more than double the fundraising goal set at the start of the fiscal year.

Gifts from grateful patients were front and center, with a $1 million gift from Nancy Witty to name the Temple Lung Center Advanced Interventional Pulmonary Procedure Suite in memory of her beloved husband Robert O. Witty, and in honor of the exceptional care he received at Temple. A $3 million legacy gift from George Parry FOX '67 made in recognition of outstanding care will support the work of the Section of Cardiology at Temple University Hospital—Main Campus.

Although the Covid pandemic halted plans for the annual in-person Acres of Diamonds Gala, the spirit of the event was channeled into Nurses and Hospital Week. Celebrating our own Acres of Diamonds—our Temple Health team—Philadelphia's philanthropic community came together to support each of the Temple Health campuses - TUH-Main Campus, TUH-Episcopal Campus, TUH-Jeanes Campus, TUH-Northeastern Campus and Fox Chase Cancer Center, raising more than $800,000 for capital investments across the health system. 

Recognition for the hard work and dedication of our healthcare workers also drove an outpouring of gifts-in-kind from many friends and partners across the region, who continued to donate meals, supplies, and, in a special gift from QVC, 5,000 appreciation packages for distribution to Temple University Hospital team members.

The Episcopal Health Care Foundation continued to direct sustaining and generous support to Temple University Hospital - Episcopal Campus. The Foundation's Board of Trustees approved a $925,000 gift that will help ensure continued access to excellent and locally accessible healthcare for the neighboring community. The Episcopal Health Care Foundation has also been the driving philanthropic force behind upcoming plans to renovate the campus' Emergency Department, slated for spring 2022.

"Generous philanthropy in support of all our Temple University Hospital Campuses, Fox Chase Cancer Center and the entire Health System is a reflection of our excellence and spectacular clinical quality" stated Michael A. Young, CEO, Temple University Health System. "We are grateful for our donors who recognize that a gift to Temple or Fox Chase really makes a difference to the community, and for their affirmation of our growing reputation as a premier academic medical center."

Watershed support for Temple Health in FY21 showed resoundingly that our community of donors and supporters is driving progress by investing in the future—across the medical school and health system.