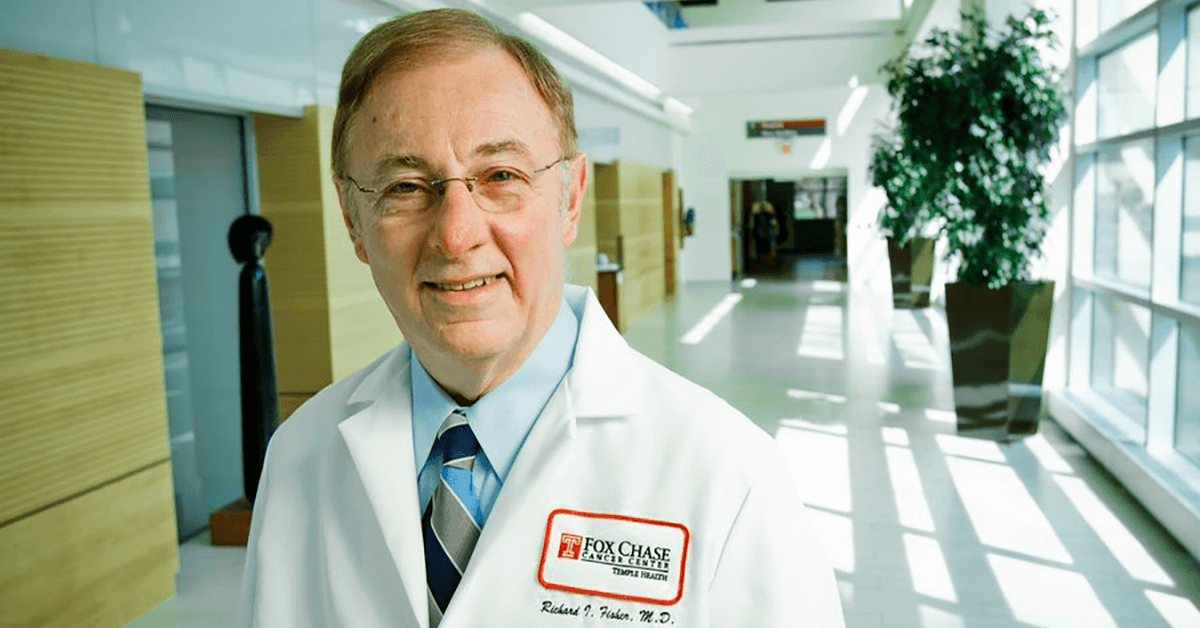 VIEW ALL POSTS
Dr. Fisher Reflects on the Regimen that Changed Lymphoma Treatment
 

In honor of Leukemia and Lymphoma Awareness Month in September, Dr. Richard I. Fisher, President and CEO of Fox Chase Cancer Center, spoke about his seminal paper on the CHOP regimen for the treatment of advanced non-Hodgkin's lymphoma. It was published in the New England Journal of Medicine 25 years ago this April. It marked a breakthrough in cancer care, and positioned Dr. Fisher as an international thought leader in the treatment of lymphoma.

 "You learn early on that success has many formats. Among them, cure and survival are my favorite. We get a lot of satisfaction helping people through a difficult journey." Finding cures for lymphoma has been Fisher's mission for more than 30 years, during which he has conducted research on the biology and treatment of lymphoma and has led national and international studies on both Hodgkin disease and Non-Hodgkin's lymphoma.

Fisher knew early on that he wanted to study lymphoma. Just out of Harvard Medical School and after an internship and residency at Massachusetts General Hospital, he was awarded immunology and oncology fellowships at the National Cancer Institute in 1972. "It was one of the leading places in the world where lymphoma was studied. Lymphoma was an early example where you could cure patients using combination chemotherapy. Those were exciting days of [therapeutic] breakthroughs," Fisher said.

CHOP—A Breakthrough in Advanced Diffuse Large B-Cell Lymphoma (DLBCL)

Fisher's ground-breaking research in advanced DLBCL has helped cure patients around the world. DLBCL, the most common type of non-Hodgkin's lymphoma among adults, tends to grow rapidly. A regimen of four drugs known as CHOP (cyclophosphamide, doxorubicin, vincristine, and prednisone), was one of the first regimens found to cure DLBCL. A series of subsequent regimens, including one designed by Fisher, was developed in attempts to improve on CHOP.  Fisher led the National High Priority Lymphoma Study, the largest study of DLBCL ever conducted in the US, to compare CHOP with three newer regimens that were touted as being better than CHOP. "Everyone had their favorite regimen," Fisher reminisced. "It turned out the regimens were the same in terms of survival, but CHOP was less toxic so it continued to be the standard of care for twenty years. The findings were controversial because everyone was certain their regimen worked better, but the data were incontrovertible. I took some heat when I presented the results, but the study established that CHOP was the appropriate therapy, and established the credibility and trustworthiness of our research group."

Striving to Push Cure Rates Higher

CHOP became the standard of care for twenty years after it was first published in the New England Journal of Medicine (1993; 328:1002-6). Fisher never stopped working to improve upon CHOP. He was instrumental in adding the monoclonal antibody rituximab to CHOP, known as R-CHOP, which increased the cure rate by an additional 10 to 15%. R-CHOP is the standard of care regimen for the vast majority of patients.

Finding Inspiration in Facing Challenges

Fisher said that his patients and research continue to inspire him. "This is the greatest age we have ever had in terms of science and medicine, with more drugs, more pathways, and more options. At the same time, there are many challenges in getting support to do studies, and serious considerations when partnering new and existing regimens. When you can cure 75 percent of patients with existing regimens, you cannot accept less from newer, untested therapies." Fortunately Fox Chase has visionaries like Fisher who have the experience to optimize how patients are treated now, and the foresight to lead us into the future.

Fisher is the President and CEO of Fox Chase Cancer Center, holds the

Robert C. Young, M.D., Chair in Cancer Research

at Fox Chase Cancer Center in the

Department of Hematology/Oncology

and is the Senior Associate Dean for Cancer at the Lewis Katz School of Medicine at Temple University.