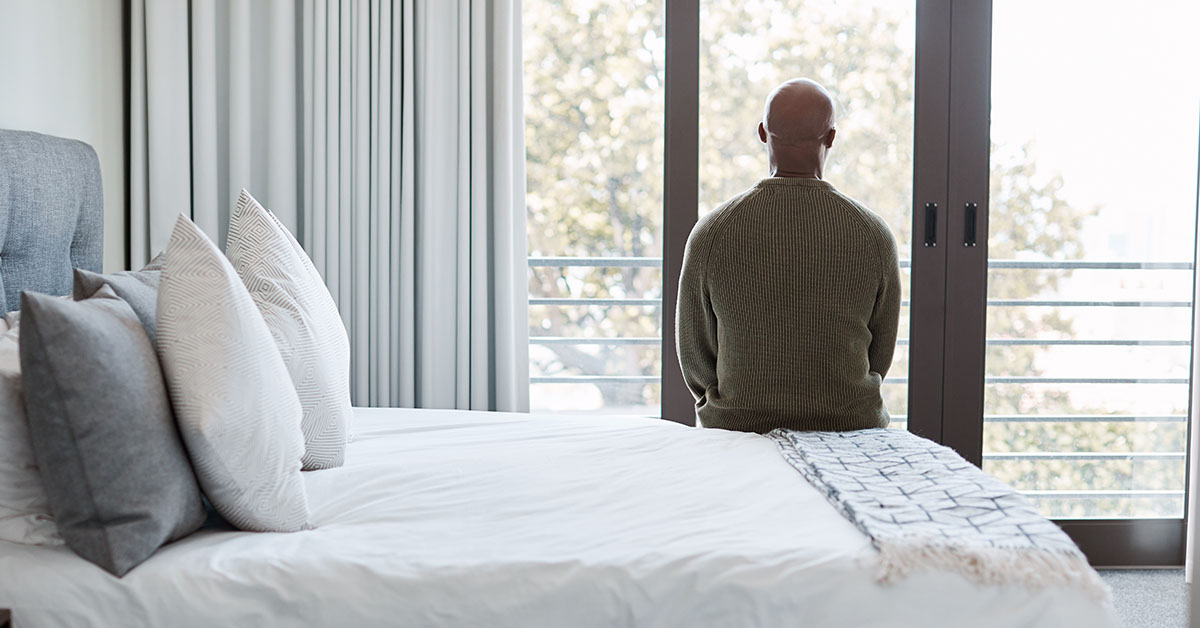 VIEW ALL POSTS
Mental Health and Prostate Cancer During COVID-19
By Erin Tagai, PhD, MPH

A prostate cancer diagnosis can be a stressful, life-changing event, with patients and their doctors making time-sensitive decisions and starting cancer treatment. However, some cancer patients were faced with having to interrupt care or delay treatment during the COVID-19 pandemic. Fox Chase Cancer Center and other cancer care providers have strived to maintain safe patient care and provide routine appointments.

Since cancer patients and survivors have increased risk for severe illness from COVID-19, they may have some fear and anxiety about going to in-person doctor's visits and risking exposure to COVID-19. As Fox Chase increases vaccination efforts for cancer patients, we can hopefully reduce this fear while continuing to provide safe in-person visits.

Depression and prostate cancer:

Not only has COVID-19 interrupted patient care, but it has also led to increased stress that has resulted in poor mental health for many individuals. Prostate cancer patients and survivors are at increased risk for depression compared to the general population, and individuals with fair or poor health report a major negative impact of COVID-19 on their mental health. Prostate cancer patients and survivors were already underdiagnosed before the pandemic, and less communication with their doctors during the pandemic may lead to more missed depression diagnoses.

It is critical that healthcare providers, including physicians and nurses, consistently check in with their patients to identify any signs of poor mental health and refer patients to specialized care as needed. However, many healthcare providers do not have enough training to identify depression among cancer patients and survivors.

Who is at greater risk?

Certain prostate cancer populations are at even greater risk of missed diagnoses, including racial and ethnic minority groups, populations that have experienced a much greater impact from COVID-19 than other communities. Further, research from Fox Chase has shown that prostate cancer patients with comorbidities—chronic illnesses such as diabetes, for example—are at increased risk for depressive symptoms.

Even when cancer is diagnosed, the percentage of cancer patients and survivors that receive adequate mental health care is low and is even lower for those with comorbidities. Although healthcare services have shifted to telehealth, many barriers to mental health care persist, including being uninsured or underinsured, having poor internet service, and lacking culturally competent care. These factors have led to continued concerns that patients and survivors will not receive the care they need.

Although healthcare providers and public health researchers will continue to research effective ways to better diagnose and provide quality mental health care, there are steps prostate cancer patients and survivors and their loved ones can take to ensure that their mental health is as good as their physical health.

According to the American Cancer Society, here are some signs of depression to look for

Feeling sad or "empty" almost every day for most of the day.
Loss of interest in activities you used to enjoy.
Major weight loss or weight gain.
Inability to sleep, waking earlier than usual, or oversleeping.
Extreme tiredness almost every day.
Other people notice that you have much more or less energy almost every day.
Feelings of guilt and worthlessness.
Trouble focusing or remembering.
Wide mood swings, from depression to high energy.
Thoughts of death or suicide, or attempts at suicide.

What to do if there are signs of depression:

Fox Chase Cancer Center has counseling and support resources available for cancer patients, survivors, and caregivers who are experiencing stress, depression, and other mental health issues. Psychological support programs include one-on-one support from the Fox Chase psychiatry team and the Integrative Care Program, which use evidence-based physical and psycho-spiritual healing practices. The Stress Management Program provides a personal assessment and culturally sensitive, evidence-based treatments to help people cope with adversity.

If you are a patient or survivor:

Talk about your feelings and fears with your family members.
Find support groups. Your healthcare providers can provide a list of such groups.
Seek help through licensed counseling.
Ask your healthcare provider about treatments for depression.

If you are a caregiver:

Gently invite your loved one to talk about their feelings. Do not force them to talk before they are ready, and listen carefully without judging their feelings.
Avoid telling the person to "cheer up."
Decide together with your loved one how you can support each other.
Don't try to reason with the person if the depression is severe. Get help from someone on their cancer care team.
Help the person do activities they enjoy.
Consider getting support for yourself through one-on-one counseling or groups.

There's nothing wrong with admitting that you or your loved ones may be struggling with mental health during these challenging times. If you or someone you know needs help now, please contact your Fox Chase healthcare provider or the Psycho-Oncology and Psychological Support Programs.

Erin Tagai, PhD, MPH, is a postdoctoral associate in the lab of Suzanne M. Miller, PhD, a professor in the Cancer Prevention and Control Program at Fox Chase Cancer Center.