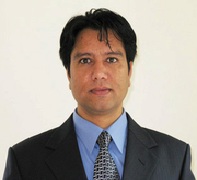 VIEW ALL POSTS
Trainee Spotlight: Roshan Thapa, MD
 

Roshan Thapa, MD
Postdoctoral Associate
Dr. Siddharth Balachandran's lab
Fox Chase Cancer Center
[email protected]

 

Biography

Contrary to many of my colleagues, my research career started in an unusual, almost accidental manner. After graduating from medical school at Manipal College of Medical Sciences in Nepal, I came to United States seeking an opportunity in Clinical Sciences. Following the qualifications for Medical Residency, I decided to utilize my few transition months to expand my knowledge base. I applied to Fox Chase Cancer Center's Volunteer Program, hoping to find a constructive way to occupy my free time. Dr Siddharth Balachandran, my current mentor, opened my eyes to the world of medical research.  Even though I had never seen a gel or held a pipette before, he gave me the opportunity to learn, grow and explore.  Through his guidance, I was promoted to Scientific Technician and later appointed as a Postdoctoral Fellow. I am interested in exploring molecular mechanisms of regulated cell death activated by cytokines and viruses, and finding therapeutic avenues utilizing these mechanisms for the treatment of human diseases. Currently, I am working on the projects involved in interferon-based cell death and cell survival studies, and influenza A virus (IAV)-induced Receptor Interacting Protein Kinase 3 (RIPK3)-dependent cell death pathways. My future plans are to identify regulatory molecules involved in programmed cell death pathways, and develop therapeutic strategies targeting cell death mediators.

Research Overview

In multicellular organisms, programmed cell death plays a vital role in the clearance of virus infected cells. RIPK3-activated programmed cell death is essential for controlling respiratory influenza A virus (IAV) infection. IAV is an RNA virus that is cytotoxic to most cell types in which it replicates. IAV activates the kinase RIPK3, which induces cell death via parallel pathways of necroptosis, driven by the pseudokinase MLKL, and apoptosis, dependent on the adaptor proteins RIPK1 and FADD. However, how IAV activates RIPK3 is unclear. We report that DAI recognizes IAV RNA by a mechanism requiring the second of its Z alpha domains, and nucleates a RHIM-dependent RIPK3-containing necrosome. DAI also mediates IAV-induced RIPK3-independent apoptosis. Consequently, cells lacking DAI are remarkably resistant to IAV-triggered lysis, and DAI-deficient mice are hyper-susceptible to lethal infection by this virus.  These findings identify DAI as a central mediator of IAV-driven cell death, and implicate this protein as a sensor of influenza A virus.

Featured Publication

Roshan J. Thapa, Justin P. Ingram, Katherine B. Ragan, Shoko Nogusa, David F. Boyd, Asiel A. Benitez, Haripriya Sridharan, Rachelle Kosoff, Maria Shubina, Vanessa J. Landsteiner, Mark Andrake, Peter Vogel, Luis J. Sigal, Benjamin R. tenOever, Paul G. Thomas, Jason W. Upton, and Siddharth Balachandran. DAI Senses Influenza A Virus Genomic RNA and Activates RIPK3-Dependent Cell Death. Cell Host & Microbe. 2016 Nov 9;20(5):674-681.