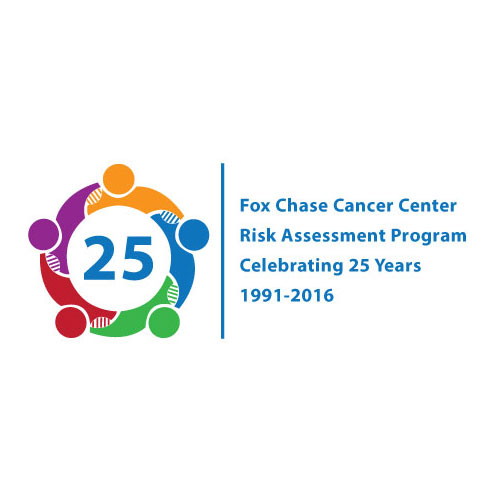 VIEW ALL POSTS
Fox Chase Marks Silver Anniversary of its Risk Assessment Program
On Thursday, April 14, 2016, Fox Chase Cancer Center celebrated the 25th anniversary of its Risk Assessment Program (RAP). The program was founded by Mary B. Daly, MD, PhD, FACP, who has helped patients and families identify and better understand their cancer risk factors since its inception in 1991. View the photo album from the celebration.

Speakers (from left) Dr. Grana, patient Don Meadows, Dr. Hall, Dr. Fisher, patient Laura Simonetti, Andrea Forman, Dr. Daly, patient Amy Dysart and Pat Ciarrocchi.

Fox Chase hosted more than 175 RAP families, friends, supporters, faculty, alumni and staff at the charming Knowlton Mansion in Philadelphia. Guests enjoyed an evening of celebration, information and shared experiences. The Boyer School of Music Jazz Trio performed during dinner. The event was hosted by former Emmy-award winning Philadelphia TV news anchor Pat Ciarrocchi.  

Richard I. Fisher, MD, President and CEO of Fox Chase Cancer Center, presented a commemorative crystal bowl to Dr. Daly in honor of her pioneering work and dedication to the mission of the program.

Various advocacy groups, including Bright Pink, Sandy Rollman Ovarian Cancer Foundation, Facing Our Risk of Cancer Empowered (FORCE), and National Ovarian Cancer Coalition (NOCC)  were on site to provide information about their organizations to attendees.

Dr. Fisher presents Dr. Daly with a commemorative award.

Several RAP patients - including Don Meadows, Laura Simonetti and Amy Dysart - shared a glimpse of their journeys, stressing the imporatnce of understanding your family cancer history, and how the program has helped them and their families. Dr. Daly concluded the program with an overview of 25 years of progress and her vision for the future of the program.

Learn more about Risk Assessment at Fox Chase.