"I just felt overwhelming gratitude, thankfulness, and humility—humility that there were people in the hospital who were still struggling, and here I was, cancer free."

‐Scott Shaffer
I was a patient at Fox Chase Cancer Center and ended up spending almost 20 days in the hospital. But thankfully, it turned out that I did not have cancer, that the growth that my doctors detected was benign.
It all started in October of 2021. I was having stomach problems—diarrhea that went on for about a week. I hadn't eaten in days, and I'd lost about 10 pounds. I'm the kind of guy that doesn't like going to the doctor, but finally my wife and my adult son told me, "You're going to the ER."
At our local hospital, the doctor gave me a CT scan, and it showed a mass on my liver. Ironically, my stomach and bowel turned out to be fine—the GI problems I'd been having was just a virus.
They did a biopsy to find out if the mass was cancerous. It was inconclusive, so the doctor recommended that we wait 90 days and then do another scan to see if it had grown. My family didn't like that idea at all. That's when my wife said, "Why don't you call Fox Chase?"
Taking Quick Action
I thought I couldn't just call and get in, that I needed a referral. But I called Fox Chase on a Tuesday night, and by the end of the conversation I had a patient number. The next day they called me back and asked for my medical file and my biopsy results. A few hours later they called me back while I was having dinner and asked if I could come in on Friday. It happened so fast. They were really on top of it.
I ended up meeting with Dr. Jason Castellanos, a surgical oncologist. He had already reviewed everything and talked to the doctor who did the biopsy. He said I had a spindle cell neoplasm, which is a kind of tumor. It was growing out of the bile ducts in my liver, which is rare. So rare that Dr. Castellanos said he found that there were only 85 other cases like mine on the books.
At this point, he said he already suspected the growth might not be cancerous. But he also said it should be taken out anyway because it could still cause problems. And actually, I hadn't really noticed it at the time, but I had been having some symptoms over the summer, some unexplained weight loss and fatigue. I found out both of those things can be caused by this kind of tumor.
So I agreed to the surgery and it was scheduled for November 4, not long after my initial visit to Fox Chase.
A Complex Surgery
Faith is a big part of my family's life, so the Sunday before my surgery, a group of friends got together and we spent some time in prayer. Then the next day my wife and I drove to Philadelphia and checked into a hotel. We went to bed early, because we had to be at Fox Chase by 5 a.m.
The next morning, because of COVID policies, my wife couldn't come in with me, so we had to say our goodbyes at the reception area. That was tough. She went to a waiting room and my son joined her there later.
In surgery, they wanted to remove the whole tumor, but they couldn't take out all of the bile ducts. So they spent the first part of the surgery injecting dye to determine what areas they could take, and what they could salvage. In the end, they removed around 35% of my liver. The tumor ended up being five centimeters by four centimeters.
Because it was so complex, the surgery ended up taking almost 14 hours. Even now I get emotional thinking about my wife and son waiting for such a long time.
Good News From Pathology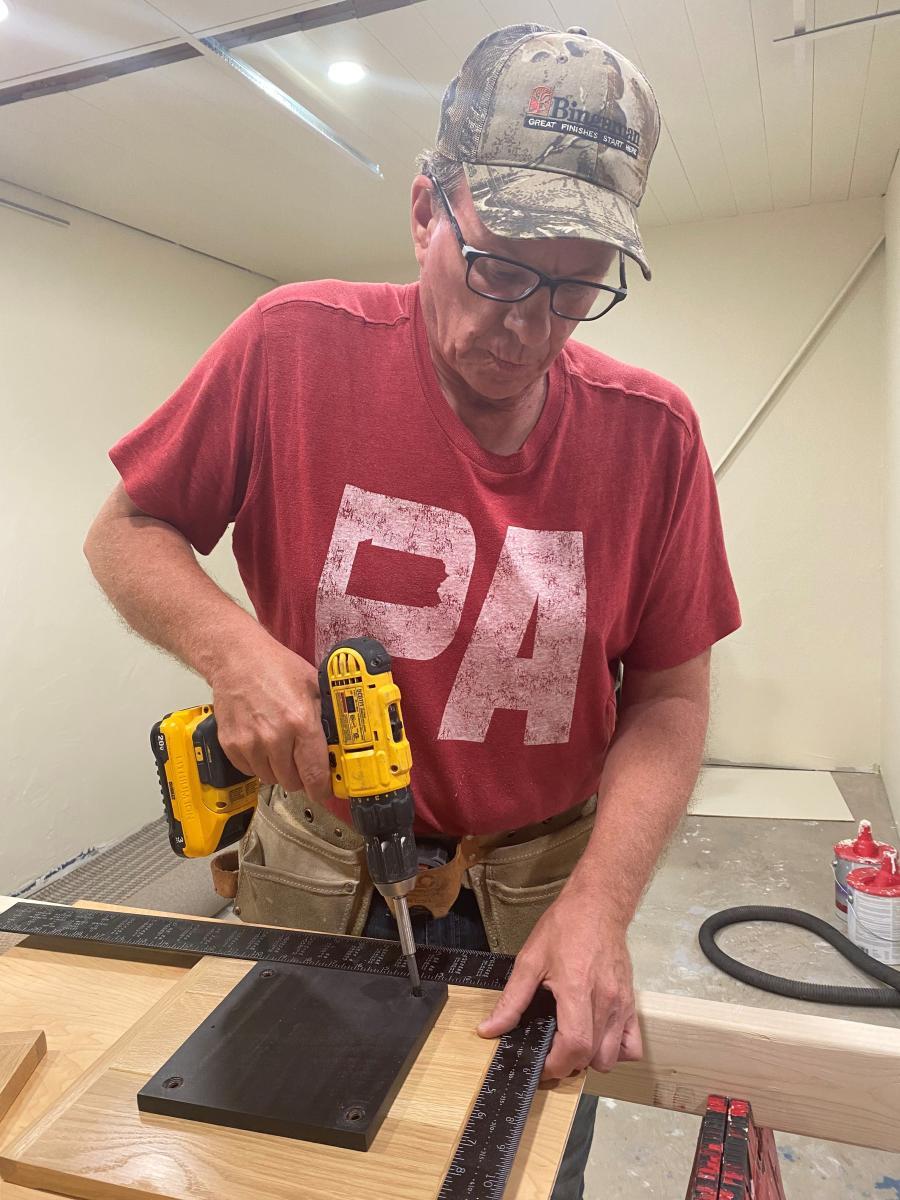 I spent the first day after surgery in the ICU. There was a nurse named Dave who was awesome. He came in that morning and said, "Our goal today is to get you ready for step down. I'm going to work hard for you, and I need you to work hard too." And we did.
While I was in the hospital, Dr. Castellanos came in with the report on my tumor. He said there were two different biopsies done, and both of them were benign.
My reaction? Wow. I still get choked up when I think about it. I just felt overwhelming gratitude, thankfulness, and humility—humility that there were people in the hospital who were still struggling, and here I was, cancer free.
Even with that good news, it ended up being a complicated recovery. My bile ducts were still not working properly, so they went in endoscopically and put in stents to help them drain.
Then I was running a fever, and it turned out I had an infection in my chest. So they put a drain between my ribs to help drain out the site of the infection and the bile. That cleared things up, and I was discharged on November 23, home in time for Thanksgiving.
Unfortunately, that weekend I spiked a fever, so we drove back to Fox Chase and I was readmitted on November 29.
They drained my chest again, and I was finally discharged for good on December 2. In June of this year I had a follow-up, and Dr. Castellanos told me my liver was firing on all cylinders. "I feel you are 100% recovered," he said. Again, gratitude.
A Culture of Empathy
I can't say enough about the culture at Fox Chase. I enjoy learning about leadership and personal growth, and the culture at Fox Chase was really remarkable. Everyone you meet is acting with empathy all the time. It's part of their core values.
I was so impressed by that, and it made me want to be part of the organization, so I volunteered for their Patient and Family Advisory Council, which serves as the voice of Fox patients and their families. I serve as a member of the Patient Falls Subcommittee. Now my wife and I are looking for other ways to volunteer in the future and give back, because they have given so much to us.
Learn more about treatment for liver cancer at Fox Chase Cancer Center.