"I've been able to return to the studio and am recording, producing, and performing music."

‐Doug Payne
I have been in the music business since I was a child, so music is my life. I graduated from Fiorella H. LaGuardia High School of Music & Art and Performing Arts in Manhattan, made famous by the movie "Fame," and Howard University. I am a singer and guitar player and was a member of the Sister Sledge touring band. In 1982, my band, Doug Payne & Polygon, released our first single, "Holiday," which received a good deal of airplay on radio stations that played funk and R&B music.
But at age 63, I was spending my time writing and recording music with artists ranging from pop to R&B to funk. From producing songs to performing for local television, these things were a regular part of my life. I also spent 25 years as an instrumental music teacher until I retired and returned to the recording industry. Little did I know that I would have to put my music on hold.
A Long Overdue Diagnosis
In September of 2018, I was producing a song when I noticed a lump on my back. My wife encouraged me to get it checked out, but I elected to wait. It wasn't until the lump had grown from the size of a grape to the size of a plum that I decided it was time to go to the doctor. After conducting a physical, the doctor told me they would perform surgery to remove the tumor. At my follow-up appointment, they told me I had cancer and referred me to Dr. Jeffrey M. Farma, a surgical oncologist at Fox Chase Cancer Center.
I wasn't totally surprised by the news, but I wasn't looking forward to treatment. Very rarely have I spent a prolonged amount of time in a hospital or had any kind of surgery previously. Not to mention, cancer isn't common in my family, so the diagnosis led me to reflect on different aspects of my life. I am glad I listened to my wife when I did, although I should have done so earlier.
When I first met with Dr. Farma, he ordered a CT scan. The results revealed that I had dermatofibrosarcoma protuberans, a rare type of sarcoma that leads to the development of tumors in the deeper layers of the skin. I had three surgeries with Dr. Farma to remove the tumor, as well as plastic surgery with Dr. Sameer A. Patel, a plastic and reconstructive surgeon.
It was a difficult experience at first, but I was able to adjust with support from my wife, who has worked in doctors' offices and as a medical transcriptionist for years. Her experience gave me the in-house help I needed.
Music and Radiation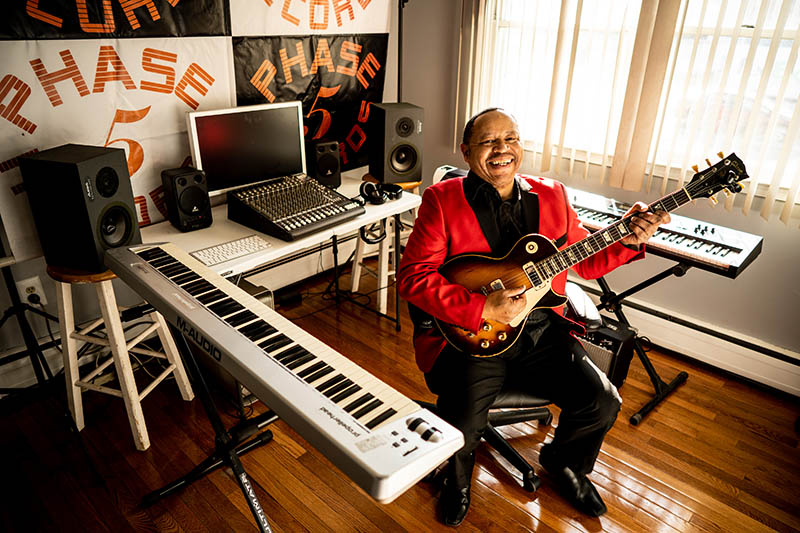 After I was allowed to return to work, I started substitute teaching again. Around the same time, I began radiation therapy with my radiation oncologist. I would leave school in the afternoons and go to my appointments. From January through March 2019, I received 30 radiation treatments.
I went in every day from Monday to Friday, and that's how I got to know everybody on a first-name basis. I was able to meet friends just by going to Fox Chase, from the receptionist to staff in the radiation department.
During one of my radiation treatments the staff played "Holiday." When I told them I wrote it, they were laughing behind the glass the whole time. I was able to talk to them about my time in the music industry, and we really got a kick out of that.
My treatment process turned out to be a pleasant experience overall. Everybody was very professional and friendly, and I really enjoyed being at Fox Chase for my treatment. I can say that they saved my life.
Getting Back to Normal
It's been two years since my diagnosis, and I feel great today! Other than slight stiffness in my back, I feel extremely healthy and am back to my normal life. I've been able to return to the studio and am recording, producing, and performing music. In addition, I recently received the Martin Luther King Jr. Honoring The Dream Award for promoting peace in my Phase 5 Records music video, "Our Lives Matter, (Wake Up Rise Up)."
I still have follow-up appointments at Fox Chase and every time I go back, I make sure I thank everybody. I don't know if they hear it often, but they deserve it. The staff are all really great, and I appreciate what they did for me.
I'm glad I listened to my wife about my tumor when I did. Nowadays, I always try to motivate people who are going through a similar experience to get medical advice as soon as possible. I'm a living example of how Fox Chase can save your life.
Learn more about treatment for sarcoma at Fox Chase Cancer Center.