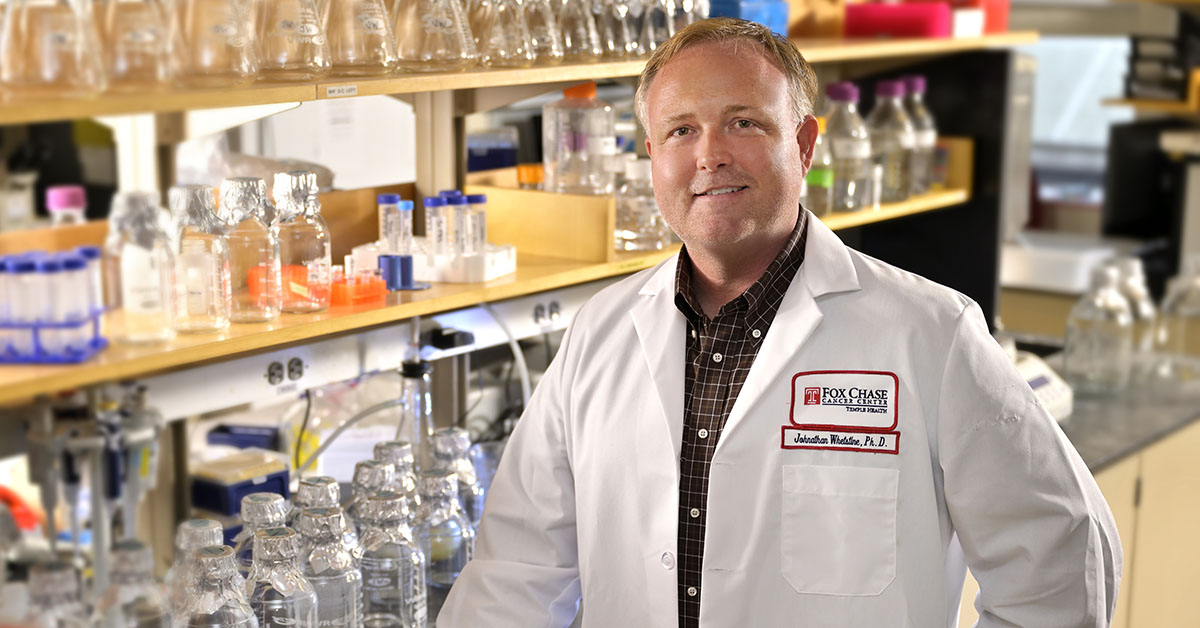 PHILADELPHIA (March 2, 2023)—Fox Chase Cancer Center's Cancer Epigenetics Institute (CEI) is holding its third annual Cancer Epigenetics Symposium at the Franklin Institute in Philadelphia today, an annual event that brings research leaders together to explore the latest discoveries, from the lab bench to the bedside, in the field.
This year's symposium will feature presentations from world leaders in academia and industry, as well as highlight clinical activity by Fox Chase scientists into neuroendocrine and small cell carcinomas. Namrata "Neena" Vijayvergia, MD, assistant chief of Gastrointestinal Medical Oncology at Fox Chase and a CEI member, will discuss an ongoing study designed to test the safety and efficacy of iadademstat in patients with pulmonary and extrapulmonary neuroendocrine carcinomas and small cell lung cancer.
"Iadademstat is an orally available, highly potent, and selective inhibitor of the epigenetic enzyme lysine-specific histone demethylase, also known as LSD1, which is being developed by Oryzon Genomics for the treatment of malignancies. Epigenetic modifiers have the potential to reverse chemotherapy resistance and may improve the effectiveness of therapies for our patients," said Vijayvergia.
"The collaboration in and across CEI academic and clinical faculty has enabled us to develop important correlative studies that may answer important questions about the biological effect of LSD1 inhibition and its interaction with chemotherapy," she said.
Douglas V. Faller, MD, PhD, chief medical officer at Oryzon Genomics, said: "We are fortunate to be working collaboratively with one of the leading clinical teams and cancer epigenetics research institutions in the world towards our joint goal of developing innovative therapies for neuroendocrine malignancies."
Johnathan Whetstine, PhD, director of the CEI, who was part of the team that first discovered LSD1, said Vijayvergia's work is not only exciting for him but for the mission of the institute as well.
"A major goal for CEI is to develop mechanistic understanding about epigenetic and chromatin modulation so that we can guide clinical colleagues and industry partners to have a positive impact on patients," said Whetstine. "This trial is one such example of the combined efforts from bench-to-bedside in CEI at Fox Chase."
The symposium keynote will be delivered by Peter A. Jones, PhD, DSc (Hon), chief science officer of the Van Andel Institute. His laboratory discovered the effects of 5 azacytidine on cytosine methylation and first established the link between DNA methylation, gene expression, and differentiation.
Jones, who recently became the newest member of the CEI's advisory board, helped pioneer the field of epigenetics, particularly its role in cancer, and has helped develop novel cancer therapies.
"One of the most surprising discoveries over the last 15 years," said Jones, "is that about one-third of all mutations discovered in human cancers are in genes that control the epigenome. This strongly implicates epigenetics as being a major contributor to cancer. The CEI's focus on how this contributes to cancer and how new drugs can be designed to target these changes is not only timely but very important."
Whetstine said he and members of the institute are thankful to have Jones join the advisory board and look forward to the invaluable leadership and expertise he will provide. "I am thankful to Peter Jones, Peggy Goodell, and Sharon Dent for being part of the CEI at Fox Chase. Having such thought leaders by our side allows us to build a world-class institute." Whetstine also noted the contributions of epigenetics pioneer C. David Allis, PhD, who died in January. "We salute his encouragement and guidance when we launched the CEI and for being on our first advisory board," Whetstine said. "To honor Dave's contribution and love of mentorship, we have named the CEI travel awards after him."