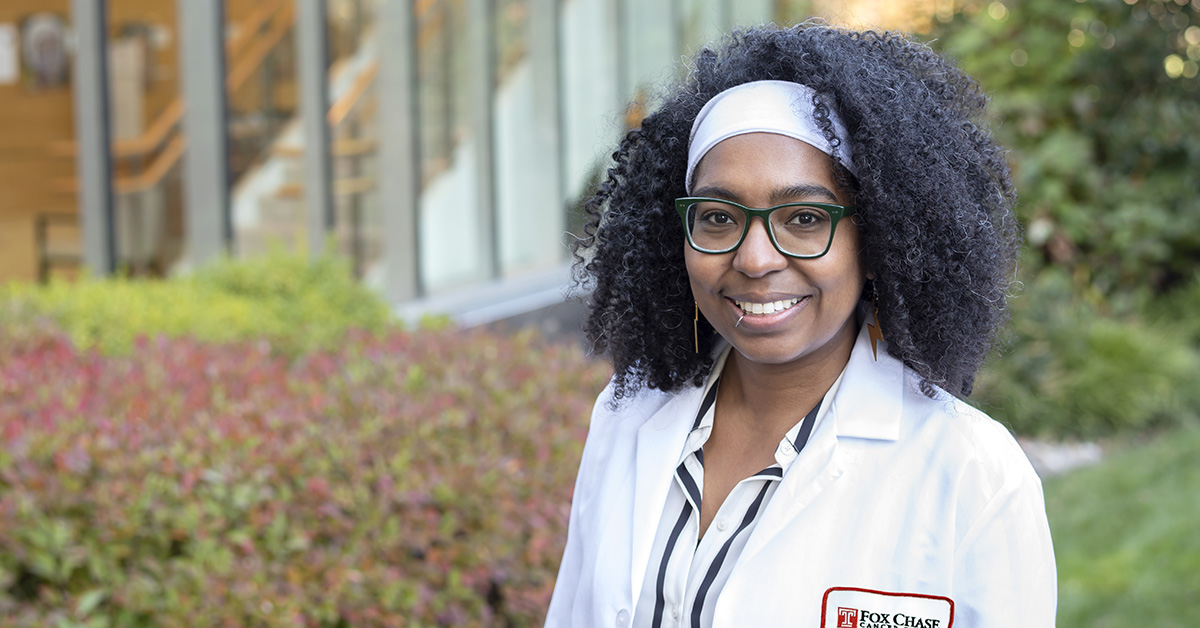 PHILADELPHIA (June 29, 2022)—Jaye Gardiner, PhD, a postdoctoral fellow at Fox Chase Cancer Center, is one of 10 recipients of the 2022 Dr. Eddie Méndez Award, which honors underrepresented postdoctoral researchers from across the U.S. who have research expertise in cancer, infectious disease, and basic science.
"I'm honored to receive this very special award," said Gardiner, who conducts her research in the lab of Edna "Eti" Cukierman, PhD, co-director of the Marvin and Concetta Greenberg Pancreatic Cancer Institute at Fox Chase.
"I would like to express my heartiest congratulations to Jaye," said Camille Ragin, PhD, MPH, Associate Director for Diversity, Equity, and Inclusion (DEI) and a professor in the Cancer Prevention and Control research program at Fox Chase. "I am proud of what she has achieved in her science as well as in her DEI efforts. Fox Chase is home to some of the best and brightest junior investigators. Jaye's success is a testament to that. We wish the very best for her as she continues to excel in her field."
Eddie Méndez, MD, MS, who was born in Puerto Rico, was a physician-researcher at the Fred Hutchinson Cancer Center in Seattle, which bestows the award. Méndez died of cancer in 2018 at the age of 45.
Gardiner's research focuses on the tumor microenvironment (TME), also known as desmoplasia, which consists of the cells in the immediate vicinity of cancer cells. Gardiner said the TME plays a key role in the growth of tumors in pancreatic ductal adenocarcinoma. It does this in part by maintaining an immunosuppressive environment that allows tumors to grow.
"We are proud of this year's awardees, whose accomplishments to both science and diversity, equity, and inclusion efforts are truly outstanding. We look forward to welcoming them to the Hutch this September and honoring the memory of Dr. Méndez," said Christopher Li, MD, PhD, faculty director of the Office of Diversity, Equity, and Inclusion and associate director of DEI for the Fred Hutch/University of Washington Cancer Consortium.
"This program is one of our efforts to recognize the accomplishments of postdoctoral fellows from diverse backgrounds and support their careers," he added.
Now in its fourth year, the award previously recognized 28 recipients, with 10 more added this year. Applications were solicited from universities and cancer research centers across the U.S. The award includes an honorarium for the recipients, who will be honored at a September 19-20 symposium where they will give presentations on their research findings and network with other scientists.